UPDATE: As of Jan. 17, the accusor has withdrawn her complaint.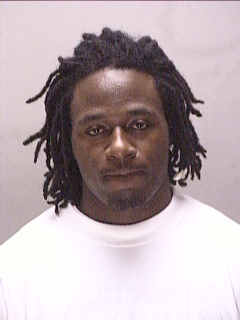 Surprise, Surprise. Suspended
Tennessee Titans
cornerback Adam "Pacman" Jones is in trouble again. Attorney Wanda S. Jackson has filed an application with the Fulton County (Ga.) Magistrate Court asking a judge to consider issuing a warrant against
Pacman Jones
to answer for an alleged incident. She alleges that Jones sucker punched her at an Atlanta strip club on Jan 3.
Based on the detailed description section of the application, Jackson states: "I was at the listed location, an adult entertainment club, when Mr. Adam Jones became very angry, he came in the office of the management accusing them of stealing money from him, of falsely accusing his entourage of owing a tab and of stealing a bracelet that he dropped. I was sitting in the office and he lunged at me numerous times in an effort to do grave bodily harm. Veronica Jones, an owner, went into the hall to deal with a member of his entourage. I followed to gawk. He was in the hall, surprisingly reached over or around a security guard and sucker punched me in my left eye."
Jones is so busy that he has two attorneys. Manna Arora, his Atlanta attorney, did not immediately return a phone message and an email (from the DNJ) seeking comment. Worrick Robinson, Jones' Nashville attorney was in court and unavailable for comment.
According to an official in the Magistrate Court office, a judge will review the application on Feb. 8 and determine whether a warrant will be issued.
To refresh your memory, NFL Commissioner Roger Goodell suspended Jones for the 2007 season for an accumulation of off the field incidents. He also denied Jones' appeal for early return.
Goodell had intended to reassess the Jones situation after the Pro Bowl (Feb. 10). The Titans have said that they have a lot to sort out. They have not made any intentions clear regarding Jones.
Hat-tip: Murfreeboro Tennessee Daily News Journal
Ad blocker interference detected!
Wikia is a free-to-use site that makes money from advertising. We have a modified experience for viewers using ad blockers

Wikia is not accessible if you've made further modifications. Remove the custom ad blocker rule(s) and the page will load as expected.