Hey, WIS 2007 NFL Replay is back again. And, it's time for Week 16 already, so here it is, the Week 16 results, and updated standings. Enjoy!
Also be sure to check out Week 15 results:
http://www.armchairgm.com/Article:WIS_NFL_Replay_Week_15
WIS Week 16
Thursday
Pittsburgh 10, St. Louis 20 (PIT 41-24)
Najeh Davenport got the start at RB, since Willie Parker got hurt after carrying the ball just 1 time for -1 yards. Davenport carried the ball 9 times for 38 yards in Pittsburgh's 20-10 loss to St. Louis. Pittsburgh took an early 10-0 lead after a Jeff Reed 37-yard FG, and a 2-yard TD pass from Ben Roethlisberger to Santonio Holmes. St. Louis didn't score until the 3 minute mark in the 3rd QTR, when Jeff Wilkins hit a short, 28-yard FG to cut the deficit to 7. St. Louis went on to score 17 points in the 4th QTR to pick up their second win of the season. STL RB, Steven Jackson ran for 108 yards, and caught 4 balls for 63 yards, and a TD.
Saturday
Dallas 33, Carolina 10 (DAL 20-13)
Carolina's offense struggled, once again. As starting QB Matt Moore threw for just 90 yards, and an INT, while completing just 8 of 19 passes. As a team, Carolina threw for 95 yards, and an INT. Carolina's lone TD came on defense when Richard Marshall returned a Tony Romo INT 44-yards for a TD as time expired in the 1st QTR. Romo threw for 345 yards, and 3 TD. While Dallas kicker Nick Folk, kicked 4 of 4 FG tries (including two 50-yarders). Cowboys extend their lead in the NFC East with an 11-4 record.
Sunday
Washington 27, Minnesota 8 (WAS 32-21)
In both games Adrian Peterson was held in check by Washington's defense. Peterson ran for just 49 yards, while Tarvaris Jackson threw 2 INT's. Minnesota was held scoreless until the 4th QTR, when Tony Richardson ran the ball in from 3-yards out. Todd Collins, filling in for the injured Jason Campbell, threw for 3 TD's, to help lead Washington to victory.
Miami 3, New England 19 (NE 28-7)
Tom Brady threw just 3 incomplete passes, and went INT-less in New England's 19-3 victory over the 1-14 Miami Dolphins. Surprisingly, Brady threw for just 1 TD, which was also the only TD in the game (by either team). Stephen Gostkowski went 4 for 4, kicking two 50+ yard FG's. New England lost 2 fumbles, but was able to hold the ball for 37 of the 60 minutes, thanks to 141 yards on the ground.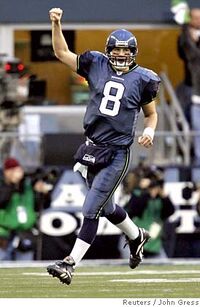 Baltimore 13, Seattle 20 (SEA 27-6)
Each team scored just one TD, but Josh Brown out-kicked Matt Stover, kicking all 4 of his 4 attempts. Brown accounted for 12 of Seattle's 20 points to lift the 'Hawks past Baltimore, despite Matt Hasselbeck being sacked 5 times (for -29 yards), and fumbling 3 times. Hasselbeck's Seahawks re-took the lead for good after a 4th QTR TD pass to Bobby Engram. Seattle improves to 12-3 on the season, and is still the best team in the NFC.
New York Jets 22, Tennessee 17 (TEN 10-6)
Vince Young's 2 INT's allowed the Jets to take advantage, scoring 10 points off VY's mistakes, and rolling to a 5-point victory on the road. Tennessee ran for 197 yards, and 2 TD's, but Chad Pennington, and Jerricho Cotchery dominated Tennessee's secondary, picking up 145 yards through the air (between the two), and Pennington wasn't sacked one time in the entire game. Tennessee falls below .500 after the loss, at 7-8.
Atlanta 3, Arizona 35 (ARI 30-27 OT)
Chris Redman struggled, completing just 10 of 39 passes, and 2 INT. He didn't even manage to throw over 100 yards passing (88). Arizona dominated through the air, and ran for over 100 yards on the ground. Kurt Warner threw for 273 yards, and 3 TD's, 102 of those yards went to Pro Bowl wideout Larry Fitzgerald, who also caught a 35-yard pass from Warner in the 2nd QTR to take a 7-0 lead. Arizona went into the half with that 7-0 lead, but then went on to out-score the Falcons 28-3 in the second half. Arizona continues their surge for the playoffs (9-6, 2nd in NFC West).
Tampa Bay 16, San Fran 13 (SF 21-19)
Tampa shutdown the Niners' Shaun Hill, picking him off 3 times, and throwing for just 147 yards. Jeff Garcia led Tampa to the victory, throwing 181 yards, and a TD. Despite being shutout in the third, Tampa kicker Matt Bryant hit 3 4th QTR FG's, including a last-second 21-yard FG for the win. Tampa Bay improves to 10-5, and locked up a playoff spot by winning the NFC South.
Philadelphia 38, New Orleans 7 (PHI 38-23)
Philadelphia, and Tampa Bay both helped crush New Orleans' playoff hopes. But, Philly's 38-7 rout of the Saints hurt the most. Philadelphia dominated the T.O.P., and Donovan McNabb threw for 5 TD passes, and 321 yards. Brian Westbrook ran for 106 yards, and caught 2 TD passes. This game wasn't even close, Drew Brees 2 INT's, and New Orleans lost 2 fumbles. I don't think New Orleans will make the playoffs, as they fall to 8-7.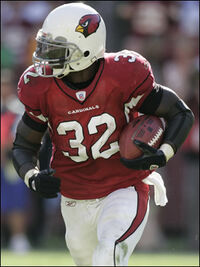 Kansas City 38, Detroit 30 (DET 25-20)
Detroit's playoff hopes are also in jeopardy after the heart-breaking loss to Kansas City. Detroit went into the half with a one-point lead after Jason Hanson hit a 30-yarder to take the 14-13 lead. Detroit's running game did exceptionally well, running for 182 yards, and a TD with a 5.4 YPC average. Kansas City's Damon Huard tossed for 3 TD's to three different receivers. Detroit's attempt at a comeback failed as Hanson's onside kick failed with under a minute to go in the game.
New York Giants 28, Buffalo 17 (NYG 38-21)
As usual, Eli Manning threw for more INT's then TD's (1 TD, 2 INT's), but led his Giants back from a 17-0 first-half lead. Brandon Jacobs ran for two 4th QTR TD's, one came with a minte and a half to go. The 15-yard TD run with 1:33 to go, was Jacobs' third of the game, and proved to be the clincher, as NY's D stopped Buffalo, and forced a 3 & out. All Manning had to do then, was kneel the ball three times, and New York is now 9-6, and third in the NFC East.
Oakland 10, Jacksonville 38 (JAC 49-11)
Jacksonville dominated Oakland's D for 166 yards on the ground, and picked off rookie QB, JaMarcus Russell 3 times. David Garrard threw for 240 yards, and 2 TD's, and was only sacked once all game. Oakland's offense was 2 for 13 on third down, and was penalized 5 times for 25 yards, compared to Jacksonville's zero penlties. Garrard was named the player of the game, and his Jags held the ball for 38 minutes, dominating the T.O.P. Oakland lost for the 11th time this season.
Cleveland 41, Cincinnati 23 (CIN 19-14)
Derek Anderson had another big game, throwing for 256 yards, and 3 TD's, while RB Jamal Lewis ran for 98 yards, and a TD for Cleveland. After falling behind 23-20 late in the 3rd QTR, Cleveland scored 3 straight TD's, including 2 in the fourth QTR, to win big, 41-23. Cincy's R-Back DeDe Dorsey ran for 107 yards on just 4 carries (26.75 YPC), including an 80-yard TD run for an early 7-3 lead. Carson Palmer's 2 INT's came back to haunt him, as the Browns scored 2 TD's off Palmer's mistakes.
Green Bay 48, Chicago 10 (CHI 35-7)
Brett Favre, and the Pack dominated the Bears on both sides of the ball. Favre threw for a season-high 375 yards, and 5 TD's, while completing 25 of his 40 pass attempts. Chicago took an early 7-0 lead after Kyle Orton threw a 3-yard TD pass to TE Desmond Clark halfway through the 1st QTR. About 10 minutes later Mason Crosby put the Pack on the board with a 26-yard FG. But, as time expired in the half, Favre threw a 38-yard strike to James Jones for a TD, and a 10-7 halftime lead. Each team exchanged FG's in the 3rd QTR, but Green Bay shutout the Bears in the fourth, and scored 35 points, including 4 TD passes by Favre.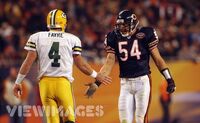 Houston 13, Indianapolis 48 (IND 38-15)
Like the actual game, Indy dominated on the scoreboard, defeating Sage Rosenfels, and the 9-6 Texans by 35 points. Houston scored first (and shutout Indy in the 1st QTR) on a Kris Brown 22-yard FG in the first QTR, but after that, Indy scored 21 unanswered point (on 3 TD passes), and never looked back. Rosenfels threw 3 INT's, while Peyton Manning threw 6 TD's, and 378 passing yards. Gary Brackett accounted for all 3 of Sage's INT's, and recorded 8 tackles (leading the tea in tackles). Joseph Addai ran for 101 yards, and a TD, while Darius Walker led Houston in rushing yards (40), and Houston ran for just 54 yards as a team (1.7 YPC). Reggie Wayne led Indy in receiving with 8 catches for 156 yards, and 4 TD catches, and had four 20+ yard gains.
Monday
Denver 11, San Diego 17 (SD 23-3)
Ladainian Tomlinson runs for 94 yards, and Phillip Rivers went INT-less, for once. Jay Cutler attempted a comeback after being down 14-3 at the half. But, Cutler failed after San Diego's Nate Kaeding extended the Bolts lead with 1:30 left in the game after drilling a 42-yard FG. Which made it a 17-11 lead (Cutler threw a 5-yard TD pass to Brandon Marshall with 7:32 left in 4th QTR, to cut the Bolts lead to 3). Denver struggled on the ground, with a 2.6 YPC average. The win allowed San Diego to wrap up the AFC West.
WIS Standings
AFC East
Patriots 13-2 (15-0)
Bills 6-9 (7-8)
Jets 5-10 (3-12)
Dolphins 1-14 (1-14)
AFC North
Steelers 12-3 (10-5)
Browns 10-5 (9-6)
Ravens 7-8 (4-11)
Bengals 7-8 (6-9)
AFC South
Colts 12-3 (13-2)
Jaguars 9-6 (11-4)
Texans 9-6 (7-7)
Titans 7-8 (9-6)
AFC West
Chargers 8-7 (10-5)
Broncos 7-8 (6-9)
Raiders 4-11 (4-11)
Chiefs 2-13 (4-11)
NFC East
Cowboys 11-4 (13-2)
Redskins 10-5 (8-7)
Giants 9-6 (10-5)
Eagles 8-7 (7-8)
NFC North
Packers 11-4 (12-3)
Bears 8-7 (6-9)
Lions 8-7 (7-8)
Vikings 7-8 (8-7)
NFC South
Buccaneers 10-5 (9-6)
Saints 8-7 (7-8)
Panthers 5-10 (6-9)
Falcons 4-11 (3-12)
NFC West
Seahawks 12-3 (10-5)
Cardinals 9-6 (7-8)
Niners 2-13 (5-10)
Rams 2-13 (3-12)
WIS Playoff Standings
AFC
1.Patriots 13-2 (AFC East)
2. Steelers 12-3 (AFC North)
3. Colts 12-3 (AFC South)
4. Chargers 8-7 (AFC West)
5. Browns 10-5 (AFC West; Wild Card)
6. Jaguars 9-6 (AFC South; Wild Card)
NFC
1. Seahawks 12-3 (NFC West)
2. Cowboys 11-4 (NFC East)
3. Packers 11-4 (NFC North)
4. Buccaneers 10-5 (NFC South)
5. Redskins 10-5 (NFC East; Wild Card)
6. Cardinals 9-6 (NFC West; Wild Card)
Week 17 coming soon!
Ad blocker interference detected!
Wikia is a free-to-use site that makes money from advertising. We have a modified experience for viewers using ad blockers

Wikia is not accessible if you've made further modifications. Remove the custom ad blocker rule(s) and the page will load as expected.