Hey Football fans! BBB15 here continuing SSReporters' 2007 NFL Whatifsports simulation. Who needs the NBA?! I've got lots of NFL action coming your way! (Note: If you have no clue what the hell I'm talking about, check out this link: http://www.armchairgm.com/Article:WIS_NFL_Replay_Week_14).
WIS Week 15:
Thursday
Denver 33, Houston 27 (HOU 31-13)
Sage Rosenfels, taking the place of Houston QB Matt Schaub, and WR Andre Johnson hooked up 6 times (2 went for TD's), for 112 yards, but Denver's running game took over. Denver ran the ball 36 times for 217 yards (5.9 YPC), and 2 TD's. Denver took the game in OT on a Travis Henry 3-yard TD run, despite Jay Cutler's 2 INT's, and Andre Johnson's domination through the air (three 20+ yard catches).
Saturday
Cincinnati 20, San Fran 24 (SF 20-13)
San Fran's Shaun Hill (who started the game), and Alex Smith combined for 19 completions out of 33 attempts, 261 passing yards, and 3 TD's. But, more importantly, zero INT's. Frank Gore may not have broke 100 yards on the ground, but 74 rushing yards with zero TD's ended up being just enough to top Carson Palmer (19/26, 303 Yards, 1 TD, 0 INT) and the last-place 6-8 Bengals.
Sunday
Seattle 44, Carolina 0 (CAR 13-10)
Well, the Seahawks continue to thrive after this ugly game. The 'Hawks blowout the Panthers, 44-0. Matt Moore had a horrific game for Carolina, going 2 for 20, and throwing 3 INT's, with zero TD's. He didn't even come close to throwing for even 50 yards! In fact, he threw for 21 yards, and combined, Vinny Testaverde, and Moore completed 6 of 29 pass attempts for 78 yards, and 3 INT's. This is an embarrassment to the NFL.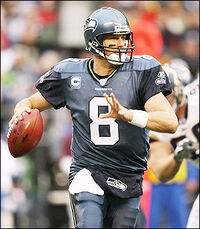 Tennessee 17, Kansas City 13 (TEN 26-17)
John Carney's 2 FG's for KC proved to be the storyline today for the Chiefs. On the ground, KC ran for just 34 yards on 20 attempts (1.7 YPC), and Brodie Croyle went 12 for 27 with 1 TD, 1 INT through the air. LenDale White was the player of the game, rushing for 149 yards on 22 attempts.
Buffalo 24, Cleveland 38 (CLE 8-0)
Well, this game proved to be a better game. Today's game was a high-scoring, back and forth duel between two emerging QB's, Derek Anderson, and Trent Edwards. Anderson came out on top, throwing for 308 yards, and 3 TD's.
Atlanta 7, Tampa Bay 45 (TB 37-3)
Tampa dominated on both sides of the ball, with Jeff Garcia throwing for 308 yards, and 2 TD's, while Earnest Graham ran for 112 yards, and 1 TD. Tampa's D also did a great job, allowing just 1 TD (Jerious Norwood 55-yard TD run in 2nd QTR), and picking off Chris Redman twice.
Green Bay 34, St. Louis 15 (GB 33-14)
Wow, this game was just 2 total points away from the actual final score, and the QB's stats are scary accurate as well. Brett Favre threw 2 INT's in this game too, but St. Louis got no help from Steven Jackson today, as he ran for just 27 yards on 23 attempts, with a long of 5-yards. St. Louis still gets blownout.
Jacksonville 6, Pittsburgh 24 (JAC 29-22)
This is why you never want to give Pittsburgh a second chance, because they won't let you down. Pittsburgh redeems themselves, and defeates the Jags by 18. Willie Parker ran for 97 yards (100 rushing yards in actual week 15 game), and runs the ball in for a 3-yard score back in the first QTR to take the early 7-0 lead. Ben Roethlisberger went mistake-less, and hooked up with Santonio Holmes in the end zone twice. Pitt remains AFC North leader with a 12-2 record.
Arizona 10, New Orleans 16 (NO 31-24)
I kinda think both teams had just average performances today, but Drew Brees and his now 8-6 Saints came out on top. But, Brees went 27/34 with 285 Passing yards, and a TD (13-yarder to Marques Colston in 1st QTR). Only mistake was a New Orleans fumble which Arizona managed to recover. Arizona drops to 2-12 on the season.
New York Jets 6, New England 34 (NE 20-10)
The Patriots may not be undefeated, but they are still haven't a great WIS season, so far. Tom Brady & Co. improved to 12-2 by blowing the Jets out, 34-6. Brady threw for 295 yards, and 3 TD, while Chad Pennington wasn't even able to complete half his attempts (15/31), and threw an INT to James Sanders, as well. But, both teams did struggle on the ground (both teams managed just 79 rushing yards as a team).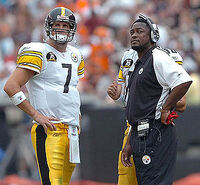 Baltimore 24, Miami 20 (MIA 22-16 OT)
The third-place Baltimore Ravens get back up to .500 with a 4-point win over the 1-13 Miami Dolphins, and it looks like Miami could end up being the 1-15 team they were during the actual 2007 regular season. Miami ran for just 42 yards on the ground, but Cleo Lemon did manage to pass for 334 yards (out-throwing both Kyle Boller, and Troy Smith). McGahee lifted the Ravens with his 105 yards, and 2 TD's on the ground.
Indianapolis 52, Oakland 3 (IND 21-14)
Wow, another blowout. Indy outscored Oakland 35-0 in the second half, as Peyton Manning dominated the Raiders usually strong secondary, by throwing for 328 yards, and 4 TD's. Josh McCown completed just 10 of 23 pass attempts, 119 yards, and 2 INT's. Sebastian Janikowski missed 2 FG's, and Oakland's Offense was just 3 of 12 on 3rd down. Joseph Addai had a career day, as well, rushing for 160 yards, and 3 TD's on 19 carries, and won player of the game honors.
Detroit 25, San Diego 24 (SD 51-14)
So, Detroit doesn't get blownout, and actually even won the game by a point, though Jon Kitna still threw more INT's than TD's. LT ran for 132 yards, and a TD, but Detroit out-ran the Bolts, 190-150, and more importantly outscored them too. The weak AFC West is now anyones to take (well, not exactly ANYONE'S, KC is 1-13). With the loss, Denver takes the 1-game lead in the Division with just 2 weeks to play in the '07 regular season.
Philadelphia 27, Dallas 21 (OT) (PHI 10-6)
This game ended up being a little more high-scoring, but had the same outcome in the end. McNabb and his Eagles from Philly got the win, edging Dallas in OT, and if Washington wins their game over the Giants, they will tie the Cowboys for the lead in the East. McNabb threw for exactly 300 yards, while Tony Romo threw 3 INT's, and just didn't give the ball to his backs enough, who still managed to out-run the Eagles (143-125). The 'Boys are praying for a Washington loss.
Washington 19, New York Giants 20 (WAS 22-10)
Ah, Dallas must not have prayed enough, 'cause Eli and his G-Men wore down the 'Skins D, and edged Washington by a point, 20-19, despite just 105 yards through the air. Brandon Jacobs ran for 100 yards on the dot, and believe it or not, Jeremy Shockey scored a TD, and it wasn't through the air. Yes, that's right, Shockey ran 57 yards on a TE reverse for a TD in the 2nd QTR. Both teams ran the ball to death, but thanks to Shockey's run, the Giants out-ran the 'Skins, and shocked them with a victory to improve to 8-6.
Monday
Chicago 16, Minnesota 19 (OT) (MIN 20-13)
Are you ready for some Monday Night Football!?!? Well, I know I am, especially when Rookie phenom, Adrian Peterson is playing. Well, in the actual game, AP ran for 78 yards and 2 TD's in a Minnesota 20-13 win, but this game was a little different. Yes, Minnesota won the game, but this time he ran for 92 yards, and 0 TD's. Chester Taylor was the player of the game, though, as he ran for 79 yards on just 12 carries. Ryan Longwell made his only FG attempt, which was the GW 24-yarder just 5 minutes into OT. The Bears blew it again, as they are now 2 games behind the NFC North leading GB Packers.
WIS Standings
AFC East
Patriots 12-2 (14-0)
Bills 6-8 (7-7)
Jets 4-10 (3-11)
Dolphins 1-13 (1-13)
AFC North
Steelers 12-2 (9-5)
Browns 9-5 (9-5)
Ravens 7-7 (4-11)
Bengals 7-7 (5-9)
AFC South
Colts 11-3 (12-2)
Texans 9-5 (7-7)
Jaguars 8-6 (10-4)
Titans 7-7 (8-6)
AFC West
Chargers 7-7 (9-5)
Broncos 7-7 (6-8)
Raiders 4-10 (4-10)
Chiefs 1-13 (4-10)
NFC East
Cowboys 10-4 (13-1)
Redskins 9-5 (7-7)
Giants 8-6 (9-5)
Eagles 7-7 (6-8)
NFC North
Packers 10-4 (12-2)
Bears 8-6 (5-9)
Lions 8-6 (6-8)
Vikings 7-7 (8-6)
NFC South
Buccaneers 9-5 (9-5)
Saints 8-6 (7-7)
Panthers 5-9 (8-6)
Falcons 4-10 (3-11)
NFC West
Seahawks 11-3 (9-5)
Cardinals 8-6 (6-8)
Niners 2-12 (4-10)
Rams 1-13 (3-11)
WIS Playoff Standings
AFC
1. Steelers 12-2
2. Patriots 12-2
3. Colts 11-3
4. Chargers 7-7
5. Texans 9-5
6. Browns 9-5
NFC
1. Seahawks 11-3
2. Packers 10-4
3. Cowboys 10-4
4. Buccaneers 9-5
5. Redskins 9-5
6. Cardinals 8-6
Week 16 coming right up!!
Ad blocker interference detected!
Wikia is a free-to-use site that makes money from advertising. We have a modified experience for viewers using ad blockers

Wikia is not accessible if you've made further modifications. Remove the custom ad blocker rule(s) and the page will load as expected.