What would happen if Brett Favre sent Green Bay packing?
By Sammy Geroulis, WhatIfSports.com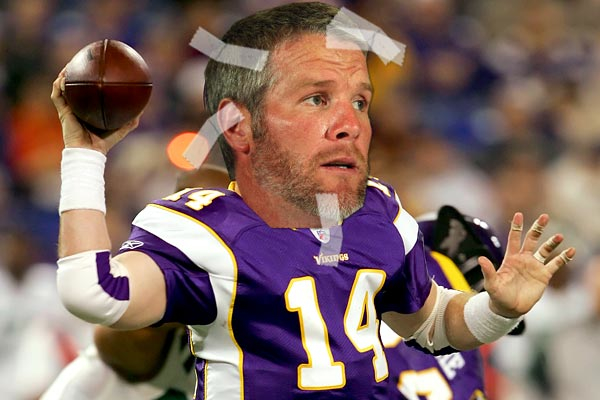 Recently, it seems like Brett Favre has been the name on everybody's lips. With all the media attention focusing on the legendary Green Bay Packers quarterback's possible "un-retirement", we at Whatifsports would be remiss if we did not look at the situation from our own specialized perspective.
Obviously, if Favre returns to the field, some immediate concerns would be whether or not the Packers start him, bench him, trade him or, as he has requested, release him. Seeing as Green Bay officials have recently endorsed current QB Aaron Rodgers, the likelihood of the Packers starting the season with Favre under center is tenuous at best; and there are really no mysteries to explore if he is indeed benched. Trade partners are highly speculative, yet would likely not include a team that may be just a QB away from Super Bowl cotention. For these reasons, we decided to examine how Brett Favre would impact the 2008 NFL Season as a free agent. More specifically, we looked at Favre as the starting QB for Green Bay's main NFC North rival- the Minnesota Vikings- where he is rumored to be interested and clearly has a friendship with offensive coordinator Darrell Bevell.
Granted, Minnesota is already projected to be a playoff caliber team. They have an impenetrable defense and an effective rushing crew on offense, but they appear to be a quarterback away from attaining true greatness. With Brett Favre on hand to support the passing game, however, the Vikings evolve into a well-rounded threat and a definitive Super Bowl candidate. Favre doesn't merely enhance the Vikings' chances at a playoff berth, though. According to our calculations, he exponentially increases the productivity of his fellow offensive starters as well.
After running 1,000 simulated NFL seasons with the Favre/Vikings combination in effect, Brett ended the season with a 65.5% pass completion rate and threw for 4,149 passing yards. He also had 35 passing touchdowns and 12 interceptions. On the whole, our simulations projected that a Viking-bound Brett would be the second best overall quarterback behind Tom Brady. These numbers embarrass the projected stats for current "real life" Minnesota QB Tarvaris Jackson who only had a 57.4% completion rate, 2,635 passing yards, 19 passing touchdowns, and a rushing touchdown- not to mention one more projected interception than Favre.
Clearly, Brett's influence would be seen in the Quarterback position, but Viking running backs and wide receivers would also benefit from his presence. Our statistics show that Adrian Peterson would become the #1 running back in the NFL with Favre as opposed to his #3 position without him. He would also have 4 more projected rushing touchdowns (bringing his total to 18) and an additional receiving touchdown (totaling 3). Chester Taylor would also prosper, with 2 more projected rushing touchdowns in the offensve with Favre at the helm instead of Jackson.
Newly-acquired wide receiver Bernard Berrian would flourish with Favre, becoming the second most productive receiver in the NFL behind Randy Moss. This would present a dramatic variation, as our previous season forecasts showed that Berrian, the speedster who most recently played for the Bears, was absent from the top ten under Jackson. From Jackson to Favre, Berrian would have 4 more receiving touchdowns (bringing his total to 11) and 280 more receiving yards (for 1,394 yards in total). WR Sidney Rice also jumped up 13 spots in the rankings, with two more touchdowns and 118 more receiving yards under Brett's command. Even fourth string WR Robert Ferguson, a former teammate of Brett's while on the Packers, felt the Favre effect with 50 more yards and a touchdown reception. Tight end Visanthe Shianco put up more impressive numbers as well; and Favre was able to set up another teammate in kicker Ryan Longwell for field goals and extra point attempts 20% more often than Tarvaris Jackson.
Below are two versions of Minnesota's schedule- the first depicts a season under Tarvaris Jackson, while the second reveals results with Brett Favre as QB.

Minnesota Schedule (With Tarvaris Jackson) :
Week Opponent Win% Avg Score
1 @Green Bay Packers 55 22-21
2 Indianapolis Colts 39 22-24
3 Carolina Panthers 55 28-19
4 @Tennessee Titans 65 21-17
5 @New Orleans Saints 74 25-18
6 Detroit Lions 62 28-19
7 @Chicago Bears 85 26-15
9 Houston Texans 75 27-15
10 Green Bay Packers 63 27-18
11 @Tampa Bay Buccaneers 83 26-16
12 @Jacksonville Jaguars 53 23-22
13 Chicago Bears 75 29-15
14 @Detroit Lions 59 22-19
15 @Arizona Cardinals 69 25-19
16 Atlanta Falcons 85 32-13
17 New York Giants 47 22-23

Minnesota Schedule (With Brett Favre) :
Week Opponent Win% Avg Score
1 @Green Bay Packers 74 30-22
2 Indianapolis Colts 70 33-22
3 Carolina Panthers 90 33-17
4 @Tennessee Titans 92 30-16
5 @New Orleans Saints 87 29-19
6 Detroit Lions 87 37-16
7 @Chicago Bears 93 32-14
9 Houston Texans 90 35-16
10 Green Bay Packers 74 31-17
11 @Tampa Bay Buccaneers 97 30-14
12 @Jacksonville Jaguars 77 29-18
13 Chicago Bears 95 38-13
14 @Detroit Lions 93 35-17
15 @Arizona Cardinals 82 29-17
16 Atlanta Falcons 95 39-11
17 New York Giants 77 33-18
As you can see, Favre's potential impact is indisputable. The team goes from being favored in 14 games, to being favored in all of them. Furthermore, the Vikings' expected record increases from 11-5 to 14-2, as the otherwise likely division winner now earns the best record in the NFL. With the possibility of going 16-0 under Brett, Minnesota has to be considered a lock for the NFC Championship (without Favre, we have them losing to Dallas in the NFC Championship game) and a more than formidable opponent for a team like the Patriots in Super Bowl XLIII. With a complete defensive and offensive package, the Vikings would certainly be a force to be reckoned with. In matching Favre and the Vikings, both parties leave happy- Brett can end up on top as a Super Bowl champ once more and Minnesota could reach its first championship game since 1977.
Everything seems to work out perfectly… except for Green Bay of course. The Packers still do make the playoffs as a Wild Card with a 9-7 record, but the season opens and ends painfully. For what was supposed to be Brett Favre Day in Week 1 of the season, Brett Favre leads the opposition into Lambeau Field to claim an eight point victory. In Week 10 at the Metrodome, a stadium where Favre has played very poorly in the past, the Vikings win again when he takes the field. This time Favre is running the show for the winning team as Minnesota routs Green Bay by two touchdowns, 31-17. And then the most painful event occurs as Favre and the Vikings make it to the Super Bowl: his last pass as a Packer keeping them out of the game, while the last pass of his entire career is to keep the hated Vikings in the biggest game of all.
Whatifsports specializes in answering the great "What if?" questions in sports by simulating games between historical teams, and has exciting simulation games for MLB, NBA, NFL, NHL, college basketball and college football.
Ad blocker interference detected!
Wikia is a free-to-use site that makes money from advertising. We have a modified experience for viewers using ad blockers

Wikia is not accessible if you've made further modifications. Remove the custom ad blocker rule(s) and the page will load as expected.