Many experts, and when I mean experts, I mean ESPN, think USC's ass kicking of Illinois in the Rose Bowl gave them a legitimate shot to at least share the national championship again. I say, nonsense. John David Booty or not, you are supposed to beat Stanford at home even if you have to win by 1. So this simulation was one of the most entertaining games ever. This was played on a neutral field with a 70 degree temperature and no wind or rain. LSU favors the run, USC is balanced.
1st Half
After LSU punted on the opening possession of the game, USC gets a huge play as John David Booty finds Fred Davis for 38 yards to the LSU 24. Two plays later, Booty with the screen pass to Chauncey Washington for the touchdown! 7-0 USC. The teams traded punts twice and then LSU found a breakthrough late in the first quarter. Booty's pass on the first play of the drive was intercepted by Jacob Curtera, who returned it to the USC 12 yard line. On the ensuing play, Jacob Hester ran left tackle, and stormed his way for the tying touchdown. 7-7. USC stunned by the mistake went 3 and out on the next possession, which set up LSU at their own 34. Then on the 5th play of the drive at the USC 46, RB Keiland Williams gashed that USC defense for 46 yards all the way for the touchdown. 14-7 LSU after quarter 1.
USC would not be denied, as they started a 10 play drive which led them to the LSU 39 yard line. Booty threw a screen pass to David Ausberry, racing his way past the secondary, and a touchdown. 14-14. With 5:06 left in the first half, and LSU up 17-14 after a Colt David chippy FG, USC came up with another long drive, in which Booty threw his 3rd TD pass of the half, this time to Brad Walker. 21-17 USC at the half.
2nd Half
A largely uneventful 3rd quarter dominated by the defense. But, on LSU's first possession of the half, Flynn found Charles Scott on a screen route, as he broke some tackled for a 49 yard gain to the USC 6 yard line. Jacob Hester scored his 2nd touchdown of the game. 24-21 LSU at the end of 3.
At the start of the 4th, with USC driving, John David's pass to Ausberry in the end zone was just out of his reach. Field goal made by David Buehler, 24-24.LSU went backwards on the ensuing possession, which had Flynn sacked once, losing 2 on a running play, and throwing an incomplete pass deep in their own territory. On top of that, they had 2 penalties sending them to their own 8. AND THE PUNT IS BLOCKED!! USC HAS IT AT THE 2!!! Chauncey Washington easily scored 2 plays later to give USC a 31-24 lead. Again, the teams traded punts, and LSU got the ball back with 6:52 left in the game. Right off the bat, Hester runs for 43 yards to the USC 35. Keiland Williams tied the game a couple of plays afterwards. 31-31.
Then with 1:58 left, USC gambles and tries a 58 yard go ahead field goal....NO GOOD!!! That gave LSU the football at their own 48. Flynn ran for 12 on the first play, Hester ran for 13 on the 3rd play. USC looked beaten. But Flynn was sacked for a loss of 7 by Taylor Mays with over a minute left. LSU could not move the ball after that key play. So Colt David....to perhaps win the game from 51 yards......NO GOOD!!! Neither team on their next possession could score, overtime!
Overtime's 1-5
This part was so bizarre, let me tell you how it went in a short way.
34-34 after OT 1.
37-37 after OT 2.
40-40 after OT 3.
43-43 after OT 4.
46-46 after OT 5.
Overtime 6
That's right, the 6th OT was the charm. After LSU kicked ANOTHER FRICKIN FG, their 7th of the night to give them a 49-46 lead, Chauncey Washington for the Trojans gashed that LSU defense for 16 yards to the LSU 9. They just needed 9 yards for the win. Booty, throws for the win, INTERCEPTED BY CHEVIS JACKSON!!! LSU WINS!!! LSU WINS!!! MVP IS JACOB HESTER!!!!
LSU 49 USC 46 (6 OT)
Classic game, a %$%load of field goals. Here are the stats below, you'll be shocked at the sack fest they had.
Game Stats
USC Stats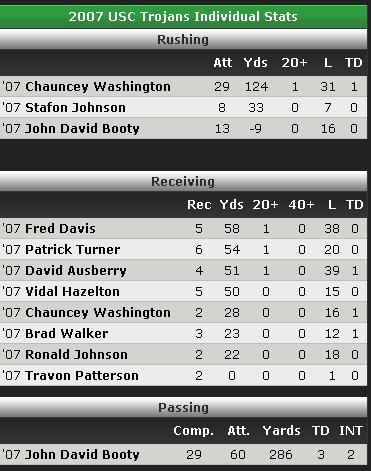 LSU Stats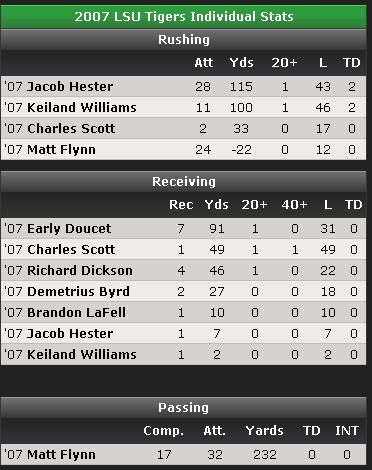 USC Defense

LSU Defense
Ad blocker interference detected!
Wikia is a free-to-use site that makes money from advertising. We have a modified experience for viewers using ad blockers

Wikia is not accessible if you've made further modifications. Remove the custom ad blocker rule(s) and the page will load as expected.