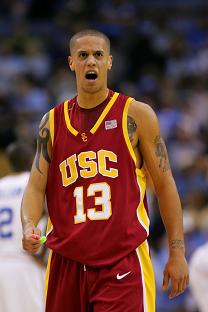 Now that it has been over a month since the USC basketball team lost to Kansas State in the first round of the NCAA Tournament, I figured it must be time for a season in review of all five positions, point guard, shooting guard, small forward, power forward, and center. During these previews I will grade each player on his performance from the first game against Mercer to the NCAA Tournament loss against Kansas State. So without further ado, here is the year in review for the point guard position.
Daniel Hackett A broken jaw and a hip injury certainly contributed to Daniel Hackett's up and down 2008 season, but his heart and determination made it a worthwhile campaign. During a fall workout, Hackett took an elbow to his jaw from teammate O.J. Mayo, causing him to undergoe surgery to repare his broken jaw. It was widely speculated that Mayo may have actually punched Hackett but neither player has ever confirmed the story.
During a mid-season game against Arizona, Hackett suffered a stress fracture in his lower back while diving for a loose ball. These injuries were particularily frustrating because the "Italion Stallion" was poised to have a breakout season after an excellent performance while playing for the Italian National Team during the Summer. In his second game back from the jaw injury, Hackett posted a triple-double (22 points, 10 rebounds, and 10 assists) on the road against South Carolina. Despite such a strong start, he never had the season that he was hoping for and to make matters worse, he struggled mightily in the season finale against Kansas State. Final Grade : B
Angelo Johnson After a strong performance in the season opener against Mercer, many USC fans were ready to annoint the young Angelo Johnson as the next Ryan Francis, a freshman that could provide consistency at the point guard spot. Unfortunately, those expectations were not met as the Minneapolis native never progressed like most fans had hoped he would. Against Mercer, Angelo looked poised and confident, capable of handling the ball under extreme pressure, but for the rest of the season, Johnson never seemed truly comfortable as the court general. At times, he struggled to set up the offense and distribute the ball to the team's playmakers.
His most obvious deficiency was his inability to handle pressure from agressive guards such as Darren Collison, Tajuan Porter, and Jered Bayless. There were too many times in which Johnson would pick up his dribble prematurely, getting trapped in the corner, and subsequently turning the ball over. These costly turnovers gave opponants easy baskets and put USC in big holes throughout the game. Defensively, he struggled against quick guards like Collison, Porter, Bayless, Nic Wise, and Mitch Johnson. Too many times he was beat off the dribble, putting bigmen Taj Gibson and Davon Jefferson in tough predicaments.
Despite some obvious defincies, Angelo did have a solid season overall. He did a great job hitting open three pointers and had some solid performances in some select games. However, Angelo will need to become a more consistent point guard if he is going to obtain a starting spot next season. Final Grade : C+
Ryan Wetherell Due to injuries to Daniel Hackett and a general lack of depth, the seldom used Ryan Wetherell was actually used in some key situations this season. During several Pac Ten games, the Canadian born point guard played some tough defense and handled the point guard duties with some maurity and poise. Wetherell will never be more than a third string point guard but play this season has to make Tim Floyd feel a little more confident with the teams' overall depth. Final Grade : C-
Ad blocker interference detected!
Wikia is a free-to-use site that makes money from advertising. We have a modified experience for viewers using ad blockers

Wikia is not accessible if you've made further modifications. Remove the custom ad blocker rule(s) and the page will load as expected.