Admittedly, after swimming of 18 years, I was very excited to be done with it all after college. But watching the Olympics last night reminded me of why I got in the water in the first place—it reminded me why I love swimming...the intensity, the heart, the teamwork...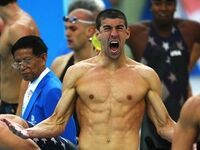 The French were heavily favored last night in the men's 4x100 freestyle relay. Alain Bernard, the world record holder in the 100 freestyle and the anchor of the French relay, was quoted as saying that the French were going to "smash the Americans." He should have kept his brie-filled mouth shut.
Phelps, Lezak, Weber-Gale, and Jones had to swim a perfect race to beat France. And they did, smashing the world record by about four seconds in the process (it's important to remember that four seconds is an ETERNITY in swimming).
Bernard had a little more than half a body length lead on Lezak going into the final turn. After watching the DVR, it looks like Lezak's comeback began right there. He had a perfect turn from top to bottom: good timing and flip distance, quick feet, powerful kick, and an excellent breakout.
Then, powered by his kick, he continued his comeback. Swimming the race intelligently is key in comeback situations, and Lezak did just that. He avoided Bernard's wash (the choppy water made by his kick) until he reached his hip. Lezak then began to hug the lane line that separated the French and American lanes. He did this to draft off of Bernard, using the Frenchman's own wake against him. For those who are unfamiliar with swimming, NASCAR drivers use similar tactics when they bump-draft…it creates a slingshot effect.
Coming into the flags they were neck and neck. At this point in the race, it's all about heart, and Lezak obviously had more of it than Bernard. He had the perfect finish. Bernard lost his head position (and lost the race) when he looked over at Lezak's lane. At that moment, Lezak desperately reached low for the wall and touched first, marking one of the greatest swims in USA swimming history. Lezak swam his anchor leg in an eye-popping 46.06 seconds, breaking the previous world record.
Lezak had been heavily criticized in the past for his lackluster performances in past Olympics. He'll never have to answer those questions again. "I can't even explain it, it was unreal. I've been a part of the two teams at the last two Olympics that came out behind, and I think I wanted it more than anybody, not just for myself, but to show that we are the nation to be beat in that relay," he said.
For us Baltimorians, this victory is extremely exciting on two fronts. Not only did the Americans win a gold in dramatic fashion, but Michael Phelps got his second gold medal. With six to go, these first two races were the ones that most of us swimming fans were worried about.
Now, in my opinion, the only thing standing in Phelps' way of reaching 8 gold medals is Ian Crocker, a fellow American and world-record holder in the 100 meter butterfly. If Phelps beats Crocker, it's a done deal…he will win 8. And with only two more gold medals, Michael Phelps will become the most decorated Olympic champion EVER.
If you saw the performance last night, I'm sure you'll be tuning in again. If you didn't, do yourself a favor and catch some swimming today and tomorrow.
Have a good one.
AJT
Ad blocker interference detected!
Wikia is a free-to-use site that makes money from advertising. We have a modified experience for viewers using ad blockers

Wikia is not accessible if you've made further modifications. Remove the custom ad blocker rule(s) and the page will load as expected.