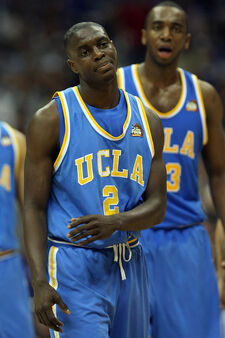 Led by Chris Douglas-Roberts and Derrick Rose, the Memphis Tigers beat UCLA 78-63 in the semifinals of the Final Four, advancing to the NCAA Tournament championship game. Douglas-Roberts, better known as CDR, led the Tigers with 28 points on 9 of 17 shooting. Freshman point guard Derrick Rose terrorized the Bruins with 25 points.
"This is a dream team," coach John Calipari said of his club after the game. They certainly looked that way tonight.
Calipari, who was criticized by Bill Plaschke in the Saturday Los Angeles Times, was much pleased with the way his team dictated the tempo of the game. After a slow start to begin the game, the Tigers rolled through much of the first half, pushing the pace and taking a halftime lead. In the second half it was all Memphis, as they continued to play at a quick pace.
Many Bruins were hampered by the fast-paced game as the team shot 32.4 percent from the field and 12.5 percent from behind the line in the second half. Russell Westbrook didn't seem to be bothered as he scored twenty-two points to lead UCLA. However, star freshman center Kevin Love and junior point guard Darren Collison were largely non-factors during much of the game.
"We clamped down on them," Memphis forward Robert Dozier said. "I think [Collison] split the pick and roll only once, and that's something they like to do."
This was UCLA's third consecutive Final Four, but they will have no titles to show for it and only one championship game appearance.
"I don't know if there's some sweeping change that we need to do," said UCLA's Ben Howland after the game. "I mean, it's very difficult, No. 1, to get here. There's only four teams that make it here each year, and it's a very difficult thing to do in itself. Unfortunately for us we've run up against three really good teams."
Those teams were Florida twice and Memphis. Don't worry Bruin fans, it took John Wooden, the Wizard of Westwood fifteen years before he won his first title as head coach. I don't think it will take Howland fifteen years to do the same.
Ad blocker interference detected!
Wikia is a free-to-use site that makes money from advertising. We have a modified experience for viewers using ad blockers

Wikia is not accessible if you've made further modifications. Remove the custom ad blocker rule(s) and the page will load as expected.