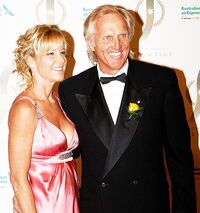 Bahamas was the place to be this weekend. People there witnessed a 2 million dollar lavish wedding. Whose? Well, two of the greatest legends from their respective sports. The shark,
Greg Norman
, 53 exchanged vows with
Tennis
legend,
Chris Evert
,53, on Saturday. Paradise Island's One & Only Ocean Club played host to the couple and 140 close friends and relatives. The Royal Bahamas Police Force and local security kept reporters and photographers at bay at certain checkpoints. Colton, Evert's youngest son who is 12 played ring bearer and her other two sons Nicky, 14 and Alex,16 walked her down the aisle. Norman's son Gregory Jr,21, played best man and his 23 year old daughter Morgan was also present. Evert divorced from her husband, Andy Hill (a world cup and Olympic skier) last December after 18 years together. Norman reached a settlement with his wife Laura Andrassy in September after 26 long years together.
Ad blocker interference detected!
Wikia is a free-to-use site that makes money from advertising. We have a modified experience for viewers using ad blockers

Wikia is not accessible if you've made further modifications. Remove the custom ad blocker rule(s) and the page will load as expected.