As some of you may recall, opening the season, I made 10 bold predictions, or as LASB said, "2 bold predictions and a bunch of likely statements for the MLB season". Now we're at the midseason and it's time to check up and see where I was right, where I was wrong, and the predictions that are still alive and kicking.
1. The Boston Red Sox will be swept in the World Series by the New York Mets thanks to a hat holding home run saving catch by a no name outfielder. (yes I'm still bitter by that February 3 incident)
FALSE: While this wasn't a real prediction to begin with, with the way the Mets are playing, I highly doubt they'll even make the playoffs let alone make the World Series. Also, since the February 3 incident that will forever be unnamed, the Celtics have won the championship, so I'm not as bitter as I was... lets move on.
2. The Seattle Mariners will almost make the playoffs but then they realize that they will have to overtake the Los Angeles Angels for the division or possibly the Detroit Tigers/Cleveland Indians/New York Yankees for a wild card; that's a tough wall to climb.
FALSE: The Mariners suck. I mean they are terrible. I'm embarrassed that I even believed in them. I should've hopped on the Rays bandwagon when I had the chance. I was also off on the wild card, which will not go to any of those three teams.
3. Dontrelle Willis absolutely BLOWS IT.
TRUE: Yes, I got one right. Dontrelle stunk up the joint with a 10.32 ERA and even got shipped to the Minors. He has gotten injury after injury (I don't buy them, but still) and may not even return to the Bigs this season. Damn homie... in 2003, you was the man homie...

4. Midseason baseball becomes less relevant because Barry Bonds will somehow beat his perjury case.
FALSE: Barry doesn't go to court until March, but he is recently making headlines on how good he has been looking in workouts, and here we are in July and he's still unemployed. Tough fall from being the leading vote getter in the All Star Game last season. But if R. Kelly can beat his case, I have enough confidence in the incompetence of the judicial system that Barry gets off scot free.
5. The Los Angeles Dodgers will make the playoffs, but Joe Torre will be snubbed as Manager of the Year
ALMOST TRUE: The NL West is the worst division in baseball and there no reason to believe that the Dodgers won't overtake it. As for Torre, I haven't heard anything about him good or bad, so I doubt he will be in the running for Manager of the Year. So, technically, I'm still right about that one as well.
6. The Milwaukee Brewers will win the NL Central, and have one of the top records in the league.
ALMOST TRUE: I know this will be true eventually. Now that they added C.C. Sabathia, the Brewers are pretty dangerous. We now live in a world where Tampa Bay is the best in the league, so the Brewers can make a run and perhaps even win the NL.
7. Dice-K will be an All-Star this year, as well as become a good Cy Young candidate with at least 17 wins
ALMOST TRUE: Damn injury. Dice-K was on a roll with a 9-1 record, and would've been starting in the All-Star game had he stayed healthy. His injury puts a damper on his Cy Young hopes, but there's no one in the AL thats blowing people away to the point that its theirs to lose... maybe Cliff Lee, but I'm still pulling for Dice-K.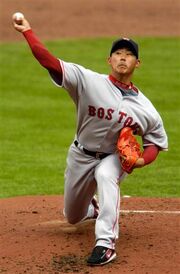 8. Joba Chamberlain is overrated; he will prove my point when he becomes a starter.
MEH: He hasn't stunk up the joint as I expected him to, but there's nothing too great about the guy. There's still time for a major collapse. Come on Joba, do I have to sick the Cleveland bugs on you?
9. The St. Louis Cardinals prove once and for all they are the biggest disappointments in Missouri by bombing this season. Albert Pujols will demand a trade at the end of the season, leaving the usual suspects (the Red Sox, [[New York Yankees|Yankees], Mets, Angels) to drool over him.
FALSE: I completely forgot that this year they were going to be good since they sucked last year. Pujols likely won't go anywhere, so sorry everybody.
10. David Ortiz Susan Lucci-ism is finally cured as he finally wins the AL MVP award.
FALSE: I can declare this a MEH, but he had an awful start and then got hurt, and his team hasn't lost a step without him. Maybe next year Papi...
5 Declared False
3 Almost Trues
1 Declared True
1 Meh
Not bad, but if the season was predictable what would be the point in watching... but before I hit that submit button here's a couple quick predictions for the post season check up
Ad blocker interference detected!
Wikia is a free-to-use site that makes money from advertising. We have a modified experience for viewers using ad blockers

Wikia is not accessible if you've made further modifications. Remove the custom ad blocker rule(s) and the page will load as expected.