Real Madrid, arguably one of the best teams in Europe, has never been shy when it comes to transfers. We all know of the Cristiano Ronaldo transfer saga last summer, with all of its twists and turns the summer of 2008 was a complete bust for Real as they lost the likes of Robinho and Julio Baptista.
In the end, Real was only able to sign Rafael Van der vaart from Hamburg. Other signings that happened were the recalls of Euro 2008 winner Ruben De La Red and Youth player Javi Garcia. Although we all know the latter is no match in style and technique to the Brazilians in which Real Madrid had lost.
Half the season had gone by and from it Real was fourth in La Liga (12 points behind their bitter Rivals Barcelona), and Ruud Van Nistelrooy, Mahamadou Diarra, and Ruben De La Red were out for the remainder of the season. Van the Man also suffered an old knee injury he suffered from against their Champions League match against Juventus, Diarra had a similiar injury to his knee and Ruben had fainted in a Copa de Ray match which the medics believed that it would be best to let him sit out the rest of the season for further tests.
After the sacking Bernd Schuster and appointing Juande Ramos, Real Madrid set out to replace each player so they may fill in the gaps that not only those players had left, but also the two Brazilians from the summer.
These are their signings: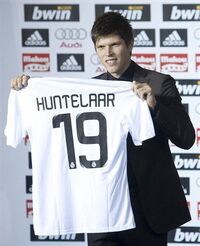 Probably one of the most talented young Dutch strikers out there, Huntelaar started his professional career at PSV Eindhoven where he made only 1 appearance, went out on a couple of loan spells and found his footing at Ajax where he notched 76 Goals in 92 appearances, transferred to Real this Winter for €20m, rising to a potential €27m through time.
There is no doubt that Huntlaar was signed as an immediate replacement for Van Goal, he has been compared to Van since 2006.
He was awarded Bronze Boot by UEFA in 2008 after scoring 35 Goals in all competitions.
Lassana "Lass" Diarra
Lass Diarra, who started his career at Le Havre and is currently in the second division of the French league, transferred to Chelsea, but couldn't find first team football. He then transferred to Arsenal where Arsene Wenger could not give him enough minutes. He was then sold to Portsmouth where he was a complete success. As his reputation grew, in December, Portsmouth accepted a substantial offer from Real Madrid and the player stating it was a "Dream to play for Real".
Madrid had signed Diarra from Portsmouth £20 million without a doubt to fill in the huge hole the former Diarra had left in the midfield, and Lass hit the ground running, as he was a complete success he has been a starter in every match Real Madrid has had since his arrival forming a rock-solid partnership with fellow defensive midfielder Fernando Gago.
Dani Parejo
He is actually not a signing per se; he was a player of Real Madrid's own youth system who was loaned out for the season to Championship side Queens Park Rangers, but was recalled in January to fill in as a replacement for Ruben De La Red, A very talented young Spanish player, scored a stunning goal for Real in the pre-season and shows a lot of skill for someone of young age.
Has appeared 34 times for Real Madrid's youth team and 18 times for QPR.
Julien Faubert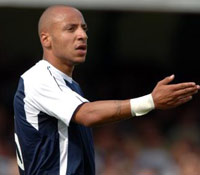 Julien Who?
A temporary fix for the lack of experienced wingers at Real Madrid, ex-coach Bernd Schuster asked for a wide player throughout the summer, but was never given one. After signing a new coach in Juande Ramos, Real has been given a French winger with a powerful and experienced right foot.
Faubert started out at Cannes where he scored 4 times in 45 appearances for the club. Then he was given a chance of a lifetime when French club Bordeaux came knocking, he signed and was a perfect fit.
Clubs from around Europe raced for his signature but he decided to sign for West Ham United in 2007, only though he was injured in the pre-season and has been on and off throughout his time there, but to his fortune he was finally fit this season only to warm the bench so he has signed for Real on Loan until June 30 2009 for €1.5 million with the option of a buy at the end of the season for a extra fee of €6 million.
Real Madrid have never been coy when it comes to signings but was spending € 50 million in the winter window going to give them that extra ability to win something this season or is it truly for the future??
Ad blocker interference detected!
Wikia is a free-to-use site that makes money from advertising. We have a modified experience for viewers using ad blockers

Wikia is not accessible if you've made further modifications. Remove the custom ad blocker rule(s) and the page will load as expected.