Even with the possibility of not being able to remain the everyday third baseman for the Detroit Tigers, Brandon Inge has accepted that and has decided to return to Detroit for the '08 MLB season. According to the Detroit Free Press, Inge has stated that he'd accept his new role in a Tigers uniform.
His new role?
Inge will become the super utility guy who can play the third base position and the catcher spot. And even if he's needed for any other position, he will have no problem filling in. With the off season acquisition of the all-star third baseman Miguel Cabrera, Inge was the odd man out. Every position on the Tigers ball club was filled, and there wasn't a spot left for Inge, anywhere. The only thing that he could've done was become a utility guy. His choices were either to backup at third, backup at catcher or not show up to spring training at all. But Inge has chosen the right thing to do, and that's to remain a Tiger and even have the possibility of winning a World Series title here in Detroit.
There were rumors surrounding Inge that he would most likely be traded away to replace the prospects that Detroit has given up to all of their off season acquisitions. He didn't want to be a utility man because he was so used to starting in different positions. It's hard to go to the bench when you've made your career by being starter. So Inge requested a trade to go somewhere else where he would be needed. But Detroit wasn't getting any offers from any other teams, so the trade talks where silenced.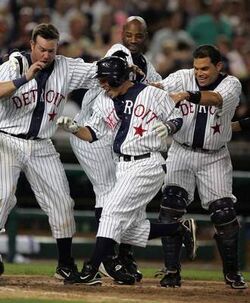 In 2007, Inge was probably one of the most reliable third baseman in the league, defensively. He made plenty of tremendous plays on the defensive side, giving him the reputation that he's earned in the MLB. Offensively, he wasn't the guy to have. That was a major role in the Cabrera-Willis trade. Cabrera would be the one to boost the offensive numbers up of the third base position. Inge hit only .239 with 12 home runs last season, after jacking 27 home runs in the previous, magical Tigers 2006 season. Even though Inge was a defensive guy, his numbers didn't say so, as he committed 18 errors. But that doesn't stop him from being the man on defense. He has the range to get to more balls, and make more plays. That was about the only thing that you could say that was positive about Inge. The fact that he hit just .223 with three home runs after the '07 All Star break doesn't make him a threat at the plate--unlike his '06 season. He led the league in strikeouts as well. He had a problem with swinging at balls and looking at strikes.
Watching Inge struggle last season was tough for fans to watch because Inge has always been a favorite in Detroit. He's been through the worst and the best. He's been with them when they lost 100+ games, and he's been with them during their turn around and their run to the World Series.
"Detroit is where I've been, and it's where I want to be. I didn't ask for this. I was ecstatic when I signed a four-year contract (after the 2006 season) … I've been forced into a situation that's not very good, but I'm going to try to make the best out of it." --Brandon Inge
When he was in Detroit through out the tough years, he was the starting catcher for the Tigers. He put up average numbers as a catcher, and did a decent job defensively. But the signing of Ivan Rodriguez in 2004 moved Brandon over to the permanent third base position. So Inge does have experience in playing catcher, something that could be in handy for him (and the Tigers) in the future. With Pudge signed with the Tigers for just one more year, there's no telling whether he'll be back in 2009. It depends on the season he has in '08. Sure Pudge would like to play until he's in his forties, but will the Tigers want him in his forties? If Inge can do a decent job backing him up for this season, which could possibly end up his permanent position in the future (if he's still a Tiger). Look at his numbers...
He has a career .241 batting average. He averages 12.1 home runs a season. If you look at other catchers in this league, their numbers aren't any better than that. For a catcher, those numbers aren't bad. As a third baseman, it's difficult to compare those numbers to the other third baseman around the league. But as a catcher, if the average is brought up just a little bit, than those are potential all star numbers. Sure they wouldn't replace Pudge's numbers, but they are still decent for the catcher position. Inge still has the potential to increase his average because he did once have a season when he hit .287 with 13 home runs. That is all the Tigers would need from Inge. Inge just would need to contribute numbers like that to become an all star catcher in the future. Forget about the 27 home runs that you got from him in '06 because Dave Dombrowski replaced that by getting Cabrera. Inge could move back to the catcher position and be solid behind the plate.
This is a real smart move by Inge because he has the chance to win a ring in Detroit by not having to worry about the pressures of redeeming himself with another team. This gives him a chance to play all of the other positions on the field, and it gives him the opportunity to get himself acclimated to playing the catcher position. From there, he could possibly take that position from Pudge in the future and end up becoming an all star in this league. If it doesn't work out in a Tigers uniform, he could possibly be scouted by another organization and they may see something in Inge. In all ways, this will work out for the benefit of Inge. He's been mature about this whole situation, and he understands that this is what the Tigers need him to do in order to maintain that "Championship" attitude. Give Inge a lot of credit for this. He's made a sacrifice in order to remain apart of this team, and he now has the chance to expand his career.
Ad blocker interference detected!
Wikia is a free-to-use site that makes money from advertising. We have a modified experience for viewers using ad blockers

Wikia is not accessible if you've made further modifications. Remove the custom ad blocker rule(s) and the page will load as expected.