Before I start, after a week without a computer, television or cell phone, I want to give you all a Life Lesson. It's one word: travel. And by travel, I mean get outside the US. I love the US, but there are so many amazingly unique and spectacular places in the world that you should see. I just spent a week in Barcelona, Venice, and Florence with my two roommates, and it was far and away the best week of my life. If you're planning a trip or want to go to any of these places, message me and I'll send along some travel tips. One sports-related Spring Break tidbit: when flying from Barcelona to Venice (connecting in Rome), AliItalia lost our bags. We didn't get them until the next evening after we had dinner. As a result, I was among some of the most fashionable people in the world, in jeans, flip-flops and a Papelbon t-shirt for 50+ hours.
So... baseball. I have never been more excited for baseball season in my entire life for a number of reasons. Mostly because I'm out of the country and my team just won the World Series and could very well do it again. But there are others...
10. SHUT UP ALREADY, I'M OVER THIS
I'm psyched Randy Moss is coming back. I'm psyched for the draft and the possibility of getting either a top-flight linebacker or corner. I'm psyched that Arlen Specter is getting the "Talk to the Hand" from Goodell Castro. I'm psyched for 2008. As awful as it was, there are worse things in life than losing a Super Bowl. Nonetheless, baseball will take away the final smidgens of sadness.
9. THE NATIONAL LEAGUE BEING AWESOMELY MEDIOCRE
Other than the Mets, how can you possibly say there is going to be a legitimately very good team in the NL? By my count, of the top 6 teams in baseball, FIVE are in the American League (in no particular order: Red Sox, Angels, Indians, Tigers, Yankees). I nearly forgot that the Colorado Rockies played in the World Series last year. There may be four completely different playoff teams in 2008 (Mets, Padres, Dodgers, Brewers maybe?). It's so wide open. Unpredictability rules.
8. THE RAYS: BREAKING THROUGH?
I always get overly excited about a really young team with "can't miss" prospects that may or may not be ready for the majors. But Evan Longoria and David Price just may be ready to help the Rays take a step towards challenging the Sox and Yanks in the AL East.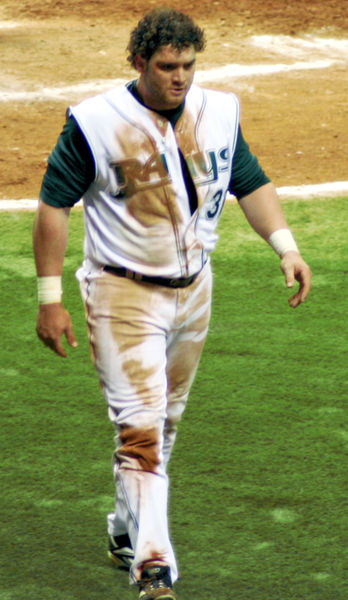 Don't forget about Scott Kazmir, James Shields, Akinori Iwamura, and my favorite DH not named David Ortiz for no particular reason, Jonny Gomes. I'll hopefully get to Tampa this summer and see them in action.
7. NO BARRY? REALLY? YEAH, TOO GOOD TO BE TRUE
At least he probably won't be playing baseball, which is good. But that whole perjury deal will probably lead to much more Pedro Gomez than I ever wanted. I'm sure he's an excellent journalist, but something about him just makes me want to punch him in the face. Kinda like I wanna punch Peyton Manning in the face sometimes: no really good reason.
6. YANKEE PITCHING: UNINTENTIONAL COMEDY OR BETTER THAN WE ALL THOUGHT?
It's looking like Ian Kennedy, Phil Hughes, Mike Mussina, Andy Pettitte, and Chien-Ming Wang to start the season. Otherwise known as the Law Firm of Young, Young, Old, HGH and Wang. Then there's the Joba Chamberlain issue (they need to make a decree that bug spray be prohibited in Fenway Park in the middle of the summer), and Mariano Rivera maybe losing his Mojo (that's a big maybe). If they have as many injuries as last year, who knows who'll come out of the fold? I think it's safe to say Roger Clemens isn't walking through that bullpen. And just think... the Twins were dumb enough to trade Johan to a cross-town rival for half as much as the Bombers offered. God bless Twins management.
5. THE TIGERS GIVING TIM KURKJIAN AN ORGASM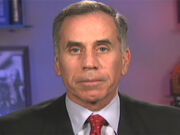 I will never forget when the Rangers beat the Orioles 30-3, and Kurkjian went on BBTN and basically peed himself. He loses it when he announces that (with amazement that comes only from sexual pleasure) Wes Littleton got a save with a 27-run lead. This year's Tiger offense has the potential to be historically good and give baseball's coolest stat dork plenty of stimulation, and opposing pitchers absolute nightmares.
4. THE SAUSAGE RACES AT MILLER PARK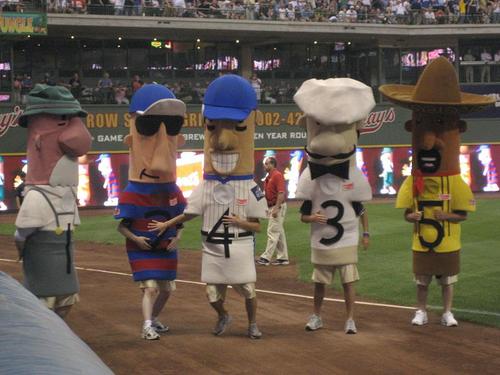 Not even kidding. I adore these. Apparently there's also Presidential Races at the Nationals' park. Seriously, that Sportscenter ad, with the sausages chasing Stan Verrett and the rest of the staff down the hallway in Bristol, kills me every time. If this isn't a commentary on how much the NL is infinitely less interesting than the AL, then I don't know what is.
3. THE RED SOX STILL BEING AWESOME
They brought back the one guy they really needed to (Mike Lowell) and hung on to a bunch of guys that are as good as any prospects out there, even when they justifiably could have let them go (Jacoby Ellsbury, Clay Buchholz, Justin Masterson, Jed Lowrie, and Michael Bowden). And they still have Josh Beckett, who will win the Cy Young this year (if not, 20+ games). And Manny, Papi, Paps, Youk, and Pedroia. They are the perfect mix of young guys and vets.
2. THE DISTINCT POSSIBILITY OF RED SOX-METS WORLD SERIES
My head might explode if this happens. Pedro returning to Boston in the postseason. Johan Santana pitching to a guy he was nearly traded for. Billy Wagner vs. Jonathan Papelbon. Young guys galore... David Wright, Jose Reyes, Jacoby Ellsbury, Clay Buchholz, Paps, John Maine, etc. And then there's the angle of Jacoby Ellsbury and David Wright playing in the same game... that's sexier than Tom and Gisele making out in a wine cellar. Boston-New York is taken to a whole other level, I'm sure much to the anger and hatred of many of you, but a delight to many of us also.
1. JACOBY ELLSBURY GETTING AWESOMER AND AWESOMER
In 2005, the Boston Red Sox drafted some guy named Jacoby out of Oregon State. He was still "some guy" until 2007, when he performed well in the regular season and gave Red Sox Nation a collective Papelboner in the World Series. We all knew how good this kid was going to be, so good a majority of Sox fans didn't want to trade him for Santana. And then spring training rolls along. And he says all the right things. And he's in Men's Vogue. And there are people calling him the next Ted Williams and Fred Lynn. And... scene. The poor kid has so much pressure on him, but it doesn't seem to phase him. He is the future of the franchise. He has the makings of a superstar, the superstar that Nomah never wanted to be. Of course, I was terribly afraid I would come back from vacation and he would have torn his ACL or something. Luckily, that didn't happen, and Coco Crisp is still around and will hopefully take some pressure off. Until he gets the keys full time, I will wait and cherish every moment he's flying around the bases or smacking doubles off the Monster. He has taken the title of 2008 Red Sox Love of my Life (in 2007, it was Josh Beckett, in case you were wondering) before the season even starts. Wahwahweewah. I could go on and on and on about Ellsbury, but I'm determined not to get my hopes up. One postseason does not a career make. And there are plenty of other sexy outfielders, mind-boggling rookies and nasty curveballs I have to look forward to...
Ad blocker interference detected!
Wikia is a free-to-use site that makes money from advertising. We have a modified experience for viewers using ad blockers

Wikia is not accessible if you've made further modifications. Remove the custom ad blocker rule(s) and the page will load as expected.