This article can also be found on Askmen.com
Whatifsports.com is a website that specializes in answering the great "What if?" questions in sports by simulating games between historical teams in professional basketball, football, baseball and hockey, or collegiate football and basketball. In this article, WhatIfSports utilizes its statistical technology to rank the NBA Point Guards ever.
After eras dominated by high-flying scorers like Michael Jordan and Dominique Wilkins and powerful centers Shaquille O'Neal and Hakeem Olajuwon, point guards are all the rage right now in the NBA. Jason Kidd was the most sought after player at the trade deadline. Young players like Chris Paul, Jose Calderon, Jameer Nelson and Deron Williams are keeping their teams in the hunt for division championships. And very good teams like Spurs with Damon Stoudamire and Celtics with Sam Cassell are doing everything they can to bring in another presence at the point to keep them in title contention.
Perhaps the poster child for the NBA's floor general focus, Steve Nash, is quietly putting together another ridiculous offensive season in leading the Phoenix Suns to a record over 20 games above .500. In 2004, when Nash went back to the Suns from Dallas, he and head coach Mike D'Antoni kicked off the trend by taking a young, small athletic team to running teams out of the gym and play efficient, entertaining basketball.
But where do some of the players from the current crop rank among the greatest point guards of all time? With a complete database of all NBA (and ABA) stats dating back 1951 and having conducted an abundance of basketball statistical research to build our simulation engines, we decided to find the answer to that question by ranking the top 10 point guards in NBA history.
The list will be found on the following pages, but let me clarify some of the pieces that we touched on with our article on the Top 10 NFL Quarterback Seasons. First of all, players are subject to comparison relative to their respective seasons as well as historically. This means that players are not penalized for playing in certain era. This is typically called normalization. In basketball, we typically do this on a percentage basis where some stats like three-point attempts and offensive rebounds before the 1980s have to be approximated based on comparative modern players.
For instance, we consider offensive rebounding percentages as a ratio of missed shots by the player's team while the player is on the floor that are rebounded by that player. These values are also compared against all players from that season. Other important ratios that are handled similarly and used in this ranking are steal, block, assist, turnover and scoring percentages as well as a defensive rating we have calculated called stop percentage. We have listed most of these stats on a per-48 minutes played basis below to keep them meaningful.
Second, not all of the stats that sound important truly are. Field goal percentage is very important with regards to efficiency, but there are better measures. Here, we look at "true shooting percentage," a scoring efficiency measure popularized by analyst John Hollinger. Steve Nash is a great example of this difference. His 48.3% career field goal percentage going into this season is good, yet is only seventh on this list. However, Nash's true-shooting percentage of 60.2% is third among these ten players. This drastic increase reflects the Nash's prowess on three-point and free-throw attempts. Again, to make things as meaningful as possible, we have tried to capture efficiency below with the simpler points per shot.
The top ten point guards in NBA history are ranked by an internal formula that is utilized in our simulation engine and takes all of the above into account. For this analysis we considered only point guards who played at least 25,000 career minutes (roughly 10 full seasons). Among those who would have made the top ten, yet were ineligible due to the minutes requirement are Mark Price and Chris Paul (he has a ways to go for the minutes). Quality of the ratio stats, as opposed to raw quantity over time, is the only factor used in the formula.
Some notable players who just missed the cut include Nate "Tiny" Archibald at #20, Bob Cousy at #17 (strictly statistical – "innovation" is not considered) and Isiah Thomas at #11.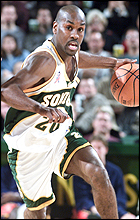 #10 Gary Payton (Seattle, Milwaukee, LAL, Boston, Miami: 1990-2007)
Defensively alone, the "Glove" grades as one of the top five point guards of all-time. Add in an impressive assist-to-turnover ratio that is tied for third among the players on this list, and one can see why Payton has led three different teams to the NBA finals.
Stats: 22.2 points per 48 minutes, 9.1 assists per 48 minutes, 5.3 rebounds per 48 minutes, 2.5 steals per 48 minutes, 3.0 Assists per Turnover, 1.17 points per shot
#9 Steve Nash (Phoenix, Dallas: 1996-present)
Offensively, with his ability to force tempo, great assist and assist-to-turnover ratios and better true shooting percentage, Nash is as efficient as any of these players outside of the top two. But, while he has actually improved over the last couple of seasons, he is still a defensive liability.
Stats: 22.0 pp48, 11.9 ap48, 4.5 rp48, 1.2 sp48, 3.0 A/TO, 1.34 pps
#8 Maurice Cheeks (Philadelphia, San Antonio, New York, Atlanta, New Jersey: 1978-93)
Like Payton, 'Mo' also bounced around quite a bit late in his career because of his ability to lead and lock down the opposing team's best guard. With the 76ers, a team that played for three championships with him at the helm, Dr. J may have provided the flash and athleticism and Moses Malone the muscle, but Cheeks was the heart, soul and mind of that team.
Stats: 16.9 pp48, 10.2 ap48, 4.3 rp48, 3.2 sp48, 3.3 A/TO, 1.31 pps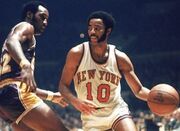 #7 Walt Frazier (New York, Cleveland: 1967-80)
It's not necessarily easy to standout on a team with great basketball players and greater personalities like Bill Bradley, Earl "the Pearl" Monroe, Willis Reed, Phil Jackson and Dave DeBusschere, yet Walt "Clyde" Frazier was equal parts solid leader and celebrity for the Knicks in the 1970s.
Stats: 25.1 pp48*, 7.8 ap48, 7.5 rp48, 2.4 sp48*, 2.1 A/TO*, 1.29 pps*
#6 Jason Kidd (Dallas, Phoenix, New Jersey: 1994-present)
Kidd may be one of the better ball-handlers and passers that the league has ever seen, but, far more importantly than that, the numbers say that he is clearly the best defensive point guard to qualify for this list. If he either shot the ball less or much more efficiently, he could be an all-time legend like the top couple here.
Stats: 18.6 pp48, 11.8 ap48, 8.7 rp48, 2.5 sp48, 2.9 A/TO, 1.12 pps
#5 Kevin Johnson (Cleveland, Phoenix: 1987-2000)
Probably the biggest surprise ranking on this list, "KJ" did not do anything better than all of the rest, yet had no flaws. His only minor downfall was health as he missed 15 or more games in six of his 12 seasons. Still, Kevin Johnson should be a Hall of Famer for what he did on the court and, by the looks of it, he could be one off the court as well.
Stats: 25.2 pp48, 12.8 ap48, 4.7 rp48, 2.1 sp48, 3.0 A/TO, 1.43 pps
#4 Oscar Robertson (Cincinnati, Milwaukee: 1960-74)
The "Big O" averaged a triple-double in his second NBA season. Enough said.
Stats: 30.4 pp48*, 10.8 ap48, 8.5 rp48, 2.1 sp48*, 2.3 A/TO*, 1.42 pps*
#3 Jerry West (LAL: 1960-74)
West may be the only player we would debate putting on both the all-time point and shooting guard lists. Very few players in history could shoot, pass, rebound or create turnovers, let alone score when it truly mattered as well as "Mr. Clutch" and he did them all at the highest level.
Stats: 34.2 pp48*, 8.2 ap48, 7.1 rp48, 2.0 sp48*, 1.8 A/TO*, 1.37 pps*
#2 John Stockton (Utah: 1984-2003)
The top four in this ranking seem like no-brainers, but this race is really about the top two. John Stockton was the prototype, conventional point guard. He could pass, steal, shoot, dribble, defend and lead. He was stoic and unflappable…
Stats: 19.8 pp48, 15.9 ap48, 4.1 rp48, 3.3 sp48, 3.7 A/TO, 1.44 pps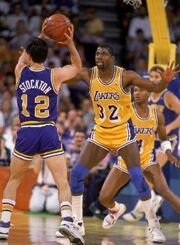 #1 Magic Johnson (LAL: 1979-92, 1996)
Now take John Stockton and make him grow seven inches. Give him a smile. Change his complexion. And, put him in a major market that's all about style and see what happens. Ok, so maybe Magic and Stockton were not quite as similar on and off the court as the numbers would suggest, but the two are neck-and-neck in the discussion. In the end, the guy who scored more and with greater efficiency, used his height advantage to rebound and defend multiple positions and won five NBA championships outdoes the prototype.
Stats: 25.6 pp48, 14.6 ap48, 9.5 rp48, 2.5 sp48, 2.9 A/TO, 1.48 pps
Some approximated data used for Frazier, Robertson and West.
For more of Whatifsports.com's content, please visit Beyond the Box Score
Ad blocker interference detected!
Wikia is a free-to-use site that makes money from advertising. We have a modified experience for viewers using ad blockers

Wikia is not accessible if you've made further modifications. Remove the custom ad blocker rule(s) and the page will load as expected.