This article can also be found on Askmen.com
Whatifsports.com is a website that specializes in answering the great "What if?" questions in sports by simulating games between historical teams in professional basketball, football, baseball and hockey, or collegiate football and basketball. In this article, WhatIfSports utilizes its SimMatchup technology to rank the greatest March Madness champions ever.
Since the field expanded to 64 teams in 1985, the NCAA Men's Basketball Tournament has been one of the most anticipated and exciting sporting events every year. With the Madness now complete for another 11 months, historical context can be a topic that can help college basketball fans make it back to next March. En route to victory, KU beat top overall seed North Carolina, fellow number one seed Memphis and Cinderella Davidson. But truly how good was Kansas? Were the Jayhawks better than their previous incarnation under Danny Manning in 1988? What about the UNLV team that, like Memphis, dominated a weaker conference and ran teams out of the gym? Or, which Duke, Kentucky, UConn, Florida or North Carolina champion is the school's best?
To answer these questions and more we called on the Whatifsports.com computer that accurately predicted the Final Four, runner-up and champion in this season's tournament. To come up with the a top ten list of March Madness Champions in as fair a manner as possible, we "played" all 24 teams that have won it all since the tournament expanded against all of the other championship teams 100 times each – that's over 25,000 games. Teams were then ranked by winning percentage from those games.
Before we get into the top ten, let's look at a few of the teams that do not make the cut. To advance through six consecutive games against mostly successful opponents every team is going to need a bit of luck. The 1988 Kansas squad aptly nicknamed "Danny and the Miracles" needed a few miracles to win the championship 20 years ago. In this analysis, that Jayhawks' team finishes in last, winning just 10% of its games. Florida, which won the two previous national championships to this season, is the only school among the six schools with multiple championships not to place a team in the top ten. However, the 2005-06 and 2006-07 Gators finish 13 th and 11 th respectively. Just missing the cut, UCLA's lone entry, the 1994-95 team with the O'Bannon brothers and North Carolina's 1992-93 team with Eric Montross finish 14 th and 12 th respectively. Teams from the 1980s do not seem to do as well, but that is purely a fluke because several big underdogs like Villanova, Oklahoma, Indiana and Louisville won the tournament that decade.
#10 2001-02 Maryland Terrapins (53.9% - winning percentage from simulations)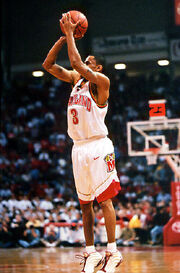 A good mix of heady players like Steve Blake and Lonny Baxter, defensive stoppers like Byron Mouton, freakish athletes like Chris Wilcox and an all-around talent like Juan Dixon, head coach Gary Williams put together his most complete team of his Hall of Fame career. Williams did not have to sweat too much over this team either, as it won all of its tournament games but one – an eight point win over UConn - by double-digits.
Starters (typically): Blake, Dixon, Mouton, Wilcox, Baxter
#9 1993-94 Arkansas Razorbacks (54.8%)
Nolan Richardson's "40 minutes of hell" included SEC Player of the Year Corliss Williamson and sharp-shooting Scotty Thurman who hit a three-point shot with 53 seconds left in the championship game to keep Duke from winning its third title in four seasons.
Starters: Corey Beck, Clint McDaniel, Thurman, Dwight Stewart, Williamson
#8 1997-98 Kentucky Wildcats (59.6%)
The first of two UK teams in the top ten and third consecutive squad to make the championship game, not much was expected of the Wildcats in 1997-98 after Rick Pitino and Ron Mercer left. But, the experienced and very balanced team rallied around new head coach Tubby Smith to defeat Keith Van Horn's Utah Utes and win the title.
Starters: Wayne Turner, Jeff Sheppard, Allen Edwards, Scott Padgett, Nazr Mohammed
#7 2003-04 Connecticut Huskies (60.9%)
Two future top three NBA picks in Ben Gordon and Emeka Okafor lead the way to give Jim Calhoun his second championship and best UConn team to date.
Starters: Taliek Brown, Gordon, Denham Brown, Okafor, Josh Boone
#6 1991-92 Duke Blue Devils (61.7%)
If had not been for Christian Laettner in 1992, Kentucky may have three teams on this list.
Starters: Bobby Hurley, Grant Hill, Thomas Hill, Brian Davis, Laettner
#5 2007-08 Kansas Jayhawks (63.9%)
As we saw this season, Kansas had no weaknesses. Every team it played found a way to beat itself – and that's not a fluke.
Starters: Russell Robinson, Mario Chalmers, Brandon Rush, Darrell Arthur, Darnell Jackson
#4 1989-90 UNLV Runnin' Rebels (75.2%)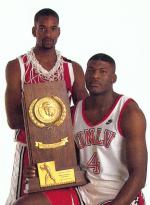 Kansas had a pretty good year, but there are clearly four dominant champions of the last 24 seasons. In 1989-90, with players like Larry Johnson, Greg Anthony and the "Plastic Man" Stacey Augmon, UNLV burst on to the scene running more than ever, averaging 93.5 points a game. Interestingly, this may not have been the best Runnin' Rebels team of the era. Duke put a surprising win to an impressive win streak the next season to keep UNLV from repeating.
Starters: Anthony, Anderson Hunt, Augmon, Johnson, George Ackles
#3 2004-05 North Carolina Tar Heels (79.6%)
To win a national championship, teams typically need a couple players with NBA talent. This team had four guys drafted in the first 14 picks of the 2005 NBA draft (Marvin Williams #2, Raymond Felton #5, Sean May #13 and Rashad McCants #14).
Starters: Felton, McCants, Jackie Manuel, Jawad Williams, May
#2 1995-96 Kentucky Wildcats (80.0%)
Rick Pitino's lone championship team was one of the best of all-time. The Wildcats had incredible length (have you ever seen Tony Delk's arms?) and incredible depth with ten players averaging between nine and 27 minutes a game.
Starters: Anthony Epps, Delk, Derek Anderson, Walter McCarty, Antoine Walker
#1 2000-01 Duke Blue Devils (92.2%)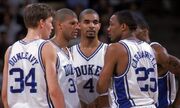 Winning at a higher percentage here than they did during the regular season that year, this team had everything one could ask for in a basketball team – great coaching, outside shooting (four starters hit more than 40 threes), ball-handling, athleticism, experience, unselfishness, balanced scoring (all five starters averaged more than 12 points), tenacious defense and a strong sixth man providing an interior presence in Carlos Boozer.
Starters: Jason Williams, Chris Duhon, Mike Dunleavy, Nate James, Shane Battier

For more of Whatifsports.com's content, please visit Beyond the Box Score
Ad blocker interference detected!
Wikia is a free-to-use site that makes money from advertising. We have a modified experience for viewers using ad blockers

Wikia is not accessible if you've made further modifications. Remove the custom ad blocker rule(s) and the page will load as expected.