The past couple of seasons the Cubs have really lacked noticeable talent in the prospect category, as this season begins the Cubs have a hand-full of solid prospects that look to excel into the elite prospect category. This year several prospects have the potential to break out helping lead a system that has been looked at as weak towards a system with a bright future.
Top 10 prospects:
1. Josh Vitters 3B - No question here, the former first round pick seems to have regained health and put up a very solid season at Boise hitting .328 with 5 homers and 25 doubles in just 259 at bats. Vitters also was titled the best pure hitter in the NWL. Vitters future with the Cubs is still a while away as he just turned 19 last August. Hopefully Vitters can continue to swing the bats this season. Vitters may never be a 40-50 home run guy, but his swing and plate approach could potentially lead him to comparing to a current Cub third basemen, Aramis Ramirez. Defensively scouts like his arm but say he does need to work on his footwork over at third base.
2. Jeff Samardzija RHP  - The former football standout showed his poise and potential last summer in the pen with the Cubs. Samardzija may spend 2009 back in the minors working on converting back into starting.  The verdict on Samardzija is still out there, several scouts consider his fastball solid but say he needs to develop a few more pitches to become anything more than a relief pitcher. The good news is Jeff has not been focused on pitching until his recent draft by the Cubs, and if the strides he has made in 2 years are any example, keep an eye on the Shark because he may be a solid middle of the rotation arm for many years.
3. Andrew Cashner RHP - Cashner was drafted in the first round this past summer by the Cubs. This was an interesting pick because like Colvin, scouts did not see him going quite as high in the draft. What Andrew brings is pen experience, Cashner was mainly a closer at Texas Christian. When Cashner moved to the pen in college his fastball went from low 90's to steady mid 90's and occasionally was clocked around 98 mph. He has solid stuff and after a few hiccups last summer should move fairly quickly through the Cubs system this season, fans will get a look at Cashner this spring as he was invited to camp.
4. Ryan Flaherty SS/2B - Some may think this is too high to place Flaherty on the Cubs prospect list, but what I see is a guy who could possibly develop into a solid bat at a weaker offensive position. Ryan most likely will be moved to 2B in the coming season where his build and range is much more suited. Offensively Flaherty posted a .297 Avg with 8 home runs and an .880 OPS. in the NWL league. The former Vanderbilt short stop should be another guy who moves quickly through the Cubs system, look for him to start the season in high A though the Cubs have started to build some solid competition at 2B in the system. Flaherty could project to be a .280/.350/.450 type player with decent gap power and around 12-15 home runs a season.
5. Tyler Colvin OF - Last season looked worse than it truly was for Colvin, he did not have a solid offensive season however some of this may have been due to needing Tommy John surgery. Colvin did however show a little more plate discipline, which is the number one thing that may hold him back from being a solid major league player. Tyler is a solid athlete who has the tools to be a quality major league player, especially if he can stick to CF. If he can improve his plate discipline and bounce back from last season he may jump the prospect lists quite fast.
6. Jay Jackson RHP - One of the top Cubs prospects to watch in 2009, Jackson was flat out dominant after being drafted in the 8th round last summer. In 50 innings between all three levels of A ball Jackson struck out 72 while walking only 13. Scouts love Jackson's confidence and from a pitch standpoint he currently has a strong fastball and a nasty slider. He does not project like a lot of pitchers due to height as he is only 6-1 195 lbs. Jackson was drafted out of college so he will most likely begin 2009 at high A.
7. Wellington Castillo C - Before the emergence of Geovany Soto, the Cubs really struggled to develop players at the catcher position. Now, there are a few catchers worth watching in the Cubs system, especially Wellington Castillo.  Castillo was originally known for his strong arm and solid footwork behind the dish. Last season between High A and AA he threw out 27 of 75 base runners.  Castillo's bat also has not struggled for how fast he has moved through the Cubs system. He is just 21 years old and touched AAA last season for 5 at bats. He will most likely start out at AA this season where he posted respectable numbers offensively his .298 with 15 extra base hits in 198 at bats.  Wellington will need to focus now on cutting down on the strike outs or drawing more walks.
8. Hak-Ju Lee SS - Drafted this past year, Lee may be one of the more exciting players to watch in 2009. All that is known right now is that Lee is blazing fast and hits from the left side of the plate. Scouts over seas said he handles the position extremely well and should have little transition into playing in the U.S. If he can hit like some people believe this guy will open a lot of eyes and climb the prospect chart extremely fast.
9.  Dae-Eun Rhee RHP - Rhee, who was drafted out of Korea, is a 6'2" 190 lbs right hander who flat out dominated at Peoria last season, in 40 innings Rhee posted a 1.80 ERA striking out 33.  Rhee would most likely eclipse the top 4 cubs prospect list if not for having Tommy John surgery in the fall. We will have to see how he rebounds before projecting much from Rhee.
10. Esmailin Caridad - RHP - The 10th prospect is always the toughest, there are many Cubs prospects that a case could be made for putting them ahead of Caridad, however Esmailin put up very solid numbers in AA last year and many of the Cubs prospects are yet to touch AA. In 14 starts, Caridad went 7-3 with a 3.16 ERA, the reason many people do not project him highly is because he is not a strike out pitcher and his command is decent but needs improvement. He is a pitcher to watch this year because if he can repeat his success in a full season at either AA or AAA than he should be easier to project.
Other prospects to watch in 2009 - Brandon Guyer, Tony Thomas, Mitch Atkins, Chris Carpenter, Drew Rundle, Jonathon Nagel, Aaron Shafer, Rocky Roquet, Case Coleman.
---
www.CubScore.com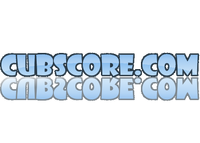 Ad blocker interference detected!
Wikia is a free-to-use site that makes money from advertising. We have a modified experience for viewers using ad blockers

Wikia is not accessible if you've made further modifications. Remove the custom ad blocker rule(s) and the page will load as expected.