Go ahead, call me crazy for recapping a preseason game!!
Well, anyways...
Last night's NFL primetime special between JaMarcus Russell's Oakland Raiders, and Vince Young's Tennessee Titans was about as good as the preseason gets.  Russell, who will start the season under center for Oakland, went 10 for 17 for 75 yards and a TD in his second outing of '08.  He wasn't perfect, but then again, no one ever is.  Russell has no trouble when it comes to arm strength, but accuracy and poise?  Well, he needs a little work on that.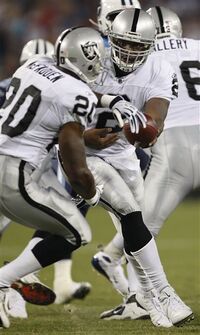 Oakland struck first as Russell led Oakland 61 yards on 6 plays to kick off the second quarter of play.  The medium-length scoring drive ended after second-year tight end Zach Miller caught a short 10-yard pass in the end zone.  Aaron Elling's extra point put Oakland ahead 7-0.  Ten minutes later Tennessee got on the board on an Ahmard Hall fumble recovery, which was recovered in the end zone.  Elling's surprisingly long kick—from 56 yards—sent the Raiders into the locker room with a three-point lead.
Both coaches—the 33-year old Lane Kiffin, and the 50-year old Jeff Fisher—had plenty to be proud of at the end of the game, which, by the way, ended with an exciting, December-like feeling.  Tennessee's third-string, 26-year old QB, Ingle Martin, led the no-named offense on a 12-play, 82-yard scoring drive in the last 2:10 of the game.  The offensive line committed two penalties in those two minutes, yet Ingle was able to overcome the mistakes and set up a game-winning, 33-yard field goal.  The 24-year old, backup place kicker, John Vaughn drilled the attempt as time expired.  The entire Titans bench exploded onto the field to congratulate Martin, and Vaughn like they won the Super Bowl or something.  Even Jeff Fisher was pumped for the win.  It was a pretty exciting ending, despite it being just the second week of the preseason.
Like I said before, both coaches had plenty to be proud of.  And, although VY's stats didn't look so promising (4 for 13, 37 yards, 2.8 yards per completion), Tennessee's backups passed the test.  I think Ingle's fourth quarter performance, alone, propelled him past veteran QB Kerry Collins on the depth chart.  On the other side of the field, Oakland's second-string Andrew Walter completed 7 of his 11 pass attempts, and 27-year old RB Adimchinobi Echemandu ran for 77 yards on just 3 carries.  That includes a 72-yard run, although Oakland later failed to score on an Echemandi fumble inside Tennessee's five-yard line.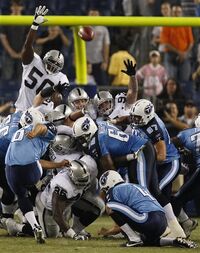 Either way, this was an all-around great game.  Little mistakes, big plays, and plenty of offense.  This is the kind of games we all love to see, isn't it?  I, like many others, would love to see a regular season matchup between these two.  Vince Young versus JaMarcus Russell?? How exciting.  Look out for the RB duo of Chris Johnson and LenDale White this year, as well.
What else do we have to look forward to with these two teams this coming season? Is that the question? Well, it's rather simple, really. Oakland's number one draft pick in the 2008 draft--also runner-up for the Heisman Trophy two consecutive seasons--Darren McFadden. McFadden ran for 44 yards in the Raiders' loss, but that was on just 6 carries. He averaged 7.3 yards a carry. Not too shabby for just his second game in an NFL uniform. Oh, and about that defense...
Oakland's secondary just may be the best in the league this season. Al Davis added CB DeAngelo Hall from the Atlanta Falcons this season to compliment an already fantastic group of athletes. Yes, Oakland was 22nd in the NFL in total defense last year, but Hall, and young 'backers Thomas Howard and Kirk Morrison are great defenders and will help this team get into the top 15 in total defense in '08.
Over in Knoxville, Tennessee the Titans and their fan base have plenty to look forward to in '08. This team made the playoffs last year with Young under center, without any legit targets on offense. This year he has the 6-2, 262-pound tight end, Alge Crumpler, who was acquired from Atlanta. Not to mention the speedy rookie Running back, Chris Johnson, who ran a 4.2 40-yard dash during the scouting combine. I think it's Vince's year...to throw for more TD's than interceptions.
Where are you September?!
Ad blocker interference detected!
Wikia is a free-to-use site that makes money from advertising. We have a modified experience for viewers using ad blockers

Wikia is not accessible if you've made further modifications. Remove the custom ad blocker rule(s) and the page will load as expected.