This article was originally posted at Cousins of Ron Mexico.
Okay, I'm going to admit something up front: I have no statistical evidence to back up what I argue in this space. (Not exactly a news flash, I know, but stick with me here.) I believe there might be statistical evidence out there to support what I'm about to claim, but I'm not going to go through the painstaking process of "looking up facts." That's for somebody with a filter on their work computer. (If you have a filter, please feel free to look up stats all day to defend or attack my argument - I'll be googling Stacy Dash)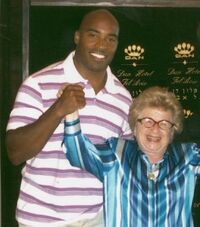 So here it is: Tiki Barber is overrated and a system back. This is what I said to my father as we watched Ahmad Bradshaw highlights on Sunday afternoon.
Shocking I know. The former league-leader in smiles is overrated? Why?
To me, Tiki was a system back. There, I said it. Just look at the Giants rushing attack this season. Based on what I remember - based on fantasy football - 4 Giants runner had success this season:
Brandon Jacobs, Reuben Droughns, Derrick Ward and Ahmad Bradshaw.
Overall the Giants are the number 4 rushing team in the league. (I can't believe I just looked up a stat) No other team in the top 9 (Another statistic!) has used such a variety of tailbacks so effectively. Then again, no other team has such a "talented" group. Seriously, if this bunch doesn't look like a Mike Shanahan shit platter, then I don't know what does.
Every other top rushing team has a name-brand back (or two)
Minny - Purple Jesus and Chester Taylor Jacksonville - MoJoDrew and Fred Taylor's Healthy Groin Pittsburgh - Fast Willie (RIP) Tennessee - Vince Young (What? He's not a running back?) and LenDale White Oakland - Young Huggy Bear and Lamont " Canton Fantasy Bust" Jordan San Diego - LDT Philly - Brian Westbrook
I guarantee over the next couple years New York becomes known as Denver East. Ruben Droughns is the only back averaging less than 4 ypc and there is empirical evidence that suggests he really sucks at his job.
Then there's the Eli Manning factor.
In addition to being a born-leader who makes opposing defenses shake with his deadly accuracy and overall consistency, Eli averages something around 2 yards a carry. All the other top rushing teams (with the possible exception of the Raiders) have a quarterback who scrambles effectively while Eli being 6 feet tall effectively falls forward at the line of scrimmage to gain his requisite 2 yards.
I guess my overall point is that the Giants don't have a marquee running back, yet their ground game hasn't lost a step despite the retirement of a surefire Hall of Famer and injuries to just about everyone in their backfield at one time or another during the season.
At least those are some of the things that will run through your mind next time you see Ahmad Bradshaw highlights.
Also good for the argument that Tiki is overrated: He used to fumble the ball a lot....I always found him annoying...I still find him annoying...He only had two good playoff games...The only memorable things he ever did were a Cadillac commercial and annoy me...
(All stats were found on The Dot Com)
Ad blocker interference detected!
Wikia is a free-to-use site that makes money from advertising. We have a modified experience for viewers using ad blockers

Wikia is not accessible if you've made further modifications. Remove the custom ad blocker rule(s) and the page will load as expected.