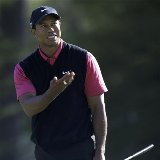 The day after finishing 2nd at the Masters, Tiger has knee surgery. During all his interviews, not once did he mention knee pain.He's a no excuse athlete, which is very refreshing. As a person that's had 5 knee operations in my lifetime , I can assure you playing golf hurts like hell when your knee is bad enough to require surgery. This is just one more thing that tells me how great Tiger is.
I grew up a Jack & Arnie fan, as such I was hoping Tiger wouldn't break all their records. All that has changed , my respect for his dedication, focus, and determination has won me over. He deserves everything he gets.He is the best golfer that has ever teed it up. Even after this rehab he'll still be the favorite to win the Open, as it should be.
Ad blocker interference detected!
Wikia is a free-to-use site that makes money from advertising. We have a modified experience for viewers using ad blockers

Wikia is not accessible if you've made further modifications. Remove the custom ad blocker rule(s) and the page will load as expected.