I just started breathing again -- what, with pinch-hitter Gabe Kapler's 2-out, potential game-tying shot in the bottom of the 9th carrying all the way to the Miller Park warning track before nestling mercifully in the glove of a gleeful Alfonso Soriano, can you blame me? Especially considering the ruckus concerning the pitch before (clearly a foul tip, but one the ever-savvy Geovany Soto deked both dugouts into believing he caught, inducing the commencement of the usual postgame formalities), that particular Kapler fly had a legimitate chance at irreparably damaging any type of momentum the Cubs may have gained over the past two games -- not to mention plating the tying run in a most horrifying fashion.
I mean, that would've been devastating.
So yeah, now's the first moment I've felt safe breathing. Hardly think I'm alone, either.
With that new abundance of breath, I'll offer a few scattered thoughts concerning one of the more rousing Cub victories yet to grace the 2008 season:
1. Slowin' CC.
Perhaps lost in the midst of Salomon Torres' thrilling 39-pitch ninth (he's done for the series; gotta love Ned Yost managing!) was the fact that the Cubs touched up the night's starter, one who had autoritatively tore through his initial four NL starts. Quite simply, the Cubs forced the BrewCrew's new rent-an-ace, C.C. Sabathia, to perspire and work harder than any Senior Circuit team had to date, and it certainly would appear as though their plate-diligence paid off -- at least the W flag would indicate as much.
Even I, never one to be confused with one timid of outrageous predictions, wouldn't consider Sabathia's 124 pitches over 6 2/3 a strain for a horse of the 6-7 behemoth's caliber -- his final pitches clocking high-90's should serve as enough example of that. Still, though, the fact that he was forced to exert such a great deal of energy and spend week's worth of pitches in fewer than 9 innings (a first over his previous three starts) is a rather noteworthy accomplishment, and one that must not be allowed to slip to the mind's back burner.
While the headlines may mention Derrek Lee's plentiful evening at the dish, the most important happenstance to occur in Miller Park was the roughing up of what many were already considering the NL Cy Young's frontrunner -- a thoroughly premature suggestion, in my estimation and perhaps Tim Lincecum's.
Three days ago, the feeble Cub hitters were doing all they could to help the Florida Marlins' rotation of nobodies and AAAer's resemble 20-game winners; today, they worked the hottest pitcher in Major League Baseball -- giving him the toughest go he's experienced in his relatively short NL stay. (All while on the road, too!)
Quite the noteworthy reversal of fortunes, wouldn't you think?
Should the confidence gained tonight carry over to Tuesday's matchup with the staff's true-ace, Ben Sheets, this particular viewer will find himself forcefully convinced: the Cub offense -- supposedly the best in the bigs, but perplexingly absent over the course of the second half's opening two weeks -- will have re-lit the flame.
The match has been struck; tomorrow, it's carefully placed beside the ever-inviting wick.
(My prediction? Keep your head down: explosions may occur.)
2. Reed Johnson's take-out slide.
Undoubtedly, unequivocally, unquestionably: the single best play of the season. (Not to mention, the first to declare candidacy for my 2008 fantasy football team's name! I think it has a real shot.)
While the plentiful proponents of Reed Johnson's doubletake-inducing Brim-Flip grab at Nationals' Park may argue to the contrary, I'll have none of it.
Feel free to trust me: the value of the hustle-monger Johnson's aggressive 7th inning take-out of Milwaukee second baseman
Rickie Weeks
is truly and utterly immeasurable. Disagree?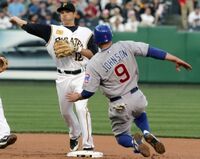 Consider the game's outcome should he opt against sacrificing his body: DP-Lee (I'm hoping you're capable of inferring, as I've grown fond of calling him that) is undoubtedly erased at first; poof, a giftwrapped 1-out, bases-loaded situation shot -- and, in as shocking a development as you'll come across, DP-Lee to blame.
The byproduct most noticeable, of course, would be two runs' removal from the scoreboard; Ronny Cedeno and Kosuke Fukudome remain stranded in scoring position.
A secondary effect, though, is the likelihood of yet another tally under his miserable GIDP column (an astounding and MLB-leading 21) distracting DP as he toils against the usually-lockdown Brewer closer, Torres, in the 9th. It's likely his screaming double down the rightfield line occurs only in the imaginations of wistful Cub fans, and, it's all too probable the Cubs return to their swank Brewtown hotels with only half of first place in their possession -- and that's without mentioning the great deal less fire in their bellies or optimism dancing around their heads, as well.
This particular win was enormous (the first game in a crucial series most always is); Johnson went out and took it, right along with Weeks' legs.
(Note: It's plausible a few among the readers may find a common chord with my friend, who attempted to argue Weeks' throw would've been off-target anyway. I disregard that suggestion in a manner similar to that of the repulsive Bears' training camp optimism -- most MLB-quality infielders, and even the above-average ones, are sorely incapable of firing on-target whilst being clipped-from-below by a barreling baserunner. This isn't even debatable; and even if Johnson hadn't taken out as good a chunk of Weeks' legs as he managed, it's likely the mere knowledge of a hard-charging baserunner's presence would've been enough to redirect Weeks' toss a few feet off the mark. So, "It wasn't that big of a play" folk, keep quiet.)
Johnson, in a fashion most remarkable and heartwarming (considering he's been shelved in favor of Jim Edmonds more often than not over the past two months, and still remains upbeat, and an undervalued positive influence) continues to play with as much heart and vigor as anyone I've witnessed in a Cub uniform -- and that's a strong statement. The reason behind Toronto fans' displeasure upon his now-quizzical release this spring is rather plain. (J.P. Ricciardi works another wonder!)
Tonight, though, he's outdone himself; his newest work has knocked the Brim-Flip from its otherwise-comfortable perch.
And the team's a W better off for it.
3. Lou Piniella's sanity fritters steadily away.
As I sat among friends and witnessed the happy proceedings tonight, I added a few tallies to my already-plentiful collection of insults directed towards Derrek Lee -- I've found the former power-hitter's skyhigh number of feeble groundballs and outwardly-unfocused demeanor objects of criticism as of late.
As alluded to earlier, I mentioned the nickname "DP-Lee" may find itself more appropriate these days in the stead of the usual D-Lee, and when he arrived at the plate, I suggested half-jokingly: "Alright boys, I've got third base. Sully, what'll y'have? Second? Alrighty, Scott? Where'll he groundout to this time? Shortstop -- ooh, a fine selection." It went on.
Even with Lee's relatively decent day at the plate taking place before my eyes, I remained critical. Scott's baseball-savvy father entered the room sometime in the 5th and commented, "Y'know, the guy's hitting .300 this year -- you oughta cut him some slack."
The point was decent, and one of which I'm rather aware. Mostly, my mocking comments were meant in jest, and although they carry with them a grain (or bushel..) of truth, the egregiously overrated Lee's been relatively successful enough in his Cub career and current season to the point where you'd hope he escapes most criticism.
Same deal with Lou Piniella.
You'd hope a guy captaining one of the better clubs in baseball would escape the majority of even the most critical man's ire, but Lou continues to leave no other options viable.
Exhibit A) What, in Mario Mendoza's hallowed name, is Ronny "4-3" Cedeno doing starting at second base? One would like to think a player with a nickname like that (even if it's been sarcastically doled out from this particular cynic) remains bolted, tied, and/or Gorilla Glued (if need be) to the bench the majority of the time, wouldn't you? Not in Lou's world! It's all about matchups, friend. See, with Lou, lefty-righty matchups come before all (and I mean all) else.
I'm certainly no manager, but it appears as though it's pretty damned simple: even if a left-handed pitcher is capable of holding lefties to the most meager of averages, (CC restricts southpaws to a .198; Lou batted 8 righties and Ted Lilly tonight), a line-up full of righties will not and cannot do the job -- that infallible pillar of baseball wisdom and humorous anecdotes, Bob Brenly, mentions it all the time: it's about mixing it up and not allowing the pitcher to settle into a groove. Put simply, the powers of even the most feeble lefties are checked none by a lineup of all-righties; if anything, they're helped due to the regularity of the opposing hitters' batters'-box placement.
If Lou had it his way, not a single Cub hitter or pitcher would ever be forced to endure a situation as wholly terrifying as facing an off-handed opponent -- egad, the mere thought!
Luckily for Ronny, Lou Piniella's players have nothing over which they ought to fret.
Exhibit B) What, in Antonio Alfonseca's alliterative and octosyllabic name, is Bob Howry -- he of the slim 13.50 ERA and mostly unimportant pair of late-inning L's since the All-Star break -- doing on the team?
In a continually horrifying development, this impostor's been posing as a Major League reliever free of consequence for the past few seasons -- and that's unsettling enough; tack on the fact that he's the single weakest link in the Cubs' pen, and he's put into use nearly every single day!
Oh, Lou. God love ya --'cause I sure can't.
Tonight, as Lilly imploded to the tune of back-to-back homers off the bats of J.J. Hardy and the hot-as-hell's-7th-circle Ryan Braun, Howry began to work in the pen; at this point, I casually remarked: "Consider this game blown, fellas."
Sure as you're reading this text, Howry entered, (wholly devoid of any and all emotion per the usual) and promptly served pinch-hitter Russell Branyan a belt-high, heart-of-the-plate meatball. Where it ended up (Aisle 402, Row 8, Seat 11, to be exact; aka, the left field bleachers) is of little consequence; Howry missed his spot (Geo had made it clear he wanted it in the dirt) by a good four feet.
And tonight was only one example.
He's incompetent, he's unremorseful, and he's singlehandedly cost the team a number of games
Why he hasn't yet been designated for assigment (from which, surely, no team would dare scoop him) is a mystery far beyond any type of logical explanation.
Why Lou continues to use him? Well, then.
Exhibit C) What, in the name of.... oh, forget it: WHAT the HELL is Daryle Ward doing, PERIOD!?
In spite of my numerous criticisms, the aforementioned Cedeno and Howry retain a few somewhat redeemable qualities -- Cedeno reached base and scored tonight; Howry, well... has a pretty necklace? -- Ward, however, has none. Fewer than none, actually -- he's not only a neutral factor, he's definitively detrimental.
To put it kindly, he's about as useless as conceivably possible. He's the hitter's version of Bob Howry, only less competent -- give that one a second to sink.
But hey, perhaps Lou knows what he's doing; Ward, the team's so-called "Pinch-hit Specialist" has produced (seatbelt warning: buckle 'em!) an utterly abominable 4/34 pinch-hitting this season. Not terrible, right?
Truthfully, if that isn't begging for a DFA, I'm not sure what is.
(Note: During the game tonight, I mentioned Ward would almost certainly be utilized later, and that his pinch-hit BA was hovering at or around .150; at the time I said it, I worried I had estimated too low, that I had slighted Ward out of a few points. Only a few minutes later, Ward strode to the box (only to popout, of course) and CSN displayed his stats: a . 121 BA! Worse than my low-guess! When your batting average is worse than people think, you may be on the fast track towards used-car dealership. Just sayin'.)
Yet Lou allows nary a ballgame to pass without a feeble Daryle Ward pop-up or wince-inducing groundout in a clutch, gotta-come-through-here type situation. Oh, Lou -- it's no worry, really. We've come to expect Ward to fail; when he does, eventually, flop, we care little due to our hopes' already-low status! We've become accustomed to this embarassment; might as well keep on, right?
---
Similar to the manner in which I treat Derrek Lee, I've attempted to keep the Lou-related criticisms to a minimum as long as the team remains in good standing; Scott's dad had a point: successful teams merit few criticisms, even in the event of their truthful nature.
Therefore, Lou recieves a free pass (at least from me) for the continued-failures concerning Ward (cut 'im), Howry (cut 'im), and, to a much lesser extent, Cedeno (shop him around, or send him to Iowa) -- at least until they catch up with the team's recent winning ways.
Considering their daily-usage, it shan't be long.
---
Until that time, Eustice, Eamus Catuli!
Ad blocker interference detected!
Wikia is a free-to-use site that makes money from advertising. We have a modified experience for viewers using ad blockers

Wikia is not accessible if you've made further modifications. Remove the custom ad blocker rule(s) and the page will load as expected.