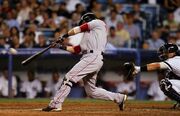 The following is just a thought/philosophy and should not be taken as an opinion. It is simply a thought experiment to see where people stand on this situation:
What is it? Why do some players have it and others do not? Is it a learned skill or even a skill at all? Is it something received at birth?
Dustin Pedroia apparently has "it" (at least this statement can be argued). He is leading the Red Sox to the post season. He is batting at a high mark (.326 batting average) with decent power numbers (17 home runs) and showing decent speed (17 stolen bases). But he has this intagiable ability to play the game. Does he not have it?
It can be argued that Alex Rodriguez lacks the "it" factor. He is batting at a high mark (.305 batting average) with above average power (35 home runs) and decent speed (17 stolen bases). So does he have it?
What is "it" and why do some players have "it" and others don't? Is Rodriguez lacking it and that is why his team can never seem to win it all? Can you explain "it" or are you one of those guys who just knows "it" when you see it?
Ad blocker interference detected!
Wikia is a free-to-use site that makes money from advertising. We have a modified experience for viewers using ad blockers

Wikia is not accessible if you've made further modifications. Remove the custom ad blocker rule(s) and the page will load as expected.