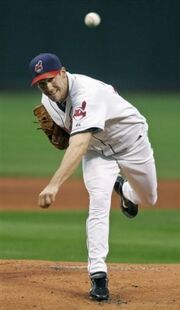 The following is just a thought/philosophy and should not be taken as an opinion.  It is simply a thought experiment to see where people stand on this situation:
The CY Young is a funny award. The front runners for the award this season are Tim Lincecum and Cliff Lee. Both deserving of the award, no doubt. Isn't it funny though how both their teams don't know how to play .500 baseball?  Think about it.  A team has the best pitcher in the league, yet cannot seem to win more games than they lose.  What a shame?
What makes this argument most interesting is the comparison to the Most Valuable Player Award.  Most people agree that the CY Young is the MVP for pitchers.  When it comes to the actual MVP Award, it is argued by many that "Most Valuable Player" stands for the player who has helped their team the most when it comes to winning.  Think about how many times it is argued that a player who's team misses the playoffs should not win the award?  Think about how many times it is said that numbers do not matter the most but winning does?
Why does this same logic of arguing not apply to pitchers as well?  What makes pitchers the exception.  Either the MVP should be based solely on numbers or the CY Young should be based more on the teams individual performance.  Yes, position players have the ability to help their teams every day, but should this double standard even exist?
Ad blocker interference detected!
Wikia is a free-to-use site that makes money from advertising. We have a modified experience for viewers using ad blockers

Wikia is not accessible if you've made further modifications. Remove the custom ad blocker rule(s) and the page will load as expected.