From: http://afraidofedhochuli.blogspot.com/
I wrote this earlier and got some feedback that it reads as if I am angry at Sean Taylor. I understand that, so I want to update it a bit. I am angry at the Media. ALL of the media. Why?
When it happened I wrote an article discussing how he wasn't at fault. When it happened I got in arguments with people about how his past was his past and that shouldn't shape their view of his present. When it happened the team was 2 games under .500.
Now, the Washington Redskins are in the Playoffs and on their way to Seattle to face the 4-time NFC West Champion Seahawks. The Redskins lost the game immediately following Sean Taylor's death and then had a 4-game win streak, lifting them into the post-season.
I think that is a great story. I think it is great that the team banded together to deal with the loss of a brother and a friend.
But, there is one thing that has gotten on my nerves: Sean Taylor.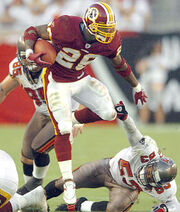 Now, before you get angry and berate me to everyone you know, hear me out. I have been on the side of sympathy since the beginning. I have felt the sadness and prayed for those he left behind. But is that the only "story-line" that people can think of? I am tired of hearing it.
Every preview starts like this: "The Washington Redskins have rode the wave of emotion all the way to the playoffs and now they do this for Sean" or "Sean Taylor is helping this team" or "Ever since the death of Sean Taylor…"
How do you think that makes the Redskins feel?
I always here the Media say that they will be meeting with a player and you can be prepared to hear questions about the murder.
If I was on the team and I was asked that question, I would flip it around and ask the Media: "What about Todd Collins' unlikely leadership? What about his first 4 wins in ten years in his first 4 starts in ten years? What about Clinton Portis' ability to raise his yards-per-game average by 10 yards? Or the Defense's ability to shut Offenses down?"
I believe that the Washington Redskins are a good team and that the death of Sean Taylor may have helped focus the team, but it is old, tired and needs to be stopped. The Media needs to do some work and actually look INTO a match up.
It isn't that hard; do a little research.
If you think that I am insensitive, I say you are wrong. I believe that I am being realistic. This team had OTHER things that led them to the playoffs.
The Redskins are good and they deserve some credit past the death of a teammate.
My Prediction: Seattle: 24; Washington: 17
Ad blocker interference detected!
Wikia is a free-to-use site that makes money from advertising. We have a modified experience for viewers using ad blockers

Wikia is not accessible if you've made further modifications. Remove the custom ad blocker rule(s) and the page will load as expected.