by Justin Yost
Seems like a pretty simple decision looking at it now, but in 2000 the New England Patriots had a quandary on their hands. Perhaps the decision might have made Tim Rattay the Greatest Quarterback of All Time or maybe the Pats would be struggling to make the playoffs, never mind Spygate! But with the 199th pick of the 2000 NFL Draft the New England Patriots selected Tom Brady. We all look back and marvel at the decision of selecting Brady that late given the hindsight, but at the time it seemed obvious. Needless to say, there were some respectable picks in Round 6, such as Pro-Bowlers Neil Rackers and current Patriot linebacker Adalius Thomas not to mention NFL currents Dhani Jones, Mike Anderson and Paul Edinger. But the real question everyone asks is what about the quarterbacks selected before Mr. Brady (six). Some have had long careers, others are never-was-beens, but truth be told, there is little doubt any of them were of the NFL caliber of Tom Brady.
- Round 1, Pick 18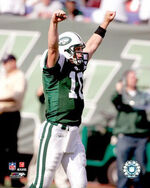 You can't really fault the New York Jets for taking Pennington here. Chad was known as a smart, gutsy QB at Marshall (Not to be confused with fellow Thundering Herd QB Byron Leftwich); who's extreme accuracy made him an NFL prospect who eventually experienced some success in the NFL. What Pennington didn't have in physical ability, he made up for in toughness and intelligence and even, after a serious shoulder injury, returned to the NFL with a vengeance; earning the Comeback Player of the Year Award. But his shortcomings have been the bane of Jets fans current existence. After leading the Jets to a 10-6 record in 2006, Pennington has been relegated to the bench in 2007, falling behind Kellen Clemens and out of favor with coach Eric Mangini and Jets fans everywhere (see MetsJetsDevils) Pennington married his college sweetheart Robin Hampton in 2001 and is backing up Kellen Clemens of the New York Jets
-Round 3, Pick 65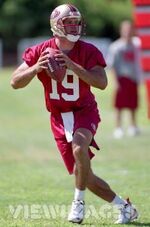 Allow me to give you the Stat Line on Carmazzi's NFL career:

Alright, now that we're through with that we can go on. Carmazzi was drafted by the San Francisco 49ers in the 3 rd round of the 2000 Draft, supposedly to back up, if not replace weak armed and savvy Jeff Garcia. Needless to say, it never came to fruition, as Carmazzi was bounced to now defunct NFL Europa in 2001, playing for the Rhein Fire and even took the Garcia route of getting some CFL time. Carmazzi became a third stringer of the B.C. Lions behind another QB to be mentioned soon. I honestly have no idea where Carmazzi is now.
-Round 3, Pick 75
When Redman was drafted out of University of Louisville in 2000, I went out on a limb proclaiming him the future starter and heir apparent for the Baltimore Ravens. After watching the Louisville bomber have more completions than any other college QB at the time and being among the NCAA career leaders in yardage, I was all for Redman. Unfortunately, in following in the footsteps of the two guys who happened to be above him in career yardage, Ty Detmer and the aforementioned Rattay. At the very least, Redman earned a Super Bowl Ring in 2000, as a third stringer for the Ravens.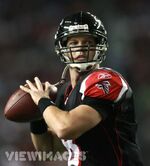 He bounced around the league after suffering a season ending shoulder injury in 2003, while relieving injured Kyle Boller, resurfaced in New England in 2004, before being released prior to training camp. Redman than latched onto the Tennessee Titans, but never saw an NFL down until 2007 when his old college ball coach Bobby Petrino signed him on to the Atlanta Falcons. After the Michael Vick incident, the trading of Matt Schaub and the injury to D.J. Shockley Redman became the backup to Joey Harrington, eventually replacing him in week 12 and starting in week 13, a loss to the New Orleans Saints. Redman married high school girlfriend Ashley Britt and had his first child in 2007. He is currently listed as the Atlanta Falcons starting quarterback.
-Round 5 Pick 163
Tamaurice Nigel "Tee" Martin is not known for being an NFL quarterback, even though he did spend four seasons in the NFL (the Pittsburgh Steelers, the team that drafted him, the Philadelphia Eagles and the Oakland Raiders). What Martin did do was something former University of Tennessee Quarterback (and fellow Brady Hater) Peyton Manning never did, win an NCAA Championship, at Tennessee with Manning's team, no less. Martin's team, complimented by running back Jamal Lewis and flanker Peerless Price won the 1998 NCAA Championship in college football, resulting in Martin, just like Manning, having a street in Knoxville named after him.
Martin also spent time in the CFL, much like his 2000 Draftee Brethren, resulting in two sub-par seasons with the Winnipeg Blue Bombers. Martin played poorly during 2004 and 2005, throwing for almost 500 yards and producing 1 touchdown to four interceptions. Martin married Latoya Rodriguez in 2005 and is currently the quarterbacks coach for North Cobb High School in Kennesaw, GA.
-Round 6, Pick 168
So, you could say, someone got it right with quarterbacks in the 2000 draft besides the Pats. Unfortunately, it wasn't the New Orleans Saints, the team that drafted him. Bulger led the West Virginia University Mountaineers for three seasons, setting over 30 team records and is amongst the most successful quarterbacks in school history. New Orleans saw potential but was quickly booted by the Saints and then the Falcons (who signed him next) until he landed on the St. Louis Rams' practice squad. As the magic wore off of Kurt Warner, fellow backup Jamie Martin filled in leading the Rams to an 0-5 record until he was injured and Bulger made an appearance.

Bulger was 6-0 in his starts but was injured against the Seattle Seahawks as the Rams puttered to a 7-9 season. In 2003 Bulger lead the Rams in the playoffs and was officially declared the starter for the future in 2004, as Warner was released. He has been in the Pro-Bowl twice in his career has over 1,000 career completions, the fastest QB to ever reach that mark. Bulger is currently the starting quarterback for the Rams.
-Round 6, Pick 183
Spergon Wynn was selected only 16 picks before a certain Michigan QB as a compensatory pick for the recently reformed Cleveland Browns. Some compensation? Wynn played quarterback at Southwest Texas State, which is in the NCAA Football Sub-Division (1-AA) and was amongst the most successful QBs at the university. Needless to say, it never translated. Wynn did manage three starts in 2001/2 where he replaced injured Daunte Culpepper and Todd Bauman to complete the season for the Vikings.
Wynn the moved to Canada and the CFL in 2002 playing for the aforementioned B.C. Lions and serving as backup to Casey Printers but ahead on the depth chart to fellow 2000 draft alum and better QB than Brady Giovanni Carmazzi. Wynn was then traded to the Winnipeg Blue Bombers and then the Toronto Argonauts. Wynn was injured for most of 2005 and has yet to play seriously in the CFL.
Other QBs drafted in 2000 include Todd Husak, JaJuan Seider, Tim Rattay, Jarious Jackson, and Joe Hamilton. Among the studs from the 2000 draft were Chris Samuels, Brian Urlacher, Bubba Franks, Shaun Alexander, Mike Brown, Laveranues Coles(law), Dante Hall and of course Adalius Thomas. Lest we forget duds Courtney Brown (First overall), Peter Warrick, Heisman Trophy Winner Ron Dayne and thunderlegged Sebastian Janikowski.
Pictures Courtesy of:

Chad Pennington - Allposters.com

Giovanni Carmazzi – Viewimages.com

Marc Bulger – Honoluluadvertiser.com

Ad blocker interference detected!
Wikia is a free-to-use site that makes money from advertising. We have a modified experience for viewers using ad blockers

Wikia is not accessible if you've made further modifications. Remove the custom ad blocker rule(s) and the page will load as expected.