Hey it's your friendly neighborhood aspiring-journalist Agent0!  I know many of you were hoping my next post was going to be the ArmChairGM WIS football season and maybe even some of you have been waiting to see an article of mine period because the last week my articles section has been dormant.  There has been no new addition and this is why.  I have been researching and making sure I have enough ideas to keep this series going for a few parts.  I am starting a new series (not sure how many parts) that will let the public know about the many other baseball leagues there are/were in the world other than Major League Baseball.  So without further adoo (?) here is the first league...
Batter up! Hear that call!

The time has come for one and all

To play ball.

We come from cities near and far.

We've got Canadians, Irishmen and Swedes,

We're all for one, we're one for all

We're All-Americans!

Each girl stands, her head so proudly high,

Her motto 'Do or Die.'

She's not the one to use or need an alibi.

Our chaperones are not too soft,

They're not too tough,

Our managers are on the ball.

We've got a president who really knows his stuff,

We're all for one, we're one for all,

We're All-Americans!
That is the Victory song (League song) for none other than the All-American Girls Professional Baseball League.  Yea I know exhausting saying that, try typing it over and over and over again, better yet, try saying it three times fast.  Anyways...  This was a league that was assembled due to World War II.  Many players that were 18 years of age and older were being drafted left and right and some even volunteered to go to war themselves.  This caused many minor league teams to collapse and their parks to be abandoned.  One man was in fear that the parks around the nation would all collapse and this man was none other than Phillip Wrigley.  Phillip Wrigley as most of you know inherited the Chicago Cubs from his father.  Wrigley wanted to find ideas of keeping baseball running wildly and asked Ken Sells, an assistant to the Chicago Cubs manager, to be in charge of a committee to construct these ideas.  The committee brain stormed and came up with an idea of having a women's softball league established.  This league would be established and prepared to play in Major League Parks if fans stopped coming to games because teams were losing too many quality players.  Phillip Wrigley and some Midwest men helped create the league behind Wrigley's financing.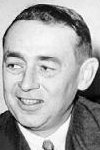 The big issue of starting this league was to obtain not only women to play in the league, but talented women at that.  Jim Hamilton, a Chicago Cubs scout, was hired to go around the nation and find talent.  Open tryouts were held around the nation in dozens of cities and from those cities 280 women were invited to the official tryout in Chicago.  After the official tryout in Chicago only sixty women were selected to be the first ever women to play baseball professionally.
Over the years this softball league turned more and more into a baseball like league.  Women were eventually allowed to throw overhand, the ball size decreased year after year until it matched that of an official MLB baseball, women pitched on raised mounds instead of the traditional flat softball mound, the mounds were moved back to sixty feet eventually, and base paths moved their way to eighty-five feet (which is still five feet under the MLB's distance of ninety).  The league also went through many name changes.  When the league was first established in 1943, it was named the All-American Girls Softball League.  Halfway through the season the board of trustees changed the leagues name to All-American Girls Baseball League (which brought much dispute due to the fact that they weren't officially playing baseball).  At the end of the 1943 season the league name was changed to All-American Girls Ball League.  Once the end of the 1945 season rolled around however they went back to the All-American Girls Baseball League title.  In present day people now refer to the league as the All-American Girls Professional Baseball League.  Below are five exceptional players from the AAGPBL and below that is the results for all 12 seasons...
1.  Helen Nicol Fox (163-118)

Played Pitcher
All time leader
Games Pitched 313
Wins 163
Consecutive Win 13
Innings Pitched 2,382
Strikeouts 1,076
Career ERA was 1.89
Playoff stats
1.83 ERA
13-7 Record
2.  Joanne Weaver (Joltin' Jo)

Sister of Betty Foss Weaver
Played 3B, Outfield, and Pitcher
Won 3 Batting Titles in 1952,1953,1954
1954 Season
Only player to ever hit over .400 (Batted .429)
One of two 20-20 Players in League History (29HR-79SB)
Career Batting AVG (.359) is best ever
3. Betty Foss Weaver

Sister of Joanne Weaver
Played 1B, 3B, OF
Won 2 Batting Titles in 1950,1951
Second in Career Batting Average (.342) behind her sister
4. Eleanor Callow (Squirt)

Played Outfield
All Time Leader
Homeruns 55
Triples 55
One of two 20-20 Players in League History (20HR-23SB)
Third All-Time in Career RBIs with 407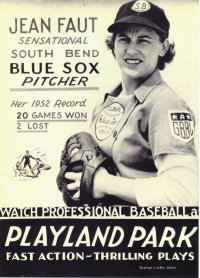 5. Jean Faut
Played Pitcher
2 time winner of AAGPB Player of the Year award
Only pitcher to throw 2 perfect games.
Career Totals
1.23 ERA
140-64 Record
In 5 seasons compiled 913 strikeouts
---
Season Results (Team on Top was Regular Season Winners with record in parenthesis and team below won playoffs with total number of playoff championship in parenthesis.)

1943
South Bend Blue Sox (58-50)
Racine Belles
1944
Milwaukee Chicks (71-46)
Milwaukee Chicks (After season moved to Grand Rapid)
1945
Rockford Peaches (67-43) '
Rockford Peaches
1946
Racine Belles (74-38) '
Racine Belles(2)
1947
Muskegon Lassies (69-43) '
Grand Rapid Chicks (2)
1948
Grand Rapid Chicks (77-47)
Rockford Peaches (2)
1949
Rockford Peaches (75-36)
Rockford Peaches (3)
1950
Rockford Peaches (67-43)
Rockford Peaches (4)
1951
South Bend Blue Sox (76-36)
South Bend Blue Sox
1952
Fort Wayne Daises (67-42)
South Bend Blue Sox (2)
1953
Forty Wayne Daises (66-49)
Grand Rapid Chicks (3)
1954
Forty Wayne Daises (54-40)
Kalamazoo Lassies
References
Ad blocker interference detected!
Wikia is a free-to-use site that makes money from advertising. We have a modified experience for viewers using ad blockers

Wikia is not accessible if you've made further modifications. Remove the custom ad blocker rule(s) and the page will load as expected.