I never thought it would come to this but the New York media is ACTUALLY taking action and cursing the Mets one game at a time.  In the picture the time of the post is 3:05 and the game didn't end until about 4:40 and the outcome was the opposite of what was reported.  I think everybody on the face of the earth knows the Mets bullpen can't pitch their way out of a lunch box.  Just when we thought the bullpen was coming together, BOOM!  It explodes again and gives 2 wins to the Braves.  If the Mets didn't have a game tomorrow I don't think I would survive.  They need to continue to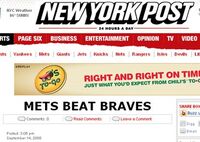 prove they can win after these tough losses.  And the starting pitchers need to pitch until their arms fall off.  But I have a question for Jerry Manuel.  Why do you keep running out the same guys day after day when they already proved they can't pitch?  I recall Jerry saying there is no more time for 2 or 3 chances.  Or maybe I misremember him saying that.  But Scott Schoeneweis gave up the game on Saturday afternoon and nearly gave it up today but Joe Smith came in to save the day.  Yes, that Joe Smith.  The one that barely made a roster spot out of Spring Training.  And right now, Joe Smith is the lone person I trust in the bullpen.  A few days ago I would have said Brian Stokes but he has been shaky of late.  The Mets aren't making the postseason and hopefully the offseason will bring a realization that the bullpen needs to be completely reconstructed.
I know this is just another angry rant from another angry Mets fan but I had to get it out.
Ad blocker interference detected!
Wikia is a free-to-use site that makes money from advertising. We have a modified experience for viewers using ad blockers

Wikia is not accessible if you've made further modifications. Remove the custom ad blocker rule(s) and the page will load as expected.