It looks like we'll be seeing the Vert Event after all at the 2008 X Games which my kids, who are avid skaters, are definitely happy to hear!
ESPN has made the decision to keep the competition for one last year and then it will be phased out for the 2009 X Games.
ESPN has been held many discussions with both the X Games Skateboard competitors and BMX competitors who compete in vert and these riders were very vocal in their desire to compete one last time in this competition.
For many, it will be sad that the Vert skateboarding event is on its way out the door. Its two-fold, one being there hasn't been much of an interest in watching Vert on ESPN the last four years and in terms of big name sponsorships, that has been bad news. As with anything, the "dollar" is behind the demise of the Vert. The second being the geographical challenge; vert ramps exist in So Cal.
According to X Games General Manager, Chris Stiepock, "It's time. It's been time. ESPN's always a little slow on the uptake. It's no secret that the vert field has stayed the same for the last decade. It's no secret that there aren't any vert ramps for kids to ride outside Southern California. If you want a vert career, you have to move there."
The new discipline ESPN is suggesting to replace Vert in the 2009 X Games would be a SuperPark course, that basically encompasses a skatepark like feel. Athletes have already voiced their wishes for a halfpipe competition instead. ESPN states they will include athletes in their decisions and are openly willing to listen to their considerations. Bottom-line, ESPN prides themselves on their commitment to the X Games athletes.
Sport Tidbits : There are many different styles of skateboarding which lends to different types of skateboard competitions. These include Vert, Street and Freestyle. The events are judged on a point system on a skater's overall routines and tricks. Style, speed, difficulty, variety, continuity and control are the categories athletes receive points in.
Vert Events have been around longer than Street Events. Spectators love watching these events because Vert is extreme and risky.
Some top name Professional Skateboarders whose names you probably recognize who ride Vert include celebrities, Shaun White (hometown Carlsbad, California), Bob Burnquist, (hometown, Sao Paulo, Brazil) Pierre -Luc Gagnon (hometown, Carlsbad, California), Andy MacDonald (hometown, San Diego, California) and Bucky Lasek, hometown, Baltimore, Maryland.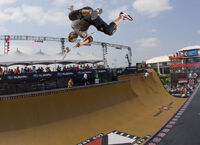 Ad blocker interference detected!
Wikia is a free-to-use site that makes money from advertising. We have a modified experience for viewers using ad blockers

Wikia is not accessible if you've made further modifications. Remove the custom ad blocker rule(s) and the page will load as expected.