Joe C. reported yesterday that Livan Hernandez is projected by manager Ron Gardenhire as the opening day starter for the Twins. I was disgusted by the decision.
Gardy said to Joe C. "We're kind of trying to go with [Hernandez], but we'll see how everything goes," Gardenhire said. "He should be the guy. … I was kind of leaning that way, but wait and see what happens as we go along here."
I know that as Twins fans we always get upset when our top players leave, and are also always disappointed and angry with the players we get back in return (if we get any at all), but at the same time we do take pride in being Twins Fans, and having a team that plays the Twins way. However, this move by Gardy does not satisfy the Twins Way.
Even when Brad Radke was no longer the best pitcher on the Twins staff, it was his decision to have Johan pitch opening day. Gardy made a comment back then saying how much Brad had given to the organization. The usual Twins things to say. So then why is Livan Hernandez going to be our opening day starter? I guess maybe they want to soften up the mound.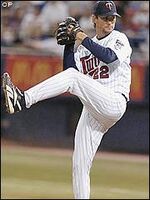 The Twins will have 4 other starters who all came-up within the organization (yeah Boof was a Giants prospect, but he still pitched AAA for the Twins and Andy molded him), yet they are going with an outsider, who hasn't impressed during Spring Training. It just doesn't make sense. Here are the other candidates for the job (as long as Liriano makes the team).
Candidate #1: Scott Baker is coming off of a season where he built consistency, and while his numbers against the Angels in his career (1-4, 7.36 ERA) aren't particularly good, he is still a Twins guy, and someone that I could see starting for the Twins on opening day for years to come. Remember, in one of his later home starts last year, he had a perfect game through 8 innings.
Candidate #2: Boof Bonser lost a lot of weight in the offseason, and what a better way to show off Boof than start him on opening day in front of a sell out crowd. He is the only of the young candidates to start in front of a sell-out (Game 2 2006 ALDS) and is as good as anyone to get the ball. Boof is, like Baker, not so hot against the Angels (1-2, 6.27 ERA), but he did win his only start against them at the Metrodome.
Candidate #3: Liriano only has one start against the Angels, but it was in Anaheim and he shut out the Angels through 6 innings in a 7-1 Twins win. It wasn't the same Angels team, but they did have Guerrero, Anderson, Figgins, O Cabrera and Robb Quinlan and Torii Hunter was involved in the game too. If Liriano is deemed healthy, can you see a better place to bring him back into the game? He can feed off of the fan's emotions and hopefully dazzle us with a spectacular performance.
Candidate #4: Glen Perkins, Nick Blackburn or Kevin Slowey figure to be the last starter, and I can safely say and agree, that none of them should get the start. The only argument would be that Perkins is a Minnesota boy, Blackburn has been lights-out and Slowey is like a former Twins openind day starter…Bob Tewsbury.
Maybe, this decision isn't as a big of a deal as I'm making it, but Livan is not the answer, and starting any of the other guys would be more of the Twins Way.
Ad blocker interference detected!
Wikia is a free-to-use site that makes money from advertising. We have a modified experience for viewers using ad blockers

Wikia is not accessible if you've made further modifications. Remove the custom ad blocker rule(s) and the page will load as expected.