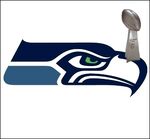 Template:The Turnaround Season
Last year the Seattle Seahawks suffered one of their worst seasons in franchise history, finishing 4-12 in Mike Holmgren's final season as head coach. Not a lot went right. Injuries, Holmgren's inexplicable fullback draws on 3rd and 13, and inept defensive play destroyed all hopes of a storybook finish.
But through the NFL Draft and crucial free agent signings, the comeback trail is on.  Rebuilding is for pussies, and there is only one goal in the minds of coaches and players alike this year, and that is to win the Super Bowl.
Will they do it? Or will disappointment reign supreme once more in the Emerald City? Let's take a look into the fictional season of the 2009 Seattle Seahawks.
Disclaimer: All of these quotes and scenarios are fake. If the above didn't convince you that this is all fictional….this is confirmation.
Bears Start Program For Aspiring Lovie Assistant Coaches
By Mookie
SSR Chronicle Midweek Edition (9/23/09)
CHICAGO – The Chicago Bears are certainly giving back to the community this year. Offensive coordinator Ron Turner cut the ribbons in half for the grand opening of The Coach Lovie's Assistant's Program, AKA The CLAP. It's main focus is to train the next generation of tactical geniuses to think exactly like the current staff of Lovie Smith. Defensive coordinator Bob Babich gave the SSR Chronicle and exclusive look at what is taught in The CLAP's curriculum:
Ineffective clock management
Why Jason McKie up the middle is always a good idea
Playing not to lose 100% of the time
Making your punter earn his money (AKA calling the offensive plays for 3rd and 4)
Never adjusting when your cover-2 sucks supremely
Wasting away Jay Cutler's career
Avoiding the dreaded task of making adjustments when losing
How to get on Lovie's good side (AKA job security the hard way)
Both Turner and Babich are ecstatic that they'll be the head teachers for this program.
"Oh I love kids and frankly it's always a good thing to spread the knowledge around," Turner said. "Bob and I have been ineffective at our jobs for years and we want to show our youth exactly how to be like us."
The CLAP is free and for kids aged 10-17 and it is required that those kids take an admissions test just in case they're capable of thinking on their feet.
Defensive line and assistant head coach Rod Marinelli will administer the tests and have a small teaching role.
Currently the coaches for this weekend's game against the Seattle Seahawks at Qwest Field.
Injuries : Deion Branch is a game-time decision after suffering a Deion Branch (also known as an injury) during practice. Brian Russell (Grit Overdose) is questionable. There are no major injuries for the Bears.
Cutler Receives Standing Ovation, but Seahawks Win 35-17
By Mookie
SSR Chronicle (9/27/09)
SEATTLE – It's not every day you see the opposing QB get a standing ovation before kickoff. That was the case for Chicago Bears QB Jay Cutler as he received a rousing round of applause from the 67,558 faithful Seahawks fans. It's thanks to his whining and fighting with his "former coach", Broncos head man Josh McDaniels that he got his wish and was traded to the Bears. His actions helped start a series of panicky cluster****s from both coach and management alike in the Mile High City,  even giving the Seahawks their own 1st round pick in a trade for the #37 overall pick (which Denver used to get Alphonso Smith) instead of Chicago's 1st rounder from the Cutler trade.
Nonetheless, Cutler would be on the wrong end of a 35-17 scoreline to the undefeated Seattle Seahawks that sees his team drop to 1-2 on the year. Cutler was sacked 4 times and was just 15-29 for 173 yards on the day.
Matt Hasselbeck was on target, picking apart the piss-poor defensive schemes of Bob Babich, for 355 yards passing and 3 touchdowns, including 2 to highly touted WR acquisition, TJ Houshmandzadeh.
"It was a very easy time for me," Said the jubilant Hasselbeck. "I knew that even with our offensive line the Bears have one of the easiest cover schemes to pick apart and my receivers and I took advantage of it."
Before you could blink the Seahawks were up 21-0 inside 10 minutes, starting with a 4 play, 66 yard drive, capped off with an electrifying 26 yard TD run by Julius Jones. Following a three-and-out by the Bears, Hasselbeck went to work, going 6-7 for 59 yards with a 13 yard touchdown strike to a wide open Houshmandzadeh.
It would get worse for the Bears as Jason McKie fumbled on a 3rd and 1 conversion, forced by Brandon Mebane, and rookie linebacker Aaron Curry scooped it up and ran all the way to the Bears 4 yard line. Houshmandzadeh would score his 2nd touchdown of the day shortly thereafter.
Both offense's stalled in the 2nd quarter, with the Bears only getting a field goal near the end of the half to close the gap to 21-3.
That fumble recovery was yet another shining example of the revamped "Let's **** some **** up" defense instilled by defensive coordinator Gus Bradley.
"All I did was tell my guys to hit as hard as you can and cause as much damage as possible," Said Bradley. "I really think the players are maximizing their potential under me now that they know it's legal to force turnovers and go for the ball."
Go for the ball they did. Cutler was sacked midway through the 3rd by Patrick Kerney, forcing the fumble and recovering it deep in their own territory to stop a scoring drive. It was the 16th turnover forced in 3 games by the new-look Seattle defense.
Hasselbeck capped off a spectacular day with a beautiful 78 yard touchdown lob to Nate Burleson to take a 35-3 lead to salt the game away.
Chicago would get some consolation touchdowns with back-to-back short yardage scoring runs by stud RB Matt Forte. But by then the game was out of hand as the raucous Qwest Field crowd approved of the team's great performance.
Jim Mora was so excited that he couldn't be interviewed at all because his enthusiasm paralyzed his face so much that he could only smile and not talk.
Lovie Smith on the other hand had some tough questions to ask about his side's poor showing.
"Frankly I wanted to keep Rex Grossman because he's my guy," Smith replied when asked about the dreadful secondary play. "It's not about winning, it's about picking unproven coaches and players because you like them."
Scoring Summary
Q1 – Julius Jones 26 yard run (Mare kick) – 7-0 SEA
Q1 – Houshmandzadeh 13 yard pass (Mare kick) – 14-0 SEA
Q1 – Houshmandzadeh 4 yard pass (Mare kick) – 21-0 SEA
Q2 – Gould 55 yard FG – 21-3 SEA
Q3 – Duckett 1 yard run (Mare kick) – 28-3 SEA
Q3 – Burleson 78 yard pass (Mare kick) – 35-3 SEA
Q4 – Forte 4 yard run (Gould kick) – 35-10 SEA
Q4 – Forte 1 yard run (Gould kick) – 35-17 SEA
Player of the Game : Matt Hasselbeck  – 22-32 for 355 yards, 3 TDs, 0 INT
Denver Watch : Raiders 24 Broncos 7. The Broncos are 1-2, which is good for the Seahawks, who have their 1st round draft pick.
Around the NFC West : Vikings 33 49ers 24. 49ers are 0-3. Cardinals to play Colts later tonight. Cards are 2-0. Packers 26 Rams 6. Rams are 0-3.
Next Opponent : @ Indianapolis Colts. The Colts are playing the Cardinals in the Sunday night game and are currently 2-0.

3-0? Could it be? Perhaps the Colts can bring them back to Earth? This team looks like one of destiny. Tune in next time on The Turnaround Season.
Ad blocker interference detected!
Wikia is a free-to-use site that makes money from advertising. We have a modified experience for viewers using ad blockers

Wikia is not accessible if you've made further modifications. Remove the custom ad blocker rule(s) and the page will load as expected.