Template:The Turnaround Season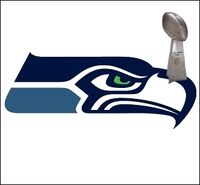 Last year the Seattle Seahawks suffered one of their worst seasons in franchise history, finishing 4-12 in Mike Holmgren's final season as head coach. Not a lot went right. Injuries, Holmgren's inexplicable fullback draws on 3rd and 13, and inept defensive play destroyed all hopes of a storybook finish.
But through the NFL Draft and crucial free agent signings, the comeback trail is on.  Rebuilding is for pussies, and there is only one goal in the minds of coaches and players alike this year, and that is to win the Super Bowl.
Will they do it? Or will disappointment reign supreme once more in the Emerald City? Let's take a look into the fictional season of the 2009 Seattle Seahawks.
Disclaimer: All of these quotes and scenarios are fake. If the above didn't convince you this is all fictional this is confirmation.
Crabtree Catches Crabs; Out for Sunday's Game Against 'Hawks
By Mookie
Midweek Edition of SSR Chronicle (9/16/09)

SAN FRANCISCO - Welcome to the NFL, Michael Crabtree.
The 49ers rookie wide receiver from Texas Tech will be out for Sunday's home divisional matchup against the Seattle Seahawks. Crabtree took part in a charity cook-out event over at the famous Fisherman's Wharf along with teammates Shaun Hill and Patrick Willis. Crabtree's injured his hand when a live dungeness crab pinched him with its meaty claws and would not let go. Despite that incident, Team Human came out the winner as the crab was put in a boiling pot of water and served with a delicious sauce later that night.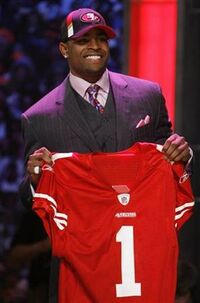 "It was a total freak accident. I'm really upset that I can't play this weekend and help out my team but I should be back next week," Crabtree said.
"WE CANNOT SWIM WITH THEM! CANNOT LIVE WITH THEM! CANNOT PLAY WITH THEM!" Said a visibly upset Mike Singletary, the 49ers head coach.
Seahawks CB Kelly Jennings, while sorry about the unfortunate events, said he was quite relieved he wouldn't have to deal with the thought of falling down by himself covering him, and that his inevitable falling down while covering Josh Morgan is not nearly as dangerous.
Crabtree caught San Francisco's lone touchdown in their 35-7 loss to Larry Fitzgerald.
---
Two Kicker Trick Play Stuns 49ers as Time Expires
By Mookie
SSR Chronicle (9/20/09)
SAN FRANCISCO – For the longest time Seahawks fans have been questioning GM Tim Ruskell on keeping both Olindo Mare and Brandon Coutu on the roster at the kicker position for a 2nd conescutive year. On Sunday, against their division rivals, that question was answered.
An unexpected two-kicker trick play with just seconds remaining sent the Seahawks past the 49ers, 20-16. Many in attendance for the 49ers (0-2) home opener left in shock and in tears.
Down 16-13 and facing a potential game-tying 47 yard field goal with 7 seconds on the clock, the 49ers called timeout in an effort to ice kicker, Olindo Mare. Little did they know that backup kicker Brandon Coutu inconspicuously walked onto the field as an eligible wide receiver.
The out come was inevitable, as placeholder Jon Ryan flicked it to Mare, who fired a bomb to a wide open Coutu, to win it for the Seahawks (2-0).
"Yeah we planned this for two years and we were waiting for the coach and personnel for the play to come to fruition," Coutu said.  "I was serving water to my teammates and all of a sudden coach said it was time for 'Kick or Treat'."
As a reward Coutu kicked the meaningless extra point to cap off the scoring. Certainly a damaging blow to the 49ers, now dead last in the NFC West having lost two divisional games. For the surprising Seahawks, it's the other way around after their late rally, and are tied for 1st place in the standings.
"It was a really disappointing loss. At halftime I dropped my pants AND underwear to show the 'Seahawks suck balls'," Singletary said in the post-game press conference. "Instead I got a listless 2nd half with an inexcusable collapse near the end. It hurts my team literally, and figuratively, have the balls to pull it out when it matters."
It was an auspicious start for the home team, playing without star rookie WR Michael Crabtree due to injury, when Frank Gore bursted through Seattle's defense for a 66 yard run all the way to the Seahawks 3 yard line. Gore would punch it in a few plays later to give them a 7-0 lead. For the first time in the new season the 49ers were ahead and the Seahawks were behind.
The Seahawks replied with a 9 play, 66 yard drive capped off with a 14 yard touchdown pass from Matt Hasselbeck to Nate Burleson on one of Burleson's rare great route patterns.
Three Joe Nedney field goals had the 49ers up at the break 16-7. It could have been larger considering they had outgained Seattle 113-44 on the ground and routed them in yardage 257-122 overall. But defensive coordinator Gus Bradley's "Tenacious D" stifled the opposition on three consecutive occasions inside the 15 yard line thanks to the linebacking corp featuring Lofa Tatupu, Aaron Curry, and Leroy Hill.
The 2nd half saw the script reversed. It was the Seahawks' offense struggling to convert in the red zone and could only muster 2 field goals from Olindo Mare.
The key moment arrived late in the 4th, when Seattle's Patrick Kerney recovered the mandatory Frank Gore fumble. It was the first turnover of the game and it gave the Seahawks the ball back for one final drive with 1:17 left from their own 26 yard line, Matt Hasselbeck took over, completing 6-8 passes for 44 yards and setting up the winning play.
"It really was a team effort," said Hasselbeck. "My back feels a lot better and I'm honored to have a healthy receiving corp that knows how to catch a football."
It was certainly an emotional victory for head coach Jim Mora and offensive coordinator Greg Knapp, who both were 49er assistant coaches for several years.
"Karma is a total b*tch is it not?! Am I not right?!" Said a joyous Mora.
Perhaps that was a reference to the team's struggles to stay healthy last year, and San Francisco's injury problem with Crabtree.
NFC West Standings
1.) Seahawks – 2-0
1.) Cardinals – 2-0
3.) Rams – 1-1
4.) 49ers – 0-2
Seahawks Team Leaders
Pass – Matt Hasselbeck, 21-32, 266 yards, 1 TD
Run – Julius Jones, 17 rushes for 76 yards
Receiving – Deion Branch, 7 catches for 95 yards
Defense – Aaron Curry, 7 tackles, 2 sacks, 1 forced fumble
Player of the Game : Brandon Coutu, who caught the winning touchdown with no time left on a trick play.
Denver Watch : Unfortunately for Seahawks fans, Denver defeated the Cleveland Browns 21-20, clinched on a late Brazy Quinn interception to improve to 1-1. The Seahawks have the Broncos' 1st round pick in the 2010 draft.
Andy Reid's WTF Moment of Madness : Towards the end of halftime against the Saints, Andy Reid called his final timeout with his team at midfield up 14-6. The next play was a McNabb kneel down. The Saints won 30-17, dropping Philly to 0-2.
Seahawks Next Opponent : vs. Chicago Bears (1-1), coming off a 20-14 loss to the Pittsburgh Steelers.
It's good to be 2-0. But will they struggle against their toughest opponent yet? Tune in next time on The Turnaround Season.
Ad blocker interference detected!
Wikia is a free-to-use site that makes money from advertising. We have a modified experience for viewers using ad blockers

Wikia is not accessible if you've made further modifications. Remove the custom ad blocker rule(s) and the page will load as expected.