There is the interesting blog dedicated to Football Manager 2008. It contains unique information about author's experiences in FM 2008: analysis of young stars and wonderkids, tactical approaches, analysis of trainings, review of new features, links on many graphics resources,etc. The author describes widely the process and the style how he manages his current team playing in the English Leagues (Southampton at the moment, previously - Arsenal and Wigan).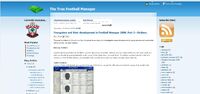 Ad blocker interference detected!
Wikia is a free-to-use site that makes money from advertising. We have a modified experience for viewers using ad blockers

Wikia is not accessible if you've made further modifications. Remove the custom ad blocker rule(s) and the page will load as expected.