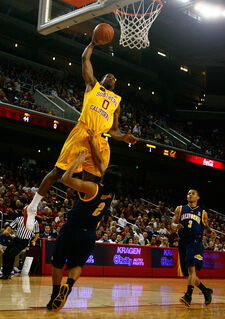 During a booster event last week, USC basketball coach Tim Floyd told a group of Trojan fans that the past three or four weeks have been extremely taxing for the entire hoops program. Unfortunately, this week is not shaping up to be any better.
According to Chris Foster of the Los Angeles Times, 6′7″ senior forward Marcus Johnson has decided to declare pro. Johnson's decision has been quite surprising for many associated with the program, as he had recently been granted another year of eligibility just last week.
Johnson now becomes the fourth USC player to leave school early and turn pro since the season ended back in March. Junior center Taj Gibson, junior guard Daniel Hackett and freshman forward DeMar DeRozan have all declared for the NBA draft. However, Hackett is the only one who has hired an agent at this point.
The Trojan exodus has not been limited to current players. As of right now, three recruits, center Renardo Sidney, forward Noel Johnson and forward Solomon Hill, have all decommitted from USC since the season ended.
After glancing at his performance in college, Johnson's decision to head pro appears even more puzzling than at first glance. In the past two years, he has played in just 16 games and averaged merely 3.6 points per game a year ago. Not exactly what NBA teams are looking for.
But don't even expect Johnson to even be courted by NBA teams during the draft process. According to draft sites such as NBADraft.net, there is no chance that he is drafted this June and an invite to training camp is also unlikely.
That leaves Europe, as the only option remaining for Johnson. However, it is also unlikely that he gets picked up by a team from a top flight European League in Spain, Italy, or even Greece. Just ask Brandon Jennings how good the competition is in the Mediterranean.
So, really, what we're looking at is a guy who is probably going to be playing in Latvia, Iceland, Sweden, or Finland, next season and earning about $15,000 a year. In terms of finances, he'd be better off staying at USC and earning a degree.
Ad blocker interference detected!
Wikia is a free-to-use site that makes money from advertising. We have a modified experience for viewers using ad blockers

Wikia is not accessible if you've made further modifications. Remove the custom ad blocker rule(s) and the page will load as expected.