John Smoltz threw Sunday. A simple game of a catch, albeit not the same variety you or I may know with dad in the back yard. It was just 25 throws, on flat ground at that. What could possible be so special about that? I'll tell you what. This particular session could set a time table that will spell the return of one of the most dominant late inning pitchers that the game has ever known.
When the season began, the Braves were hoping to coble together one of the most veteran and successful rotations they've had in some time. Smoltz, Tim Hudson, the returning Tom Glavine and perhaps - dare we say - a healthy Mike Hampton. Then again, things have not gone according to plan. Injuries have sapped the rotation, first Hampton, then Glavine, then Smoltz. Young Jair Jurrjens has been the saving the grace in the early going.
Smoltz' 2008 season started with a bang. On April 22, he notched career strikeout number 3,000 as part of his second straight 10-K performance. That may well have been highlight of a swan song for the grizzled veteran in the starting role he returned to just three seasons ago.
He's on the record now. John Smoltz is coming back as a reliever. That's what he says. Returning the dominant closer of 2001-2004 to the bullpen might be one of the best things the Braves could hope for as they battle for NL East supremacy. Or it could leave a gaping hole in the starting rotation. Either way, the Braves and Smoltz have a decision to make.
Here are some numbers to help make this decison just that much harder: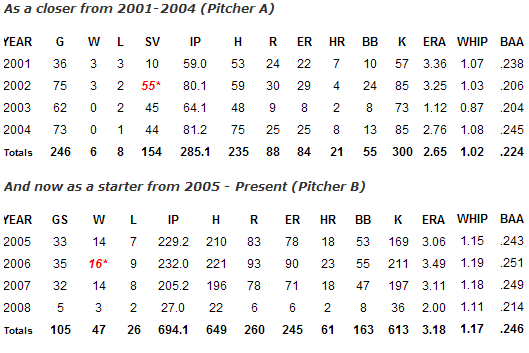 So now I will pose the question to all the armchair GM's out there...
Which one of these pitchers, A or B, would you like to have on your staff? Both have consistently great numbers. Pitcher A lead the league in saves (in red) while pitcher B lead the league in wins. Decisions, decisions.
If only it were that easy; because injury is the reason we are having to ask ourselves this question to begin with. We are talking about a veteran pitcher who has made it known exactly which capacity he would like to be utilized. On some levels, announcing to the press that you will be swapping roles when you make your return from an injury is highly unorthodox. Mostly because his manager, pitching coach and even the general manager had not come to the same conclusion. The idea may have always been in the back of their minds, but no tangible internal discussions had even taken place. Talk about being side-swiped.
Bobby Cox has gone as far as to say that for the Atlanta Braves to be a championship club, they need John Smoltz in the starting rotation. Who could blame him? Take a look at the numbers (not to mention the track record) that has made Smoltz one of the best and most reliable starters in the game. Tack on the fact that he is the winningest pitcher in post-season history and a strong case can be made for Smoltz - the starter.
On the other side of the coin, Smoltz has stated that the team will not be able to win if he is only a "five inning pitcher." He brings up an interesting point, since closing out games has been among the biggest weaknesses the Braves have had since 2005. If they could have sealed the deal in the ninth, Smoltz may have been a 20-game winner in '05 and '06. Honestly, he should have been.
Dan Kolb, Chris Reitsma, Kyle Farnsworth, Reitsma again, Bob Wickman, Rafael Soriano, and now Manny Acosta  have all worn the cap of closer in the past three seasons and the first month of 2008. Just four appearances and one save into this season, the Braves had to shut down Soriano because of elbow tendinitis. With no real ETA for Soriano's return, a healthy Smoltz could be just the answer for the late innings.
Peter Moylan could have played a major role in Soriano's absence. But shortly after nailing down his first save, Moylan went down and required Tommy John surgery. Gone for the year.
The Braves have Mike Gonzalez on the mend. He racked up 24 saves for the Pittsburgh Pirates in 2006 and was off to a great start last season (1.59 ERA in 18 appearances) before needing Tommy John himself. The return of Gonzalez could be right around the corner, but Atlanta can ill afford to put all their hopes on a reliever who hasn't pitched in a Major League game since May of last year.
Yes, it would appear that the stars have aligned for Smoltz to make the transition back to the end of the Braves bullpen. There is no other qualified candidate that has his credentials, his poise, his stuff and his resume. No one. Period.
Still, it won't be a decision that anyone in the Braves camp will jump to. There are questions of durability. While this is the same guy who said that going back to starting would be easier on his arm, logging so many innings to keep the Braves in the ballgame the past three seasons finally added up. The results spoke for themselves, but maybe the bulk of the workload has become too taxing. Really, who is to say he isn't right about this move too?
Smoltz will likely have to battle soreness throughout the remainder of the season. But that is nothing new. This is a man who has pitched through pain before. It would stand to reason that he knows just how much he has left. However, soreness could play a factor in how many consecutive nights that Bobby Cox will be able to make the call for his could-be closer.
Not to rain on the parade, but Smoltz is older now. There is no way of knowing that he will be the same force he was in the pen four, five or six years ago. But there is reason to believe... and there's only one way to find out.
We may be watching the final chapter of a Hall of Fame career in Atlanta this season. It is hard to imagine life after John Smoltz. But let's not get ahead of ourselves.
As they say, "Only time will tell."
Ad blocker interference detected!
Wikia is a free-to-use site that makes money from advertising. We have a modified experience for viewers using ad blockers

Wikia is not accessible if you've made further modifications. Remove the custom ad blocker rule(s) and the page will load as expected.