Around the bowl selection period, and during this time of year, you always here about the term "traveling well." Meaning that a certain team will bring a good amount of people to away games or the bowl that they are selected to go to. Some schools are labeled with this term, and some schools are labeled as not well traveled teams. Boston College suffered from this stigma this year. They lost the ACC championship game and they end up playing in the Champs Sports Bowl, while teams like Clemson and Virginia go to better bowl games.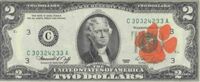 This, coupled with Clemson's appearance in the Chick-Fil-A Bowl against Auburn coming up on New Years Eve made me want to share the story of the Clemson 2 dollar bill. Clemson fans have a tradition of bringing $2 bills with them when going to away games. You usually don't find very many $2 bills just lying around, so Clemson fans will order them through their local banks. This tradition started one year back in the late 1970's. Clemson and Georgia Tech had been playing each other for a good number of years now. For those of you that don't know, Clemson and Georgia Tech are only about an hour and 45 minute drive away from one another. This made for a good little rivalry even though Clemson was in the Atlantic Coast Conference, and Georgia Tech was not.
   Before that game in the late 1970's, Georgia Tech officials (who shall remain unnamed) decided that they no longer needed Clemson to come to Atlanta to play football. In fact, one of them said that if they stop playing Clemson, it would have no effect on the local economy. This made Clemson fans want to show the Georgia Tech officials, and the city of Atlanta, just how much of an economic impact that the Clemson fans have on the host city. Basically what it turned out to be was a challenge to keep the series alive.
   Clemson wanted to show they would make an impact, but how? They decided that they would take all of their planned spending money, and get them in all $2 bills. They took the $2 bills and stamped tiger paws on them to show that they came from a Clemson fan. The Atlanta area became flooded with these $2 bills. This showed the Georgia Tech administration just how much money the Clemson fans were bringing into the local economy, and the series lived on. Later on that year, Clemson played in the Gator bowl, and fans decided to use the $2 bills again, and since then the tradition has stuck. This led to many people believing Clemson to be a school that "travels well."
   I'll be one of the many Clemson fans descending on Atlanta on New Years Eve with my $2 bills in hand. It is always great to see the look on people's faces when you pay in all $2 bills. Next time you see a $2 bill with a tiger paw stamped on it, you'll know why.
Ad blocker interference detected!
Wikia is a free-to-use site that makes money from advertising. We have a modified experience for viewers using ad blockers

Wikia is not accessible if you've made further modifications. Remove the custom ad blocker rule(s) and the page will load as expected.