The Real Boy's not-so-daily column about sports ... and words.
I know in my first installment, I said I probably would never talk about the Bucks, but here I am in my second column, talking about the Bucks. But with the draft approaching, there's no better time to talk about this team's needs. Let's look at what they've already done:
They needed a new general manager. They got one in John Hammond, who could sign a silverback gorilla to play small forward and do a better job than Larry Harris. They needed a new coach. They got one in Scott Skiles, who should do a better job than Larry Krystkowiak ever did. They need nothing short of a complete roster overhaul.
That one may have to wait.
While I recognize the fact that this team is going nowhere with its current roster, this overhaul process will likely take a little longer than it took the Boston Celtics. Nobody's jumping at the opportunity to come to Milwaukee in the dead of winter, so the possibility of acquiring superstar caliber players is unlikely.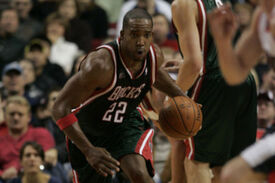 The Bucks have already said that they are not shopping Michael Redd, and there are pros and cons to this: The Bucks haven't been extremely good in his tenure here, and Redd is probably at most a level two superstar in the NBA (where your level ones include your Kobes, LeBrons, Duncans and KGs); however, he is one of the most dangerous three-point shooters in the game and a definite piece of the puzzle moving forward. Keeping him is a good idea. Who knows whether it's true or not. As far as I'm concerned, if the right trade came along, I'd deal Bango, too.
When the Bucks went to the Eastern Conference Finals in 2001, it was Redd's rookie season. He played in only six games, scoring a total of 13 points all season, but he got to see what a level two superstar (Ray Allen) can do with the right pieces around him.
If you compare the two players, they are strikingly similar. Both are in the 6-5/6-6 range. Both entered the league at 21. At age 28, Allen had 11,658 career points, while Redd has 10,596 (including the 13-point rookie season). Both primarily make their mark behind the three-point line, with Allen having a slight edge in threes made and percentage.
But if you compare the 2001 Ray Allen to the 2008 Michael Redd, it's all about who surrounds him.
Allen had one of the top point guards in the game, Sam Cassell, handling the ball – and I don't care what anyone says about Sam, wherever he goes, he wins. Glenn Robinson and Tim Thomas were at the peak of their respective careers (which I know isn't saying much but still somewhat important for this discussion). Other than that, there wasn't much: An adequate backup point in Lindsey Hunter and a center, Ervin Johnson, who did really nothing more than fill the paint and roster space.
What do the Bucks have now?
They've got a crop of quality youngsters who are by no means superstars and nothing more than adequate role players. Look down the roster and you'll see it: Andrew Bogut, Yi, Desmond Mason, Mo Williams, Bobby Simmons, Charlie Villanueva, etc.
This kind of team would work – if they played defense. If you look at the 2003-04 Pistons team that won the championship, there's not a level one superstar in the bunch, but there are some extremely talented players who could play great team defense. The Bucks' best hope right now is to try to be that type of team.
So what do they need to add to get there?
The Bucks allowed nearly 104 points per game while scoring 97 points per game, a number that has been steady over the last couple years. In 2005-06, the Bucks allowed just 98 points per game and went to the playoffs.
I'm making simple connections. I trust there aren't any problems moving forward from here. Apparently following trends is harder to do when you're a GM than when you're a casual fan.
Of all the players on the Bucks roster, everyone except Redd, Bogut and Yi should be available for trades, which could certainly help improve the team, but let's look at what their best options are in the draft:
I really like Joe Alexander, the small/power forward from West Virginia a lot. He's got size (6-8, 230) and he's super athletic (reports were saying that he performed an array of high-flying dunks at one workout including Vince Carter's famous "honey-dip" slam and also finished the day off by head-butting the rim). But most importantly, he's an above average defender.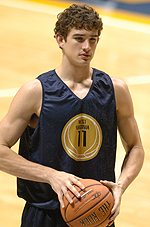 He seems to have it all wrapped together in a freakishly athletic package that would work great for the Bucks – not superstar caliber but certainly a terrific defender who can also score a bit on the offensive end. Not to mention he fills a need for a strong small forward. If the Bucks decide to hold on to both Yi and Villanueva – which I highly doubt will happen – they have decent depth at the power forward position and will vote to keep Alexander in the small forward spot.
If I'm John Hammond, this guy is at the top of my draft board.
Should Alexander get picked up earlier than the eighth pick, I would turn to Russell Westbrook, point guard out of UCLA. Another freakishly athletic draft prospect, Westbrook is a beast defensively and is adept at defending the one and two guard positions, which is a huge bonus for the Bucks.
He is a 'tweener at 6-3 and his ball-handling skills and half-court offense could use a little seasoning, but Westbrook has huge upside and I consider him to be potentially the second best point guard to come out of this draft behind Derrick Rose.
In all likelihood, one of these guys will still be there when the eighth pick in the draft rolls around. If not, all hell could break loose in Milwaukee, with nobody safe from trades – not even Redd himself.
The Bucks will probably look to move down in the draft and find help elsewhere. I think the Nets' Richard Jefferson would be a great fit and the Bucks could package the eighth spot and a few players for the 21st pick and Jefferson.
However, I've heard a lot of rumors that the Bucks are pursuing a higher pick and shopping people like there's no tomorrow. If they can, in fact, move up, expect them to target Rose or Eric Gordon. Acquiring Rose makes Mo Williams expendable and acquiring Gordon will allow the Bucks to move Redd for some serious returns.
That's the beauty of an overhaul; you have a lot of options. Should the Bucks stand pat on draft day, it will have to include the perfect draft pick. John Hammond will just have to identify what this team needs the most, something Larry Harris couldn't do.
Ad blocker interference detected!
Wikia is a free-to-use site that makes money from advertising. We have a modified experience for viewers using ad blockers

Wikia is not accessible if you've made further modifications. Remove the custom ad blocker rule(s) and the page will load as expected.