Writer's Note: This was tried before as a daily, user-revolving column. This time, it will be my not-so-daily column in which I relate a word to a particular event in sports. You all know me, so, yes, many of these will be about the Brewers, Packers, and Bu – okay, so probably not the Bucks.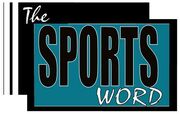 Major props to D-Dub for the logo.
Lost in the foray the Blue Jays laid on the Brewers' bullpen Thursday afternoon was the sparkling performance Dave Bush turned in during the first eight innings.
Bush twirled seven no-hit innings on his way to arguably his best outing since his rookie season in 2004 when, as a Blue Jay, he tossed a two-hit shutout against the Yankees in his final start.
But Thursday's start was the day Dave Bush finally lived up to many people's expectations. After all, this was the man some "experts" once said would challenge Ben Sheets as the staff's ace. Things haven't exactly turned out that way.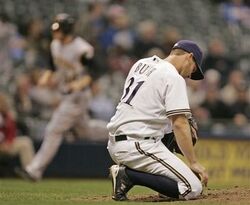 After a promising rookie season that saw him finish with a 5-4 record and 3.69 ERA, Bush stumbled through his sophomore campaign. His ERA ballooned to 4.49 and his record fell to 5-11. Still, many said he still had the stuff to make it in the bigs.
Meanwhile, in Milwaukee, the Brewers are planning on making Prince Fielder their full-time first baseman, thus making newly crowned franchise doubles king Lyle Overbay expendable to the highest bidder.
That team turned out to be the Toronto Blue Jays, who sent Bush, fellow pitcher Zach Jackson and young outfielder Gabe Gross to Milwaukee for Overbay. Imagine my glee – the Brewers received two promising young pitchers and a supposed solid backup outfielder for a guy destined to be cast-off since the day he arrived in the Brew City.
I was quickly disappointed.
Gross overstayed his underachieving welcome in Milwaukee and was sent to Tampa Bay earlier this season. Meanwhile, Jackson made his much anticipated debut in 2006 for a severely depleted Brewers' rotation and has since struggled to stay afloat in Triple-A, having been indefinitely relocated to the bullpen after just six starts this season.
Bush's story for the organization was beginning to have a similar ring to it. In his first season as a Brewer, Bush pitched fairly well, actually. He finished fourth in the National League with a 1.13 WHIP despite owning a 4.41 ERA and a 12-11 record.
In 2007, Bush took a step in the wrong direction. His ERA once again shot upward, this time to 5.12, through he finished the season with a 12-10 record, thanks in large part to a much improved Brewer offense. And if 2007 could be viewed as a step backward, then the start of the 2008 season should be considered nothing less than a downright free fall.
Bush's horrific April (0-3, 6.75 ERA) landed him back in the minors for the first time since 2005, though his stay lasted just one appearance before he was recalled to fill the rotation spot left behind by Yovani Gallardo and his torn knee ligaments.
But Bush's first start back yielded nary a better result as he gave up six runs on five hits to the Marlins. Three starts later, he gave up six on nine hits to Pittsburgh.
Suddenly, he turned a corner. In the four outings before Thursday, three of them were quality starts. He lowered his ERA below six for the first time all season, and after Thursday's start, an ERA below five is within striking distance.
How ironic, then, is it that the Brewers' slow climb back into contention in the NL Central has been spearheaded by the pitching of Bush and the offensive contributions of a guy who never saw the type of expectations that Bush has seen: Russell Branyan.
Entering Friday's game, the 32-year-old Branyan has played in more minor league games (760) than big league games (736). Thus, it should come as no surprise that he has also batted better in the minors than in the bigs, hit more home runs, driven in more runs, etc. In fact, the only expectations people laid on Russell Branyan were caused by his penchant for all-or-nothing results at the plate, having struck out 779 times in 1930 career at-bats while going deep every 14.8 at-bats.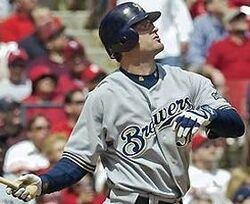 However, things are much different for Russell, who was called up from Triple-A for the sole purpose of providing stability to a lineup – more specifically, a position, though I refuse to name any names – that was struggling to hit right-handed pitching.
Though the strikeout ratio remains the same, Branyan's new found success lies within his new found patience at the plate. He has nearly as many walks (11) as Ryan Braun (13) in 230 fewer at-bats and is batting at a .306 clip, up 72 points from his career average.
Of course, I haven't even mentioned that he's averaging a home run every 6.2 at-bats and boasts a 1.260 OPS since being recalled.
Normally, that kind of offensive output would be welcomed by any team, but for a team in dire need of a boost to stay in the hunt, Branyan's contributions have been priceless.
If you would've asked me two months ago who I thought would be helping the Brewers gain ground on the Cubs, it's safe to say neither Bush nor Branyan would've even entered my mind. But that's not the real question that demands answering. The real question is, "How can we expect them to continue this trend?"
Ad blocker interference detected!
Wikia is a free-to-use site that makes money from advertising. We have a modified experience for viewers using ad blockers

Wikia is not accessible if you've made further modifications. Remove the custom ad blocker rule(s) and the page will load as expected.