There have been more than a few sports movies, and, like any movie genre, there are the Good, the Bad...and the Unconvincing. I am okay with the bad movies - especially the ones that take themselves over-the-top seriously. That, to me, just makes them all the more enjoyable.
This treatise is not to be interpreted as me saying these are bad movies - in some cases, I feel quite the opposite. How could you not like Major League, Teen Wolf, The Karate Kid or Back to School, just to name a couple of the selections. This article should probably also not be considered a treatise...
No, this is more of a... "willing suspension of disbelief" stretched to the limit... sort of list.
What brings this on? The forthcoming movie Leatherheads (April 4th!):
I am not sure which I find harder to believe: that George Clooney (Dodge Connolly - love these movie names!) would be selected to play a football hero...or that John Krasinski (Carter Rutherford) would be cast as not only a football hero, but also a World War I hero. Whatever the case, I feel that this selection can be made sight unseen.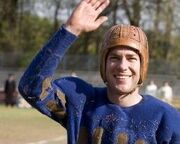 For Krasinski, I'd have been okay with a college basketball casting (please refer to The Office, Season 1, Episode 5: Basketball - love this show!) ...but football? Or to put it another way: "Hey, what has two thumbs and feels less than convinced by this casting? This Guy!"
Before I ramble further, one other Leatherheads movie name demands mention: Renée Zellweger - Lexie Littleton. Classic!
For the rest of these names and movies, I will (mostly) refrain from commenting and let the pictures and your memories do the rest. Because as Vin Scully once said (paraphrasing): "They say a picture is worth a thousand words...if that is so, you've just seen a million words..." (And don't get me wrong - Scully is one of the broadcasters I actually like).
Oh - and I am aware that almost all of these movies have the 80s, a crush on a hot/cute girl as motivation and triumph over a bully as a recurring theme. I'm not sure if this says more about me or the 80s...but I've noted the girl where I could really remember her presence being memorable.
The rest of the list: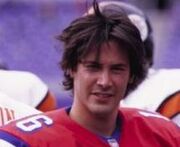 Keanu Reeves - The Replacements
Girl: Didn't know her name (Brooke Langton), but she was cute. Hard to get the image of Bill & Ted, I Love You To Death or Parenthood out of my mind for this one. You have the chance to be a scab. What do you do? What do you do?
Corey Haim - Lucas
Girl: Winona Ryder. This selection would have been Sean Astin and 'Rudy' - but I feared the ND/NBC backlash. This is a much safer choice and it has a similar theme. No need to attack - I know this thought is a stretch...but that's the way I always viewed these two films. And before you ask - No, I have not seen Rudy. I dislike Notre Dame that much. Sorry, NBC...and God. Hi, Big Guy! :-). Hey, I liked Astin in 50 First Dates!
Tom Cruise - Days of Thunder
I'll have to be brutally honest here and say that I don't think that there is a Tom Cruise movie that I did like. So, yeah, maybe I am just including him here to include him.
Corbin Bernsen - Major League
Despite plenty of doubt on my part, I felt that all of the actors were somewhat convincing in their roles. But I think that Bernsen struggled the most to make this work. Interesting Bernsen facts courtesy of IMDB: "Trained in Jeet Kune Do from the late Bruce Lee" and "Has one of the largest collections in the world of snow globes, over 6000."
Robin Williams - Best Of Times
Honestly don't remember too much about this one. It has redemption, sure...but I couldn't get past Mork in this role. Kurt Russell was an okay choice.
Scott Bakula - Necessary Roughness
Girl: Kathy Ireland. She didn't get enough screen time in this film. I honestly can't think of another reason that I would have watched this movie. I know that sounds shallow, but I am surprised at myself for having seen this.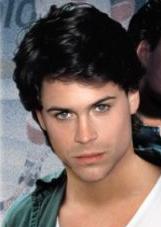 Rob Lowe - Youngblood
Girl: Cynthia Gibb. Rob Lowe as a hotshot hockey player...Hmmm. Maybe given his Canadian heritage, this role would have been better suited for: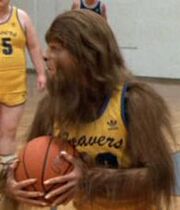 Michael J. Fox - Teen Wolf
Girl: The character was named 'Boof' - worth a mention. I like MJF - I really do. He's been in some good movies and Family Ties was pretty good. But he's 1.64m tall - 5' 4 1/2" for those of you, like me, that are metrically challenged. I understand he was a popular actor...but surely Rick Schroeder (1.78m - 5' 10") would have been a more sensible choice?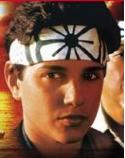 Ralph Macchio - The Karate Kid
Girl: Elisabeth Shue. Another movie with two casting choices: Mr. Miyagi doesn't exactly scream Self-Defense, does he? And one has to wonder what is Macchio's problem, anyway? Why, after getting his butt kicked, does he continue to antagonize William Zabka? This movie would have been justified in ending with Zabka kicking Macchio's tail.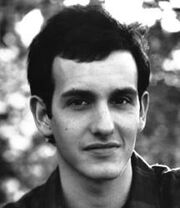 Keith Gordon - Jason Melon (Back to School)
Girl: Didn't remember her name off the top of my head. But she was attractive, and thus warrants mention. Perhaps Rodney Dangerfield should be the real selection here? And that William Zabka makes a splash (haha) here - he plays the same jerk character that he did in Karate Kid and the underrated (and largely unseen) Just One of the Guys.
I realize that some of these selections (Corey Haim) are fringe choices at best, but I feel okay about including them for two reasons:
1) It's my list
2) Someone felt good about casting him in a role that had something to do with sports
I also (except for Leatherheads) stuck to movies I have actually seen for this list. This prevented me from adding more than a few movies: The Babe, Cobb and the remake of The Longest Yard come to mind immediately. But, I left them alone, as I erred on the side of having some semblance of knowing what I was talking about.
Other seemingly obvious movies were left off the list because someone else Article:Interesting Things About Japanese Baseball That You NEED To Know covered Mr. Baseball and Mr. 3000, both of which, I am happy to report, I have not seen.
Still and all, most of the movies on this list were halfway decent to downright entertaining despite some dubious casting. And I'm sure I missed more than a few. Nice to know that there are some decent sports-oriented movies out there.
Credits: http://www.imdb.com
Ad blocker interference detected!
Wikia is a free-to-use site that makes money from advertising. We have a modified experience for viewers using ad blockers

Wikia is not accessible if you've made further modifications. Remove the custom ad blocker rule(s) and the page will load as expected.