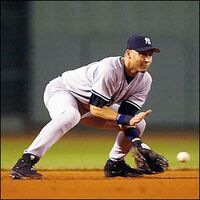 Let's show a little respect to
Derek Jeter
. Even as a Red Sox fan, I need to appreciate the man, his accomplishments, and his overall attitude.
He plays every game with a competitive fire that should be envied by every other player on the field. He has won five World Series rings. He has captained the team that can arguably lay claim to the title "Team of the Decade"...for two consecutive decades. He's one of the more historic players on the most successful team in the history baseball. And, his career .317 batting average speaks for itself.
This season alone, Jeter led the Yankees to their first World Series title since 2000, while batting .334 with a .406 OBP at the top of New York's potent lineup. But, while Jeter deserves all this recognition, he does not deserve recognition for a Gold Glove.
Major League Baseball announced Tuesday that Jeter was the selection for the American League Gold Glove at shortstop. The award surprised me, as it surprised many baseball experts. Among all the things that Jeter can still do at the age of 35, playing elite caliber shortstop is not one of them. In fact, Jeter's demise at the position has been well documented.
Before the season, some critics went as far as planning how the Yankees could designated hit the batting average machine to get him off the field, where they believed he was a detriment to the Yankees. ESPN cited a statistic early in the season that very few (if I remember correctly, it was four) teams have made the playoffs in the last twenty or so years with a shortstop as old as Jeter (if I remember, none of those teams had gone on to win the World Series). Obviously, Jeter made an exception to the rule this season, but statistics support the criticism.
Jeter is a few steps slower than he was 10 years ago, and he just doesn't have the same range as he once did.
The most telling story about Jeter came this spring in a Sports Public Relations class I took at USC. My professor works closely with MLB's Urban Youth Academy in Compton, CA. When the United States' World Baseball Classic team practiced there before its semifinal at Dodgers Stadium, my professor set up a program to have many local youth players meet the USA team.
As part of the program, the kids were able to get autographs from the different players. My professor's son, who attended the event, handed a ball to one of his baseball idols, Jimmy Rollins. After Rollins signed it, Jeter, who was standing next to Rollins, reached for the ball. The boy pulled it away, telling Jeter, "I don't want your autograph."
Now, it's a little harsh to tell a player you don't want his autograph, especially Derek Jeter. But, on the car ride home, the boy explained to his dad (my professor) that he didn't want Jeter to mess up his Jimmy Rollins ball and went on to make the argument that Jeter was overrated and had lost his range at shortstop. He was right!
Jeter won the Gold Glove this season because he only made eight errors and led qualified AL shortstops with a .986 fielding percentage, which was enough to impress the voters for the award. However, what must have been lost on the voters, which wasn't lost on my professor's son, is how Jeter managed to put up these league leading statistics.
Despite being first of ten in fielding percentage, Jeter was ten of ten among American League shortstops in range factor with a RF of 3.90. Range factor is a statistic calculated to determine how many put outs and assists a player makes per game. Thus, the logic here is that Jeter wasn't able to make the plays on hard to field balls, and thus his fielding percentage benefited from him not having to make difficult throws.
What I'm saying is that while another shortstop could get a ball deep in the hole, spin to throw on his back foot, and air mail the ball into the first base dugout for an error, Jeter never would have gotten to that ball in the first place. Jeter tended to make his plays on balls that were easier to field, thus he had more time to throw the ball and ensure the out. However, in the overall picture, he accounted for less outs per game than any other qualified shortstop.
Does this make him a "Gold Glove" shortstop? No. It's hard to argue that you are the best fielder at your position when you make less plays than everybody else.
I'd rather see a shortstop make an error on every tenth ball he fields deep in the hole (and get the out the nine other times) than never get the ball at all!
Again, I don't want to take anything away from Jeter, except his 2009 Gold Glove (of course), but he did not deserve this award.
Statistically, the winner should be Baltimore's Cesar Izturis, whose .984 fielding percentage was second in the AL and 4.89 range factor led the AL (at nearly a full out/game more than Jeter's RF). My personal choice would have been Erick Aybar, whose .983 fielding percentage was fourth and 4.68 RF was third, and who led the AL with 102 double plays and started 24 more games at SS than Izturis. Marco Scutaro (.984 field percentage, 4.39 range factor) could also make a case for the award. Only after those three come off the board can Derek Jeter begin to enter the conversation.
Sorry Derek, but for all the awards and rings that you've busted your tail to win in Major League Baseball, this was an award that you didn't earn over your competition.
Ad blocker interference detected!
Wikia is a free-to-use site that makes money from advertising. We have a modified experience for viewers using ad blockers

Wikia is not accessible if you've made further modifications. Remove the custom ad blocker rule(s) and the page will load as expected.