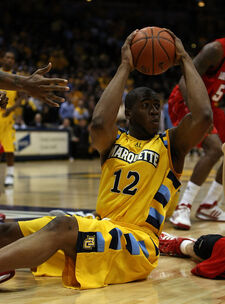 While it may seem strange to panic when a team has a 16-5 record, but the Marquette Golden Eagles have some serious issues that need to be addressed if they are going to compete in March. Most of all, that major problem is consistency.
Back in early December, the Eagles appeared to be a confident bunch, ready to take on anyone with their matured three-guard lineup. In the Maui Tournament they looked strong as, advancing to the finals against Duke. They were also finally able to defeat Wisconsin, this time at the Kohl Center.
However, January has been a completely different story for the Eagles. Since January 6th, they are 5-4 with an average losing margin of just over 16 points. They lost by fifteen at West Virginia, by twenty at Louisville, and by sixteen at Connecticut. The other loss was by four against Duke in Maui, but that was in the early part of the season when the possibilities seemed wide open for one of the few teams that could go into the Kohl Center and beat Wisconsin.
It is pretty easy to understand that Marquette struggles when it shoots poorly, 32% against Louisville on Monday. While Tom Crean typically assembles perimeter-heavy teams, his current squad lacks a consistent frontcourt. As a result, the Eagles rely heavily on their perimeter game and three point shots. When their shots are on, they win big, but when the shots aren't falling the Eagles lose big. Right now it's pretty obvious, they can't shoot.
If Marquette is going to be remotely competitive come March, its star players, Dominic James, Jered McNeal, and Wesley Matthews, are going to really have to elevate their games. As of right now, I do envision that happening.
Ad blocker interference detected!
Wikia is a free-to-use site that makes money from advertising. We have a modified experience for viewers using ad blockers

Wikia is not accessible if you've made further modifications. Remove the custom ad blocker rule(s) and the page will load as expected.