When this caused a bit of a stir, it gave me an idea.
Why do we all love sports? For a lot of us, it's the games. For others, it's the athletic ability on display. And for some more others, it's the beauty of the athletes themselves and their emotional reaction to the game. But why do we love the games and athletes and plays and emotions? Because they're sexy. Sports. Are. Sexy.
When you break down a game in any given sport, there are so many tiny aspects that make it special. You often hear SportsCenter anchors describe a play as "gorgeous," "pure," "beautiful," or "perfect" even--a spectacular catch, a resounding dunk, a breathtaking goal, a glare of sheer intensity towards home plate. These elements are the combination of the athlete, the athletic skill, the work ethic, the team...they encompass so much of what we love about sports and why we all love to write about them. A singular act of athletic skill that makes us love an athlete...that's what this is all about. These moments are sexy, not because of who makes the plays, but the plays themselves. So I decided ==to do a breakdown of the Sexiest Things in Sports, and honor the athletes that make them so sexy. Twelve of the most awesome things we love about sports. It sounds confusing, it will make sense. I promise. (Note: Apologies to hockey fans...all I know is that Sidney Crosby and Alex Ovechkin are both really good).
Sexiest Attitude: Tiger Woods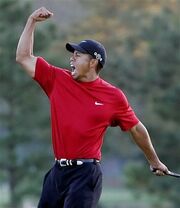 I want to look into Tiger's head during a playoff, just to see what he's thinking. He may be thinking, "Fack you, I'm going to win and there's nothing you can do about it," or he may be thinking nothing at all, having his mind completely clear of everything, just focusing entirely on the task at hand. Schoolwork must have been a piece of cake for him...imagine being that focused, that locked in while doing your homework. No wonder he got into Stanford. Me-ow indeed.
I've always loved Tiger, and now I love him even more. If you have half an hour, watch this Sunday conversation with Scott Van Pelt. He is one hell of a man.
HONORABLE MENTION: Kobe Bryant
Sexiest Pass: Chris Paul
I've become more of an NBA person because of the new Celtics and this guy, who has separated himself from just about every other point guard on the planet this season. It's unprecedented what he's doing, having arguably the greatest season a point guard has ever had. The NBA would be smart to make CP3 the second face of the league (LeBron is the first, obviously)...he's incredibly good on and off the court and would be a great ambassador for the league. This great YouTube video shows just how good he is...
HONORABLE MENTION: Sidney Crosby
Sexiest Dunk: Dwight Howard
You all may or may not have seen Howard's display of unthinkable dunks at the 2008 NBA dunk contest. The NBA's favorite man-child has gotten better and better in his three years in the league (anybody doubt why Orlando took him over Emeka Okafor?), leading some comparing him and his incredible stats at the start of the season to Moses Malone. That's a bit much; I also saw in a "10 Best Big Men of All Time" piece on ESPN.com last year, Howard got a 10th place vote from one of the experts. He's THE future big man in the NBA, there's no question about that. And his dunks shall astonish opponents and fans everywhere.
HONORABLE MENTION: Amare Stoudemire
Sexiest Work Ethic: Tyler Hansbrough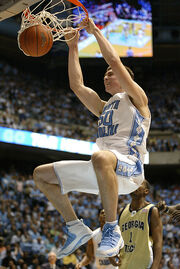 I don't care if you went to Duke. I don't care if you hate Carolina. You have to love the way Psycho T plays basketball. Coach Roy Williams and a few other basketball people say it better than I can. After the Tar Heels beat Louisville to advance to the Final Four...
Roy Williams: "He does the same thing in practice every day. He is the most driven, focused player I've ever seen in my life. He wants to be the best player he can be and win."
Rick Pitino: "I haven't seen a guy play every possession like that in a long time. I've never seen it, actually."
Louisville Center David Padgett: " I've never played against somebody who plays that hard, and the kid is just absolutely determined to be a great basketball player."
He already is a great basketball player at the college level; we'll see what the NBA has in store for him.
HONORABLE MENTION: Tom Brady
Sexiest Swing: TIE-Albert Pujols/Ken Griffey Jr.
I was at an airport during the start of Game 2 in the 2004 World Series, and I just have this memory of watching the tv in a bar, and the guys sitting in front of me just in awe. He didn't even hit it out of the park (ended up being a double, I think), but his swing was just beautiful. There's no other way I can describe it. So smooth, so fluid, he makes it look so easy.
After consideration and user feedback, Ken Griffey Jr. is right alongside Pujols in this category. I wasn't an uber-baseball fan until a few years ago, and so I didn't really have the chance to catch Griffey in his prime. He does have a gorgeous swing, upon further review.
Sexiest Hands: Randy Moss
One hand. Two hands, in between three defenders. Two hands, leaping over everyone to catch the football. Moss awed me this season, not only for his stats, but his willingness to morph his body into any position in order to catch the football. I've never seen anything like it. Of course, when he was open in the last minute of the Super Bowl and didn't keep running the route, his hands couldn't help him. But otherwise, Moss has the best hands of any athlete I've ever seen.
HONORABLE MENTION: Marvin Harrison
Sexiest Goal: Cristiano Ronaldo
OK, OK, so this guy has the benefit of being really sexy in his own right, but that doesn't set him apart when it comes to being considered by many to be the best player in the world. And he's only 23. He's leading the Premier League with 28 goals (the guy in 2nd has 22), and Manchester United are the favorites to win the UEFA Champions League, and EPL. Even if you don't like soccer, you can't help but appreciate Ronaldo's athleticism and skill. YouTube can't really do this guy justice, but oh well...
This video
has his best goals. The last one is ridiculous.
HONORABLE MENTION: Ronaldinho
Sexiest Arm: Peyton Manning
I want to hate him. I really do. I want to hate how he always says the right things, has funny commercials, seems like a really genuine person and respects the game. But I can't. I love football too much not to appreciate the way he plays the game and his glorious, tight spirals that slice through the air every Sunday. You watch his receivers--and they're fantastic, don't get me wrong--they don't have to make a great catch a lot, because Peyton always puts the ball right where it's supposed to be. His touch on the ball is impeccable.
HONORABLE MENTION: Tony Romo
Sexiest Feet: Devin Hester
Those moves! Even though Hester only gets to touch the ball five to six times per game, every time he does, there's a chance he'll score. He'll either make a fantastic play or look like an idiot for trying to make something when nothing was there. But Hester's speed and vision (or lack thereof) make him arguably the greatest return man in NFL history. He's only been in the league two years, and he's on pace to set every return record ever set.
HONORABLE MENTION: Adrian Peterson
As always, these are open for debate. Feel free to add more categories of sexiness that I left out, because I'm not as knowledgeable on some sports to distinguish sexiness. Some suggestions: sexiest fastball, jumpshot, glove, etc.
Ad blocker interference detected!
Wikia is a free-to-use site that makes money from advertising. We have a modified experience for viewers using ad blockers

Wikia is not accessible if you've made further modifications. Remove the custom ad blocker rule(s) and the page will load as expected.