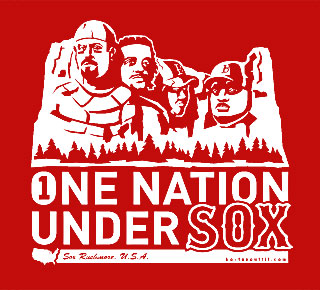 The modern-day concept of Red Sox Nation is kind of a joke. You purchase a little membership card from the club to ensure your tenure in RSN is legit and to give FOX something to talk about during Saturday afternoon baseball games. It ranges from $15 a season to $105.
The joke is that the price is before you spend $200 on obstructed view tickets to a regular season game.
The joke is that the price is before you slap down $50 a month on cable to get NESN just to watch the team play.
The joke is that the price is before you throw away $200 on an authentic Manny Delcarmen jersey.
The joke is that they think you need a little plastic card to prove you're a member of RSN. My personal membership card is a vomit stained trashcan from when I violently threw up during game 7 of the 2003 ALCS. My dad's membership card is watching the ball squeak through Buckner's legs while my grandfather's membership card was living to be 70+ and dying without getting to see a World Series win.
Really, this is all besides the point. The original point was to link this article about Japanese Red Sox Nation member Yasuyuki Ohta. The article is excellent and a good read. Here is an excerpt:
KYOTO, Japan – Yasuyuki Ohta sprinted from the back of his bar's kitchen. He passed jerseys on the wall and autographed baseballs in protective plastic cases before grabbing a T-shirt that hung on a coat rack in the corner.

"See," he said. "J.D. Drew."



...



What would you expect from the man who three years ago quit his job as an engineer, bought a pub and named it Fenway Park? Drew had just stroked a grand slam in the Red Sox's eventual 9-2 exhibition victory against the Yomiuri Giants, and Ohta – known as Tiger – didn't want to slack in front of guests.



..



"We are the Red Sox's offshore bar," Tiger says.



His English is getting better. When Fenway Park opened in July 2005, Tiger knew two words: "Yankees suck."
Ad blocker interference detected!
Wikia is a free-to-use site that makes money from advertising. We have a modified experience for viewers using ad blockers

Wikia is not accessible if you've made further modifications. Remove the custom ad blocker rule(s) and the page will load as expected.