This weekend the NFL playoffs kick-off, which basically means, four thrilling games in the nasty, cold weather.  Well, unless your Atlanta, Arizona, Baltimore or Miami, who will be playing their games in the warm confines of Arizona and Florida.  All anyone is talking about this week is 'who's gonna win' so why not break it down for you three different ways?
What Madden 09 (for XBOX 360) says.
and, of course...
What 'Whatifsports.com' says (FYI: WIS just recently released the 2008 rosters).
Saturday, January 3rd, 2009 at 4:30 PM ET
ME: ATL 35, ARI 14
Kurt Warner and Ken Whisenhunt's Cardinal offense has had some last-season struggles, falling to a 9-7 record at the end of '08 after a quick start to the season.  The 19th overall defense of the Cards will struggle against Matt Ryan's pass attack.  Both defenses have had their problems this season, but with Arizona's offense having problems on top of that, I just think the trio of rookie QB Matt Ryan, RB Michael Turner and Pro Bowl WR Roddy White will be too much.
Madden '09: ATL 20, ARI 31
Matt Ryan really struggled to get anything going early, trailing 17-6 at the half, and was sacked 6 times at the end of an embarrassing 10 for 19, 116 yards, 1 TD, 2 INT performance.  Michael Turner failed to take advantage of the 16th ranked Arizona run defense, as well, averaging just 3.3 YPC and no TD's.  Warner's numbers were very similar to Ryan's (9 for 17, 135 yards, 2 TD, 1 INT), but in the end, Warner was able to put together 2 fourth quarter TD's to put the game away.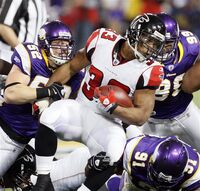 WIS: ATL 31, ARI 13
Score is very similar to my prediction.  Atlanta's trio combined for three TD's--two passing, one rushing--while Arizona just managed an 11-yard TD pass to Larry Fitzgerald early in the first quarter and two Neil Rackers FG's.  Atlanta even got a little help on defense after a Chris Houston interception was returned 44 yards for a TD.  Arizona went 0 for 3 on fourth downs as Matt Ryan led his team to victory and on to round number two.
Overall: Atlanta Advances (2 to 1)
Saturday, January 3rd, 2009 at 8 PM ET
ME: INDY 42, SD 28
With Ladainian Tomlinson on the sidelines at practice yesterday, I just don't see him being a factor in this game at all.  Really, this should be expected from most followers in the NFL.  When has LT really made a huge impact for the 'Bolts in the playoffs?  Philip Rivers can only take so much and without LT in there, and no Antonio Gates, what's gonna happen to the offense?  Peyton Manning, who just won his third career MVP award, has had a fantastic season once again and I expect big things from him this playoffs.
Madden '09: INDY 27, SD 7
Peyton Manning looked like the true league MVP in this Indianapolis blowout at Qualcomm Stadium.  Manning went 25 for 31, 282 yards and 2 TD's while RB Joseph Addai added 67 yards and a TD on the ground.  On defense, Indy's DE Dwight Freeney sacked QB Philip Rivers three times and the only San Diego TD came on a 11-yard pass from Rivers to WR Vincent Jackson in the second quarter.  L.T., like I said, was a non-factor, rushing for just 66 yards on 22 carries, although he did manage 53 yards and a TD through the air.
WIS: INDY 34, SD 27
At least this one was close.  But, Manning has a big game, going 20 for 26 for 256 yards and 3 TD's (0 INT's).  L.T. did manage to get into the end zone through the air, but gains just 74 yards on 17 carries.  San Diego failed to convert any fourth downs on two tries in the last several minutes, giving the win and the overall sweep to the Indianapolis Colts.
Overall: Indy Advances (3 to 0)
Sunday, January 4th, 2009 at 1 PM ET
ME: BAL 28, MIA 14
Chad Pennington may have been able to blow opposing defenses up with his tight window throws and scrambling abilities, but early in the season, this Baltimore defense burned Pennington and his Phins...badly.  Baltimore shutdown their wildcat offense and Pennington encountered many problems.  Rookie QB Joe Flacco has played greatly over the past several weeks, and this offense has really stepped up and proved themselves.  Miami's offense?  Not so much.
Madden '09: BAL 35, MIA 28
I wasn't expecting this game to be quite so high-scoring, but apparently Madden did.  Joe Flacco and Chad Pennington quickly turned this game into a shoot-out.  Baltimore got off to a quick 14-0 lead six minutes into the second quarter, but Pennington brought the Phins back to within a TD just before the half on a 15-yard dumpoff to RB Ronnie Brown, who later ran the ball in from 63 yards out early into the third quarter--tying the game up at 14 apiece.  Baltimore and Miami exchanged TD's after that, but Flacco's Ravens outscored Miami 14-7 in the fourth quarter to pull away with a seven-point first round victory.
WIS: BAL 15, MIA 21 (OT)
Ah-ha!  Our first overtime-decided game.  Both defenses were able to get to the QB and rattle them around (BAL 3 sacks, MIA 4 sacks), and Miami even forced rookie Flacco to make a crucial mistake, an INT to Miami's Andre Goodman.  Miami started off with a 15-0 lead halfway through the fourth quarter (five FG's), but Flacco led his team back to tie the game with an 8-yard TD pass to veteran Derrick Mason and a Le'Ron McClain 40-yard TD run with a 2-point conversion pass to Mark Clayton.  With the game knotted a 15-all, the game headed into overtime where punt returner Ted Ginn Jr. returned Baltimore's first punt 55 yards for a TD.  Pennington wasn't even needed.
Overall: Baltimore Advances (2-1)
Sunday, January 4th, 2009 at 4:30 PM ET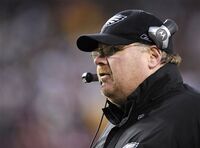 ME: PHI 28, MIN 21
Donovan McNabb knows how to win in January, he's made it to three Conference Championships and a Super Bowl in his long career.  If Brian Westbrook and Correll Buckhalter have solid games, and McNabb makes few mistakes, this game will go Philly's way easily.  The key on defense is stopping Adrian Peterson.  As long as Peterson has under 200 yards and three TD's, I think Philly will be fine because of the inconsistent QB play of the young Tarvaris Jackson.  A well-balanced game for Philly will be a well-balanced win for Philly.
Madden '09: PHI 38, MIN 35
Last season's Rookie of the Year winner, Adrian Peterson, tore up the Philadelphia defense for 128 yards and 2 TD's on the ground, but Donovan McNabb's Eagles rejoiced in the end after pulling off a fantastic comeback.  After being down 35-24 going into the fourth quarter, Philadelphia scored on a 32-yard pass play from McNabb to RB Brian Westbrook, and minutes later Brian Dawkins picked off Tarvaris Jackson and ran it back to the Minnesota 33-yard line.  McNabb capped the four-play drive with his third passing TD of the game (to TE L.J. Smith).  Philly shutdown Minnesota's Tarvaris Jackson the following drive to hold on to the three-point lead and come out on top.
WIS: PHI 27, MIN 0
A well-balanced game is just what Philly played in this big 27-0 victory over Minnesota.  McNabb went mistakeless, just like I said he needs to do (16 for 24, 207 yards, 2 TD, 0 INT), Westbrook had a noteworthy game (20 ATT, 86 yards, 1 TD), and AP was held to just 45 yards on 18 carries. Minnesota QB Tarvaris Jackson went 11 for 24, 116 yards, 0 TD, 2 INT, postseason inexperience will hurt this young Vikings team in the end.
Overall: PHI Advances (3 to 0)
In Divisional round (Jan. 10th, 11th):
Baltimore Ravens @ Tennessee Titans (13-3)
Indianapolis Colts @ Pittsburgh Steelers (12-4)
Philadelphia Eagles @ New York Giants (12-4)
Atlanta Falcons @ Carolina Panthers (12-4)
 **Based on Overall Wild Card winners**

Ad blocker interference detected!
Wikia is a free-to-use site that makes money from advertising. We have a modified experience for viewers using ad blockers

Wikia is not accessible if you've made further modifications. Remove the custom ad blocker rule(s) and the page will load as expected.