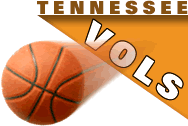 I'm not sure if I can write coherent sentences right now, let alone an entire entry, but here goes:
Tennessee is the #1 team in the country. Not in football. Not in women's basketball. In men's basketball.
Can you see the smile on my face coming through these words?
Forget paragraphs - let's just run through the highlights and thoughts on the game:
First, what an atmosphere! If John Calipari really thinks this rivalry would be better served to move to Nashville, he is insane. I know he worries about Pearl invading Memphis for talent, but that game tonight had to make some 5 star recruits want to play at FedEx Forum for college. It was electric.
Memphis came out smoking hot, but early leads are false leads. Nobody is going to shoot that well for 40 minutes. I hated the zone look, but the packed in man-to-man worked.
Derrick Rose is the real deal. Jordan Howell did a terrific job on him defensively, but that kid kept knocking them down. I don't know why he passed it at the end.
JaJuan Smith kept us in the game at the beginning and had 10 huge rebounds. I expected both teams to come out tight, but instead they both came out firing.
Tyler Smith is a stud. As much as I was impressed with J.P. Prince in the second half, it was all about Tyler Smith down the stretch. He might be the most underrated player in the country.
CDR and Chris Lofton were offensive no-shows, but Lofton made the big free throws down the stretch and Douglas-Roberts did not. Lofton struggles from time to time with taller defenders who don't help off him, but he gives the Vols so much defensively and because he opens the floor for penetration just by standing outside the arch.
Bruce Pearl and Erin Andrews was uncomfortable.
Joey Dorsey is a beast, but it is hard for someone as strong as he is to stay out of foul trouble in college basketball. He will be a better professional player than he is a college one.
J.P. Prince surprised me. He is a Memphis kid who has been terribly inconsistent all year long. He is prone to whining and softness, but he looked possessed tonight. Those were two HUGE free throws down the stretch.
Bruce Pearl always fouls up 3 points at the end (see my previous entries for my thoughts on the subject). I called it as Rose brought the ball up the floor and, sure enough, it worked. The long rebound scared me, but Lofton was the perfect person to get that board. There was no doubt he was going to make both of those free throws.
Tonight was a special night of college basketball not just for Tennessee, but for the game period. This has been a bit of a downer year as far as regular season games go - there hasn't been anything even close to a game of this hype and play - but these two teams put on a show tonight. There was one possession where all ten players on the floor looked too exhausted to execute anything. Three or four guys went out with injuries and everyone of them came back for more.
For Memphis, they won't have another test like this until the second round of the NCAAs. For Tennessee, they might only enjoy their #1 for two nights. The Vols visit Memorial Coliseum in Nashville on Tuesday night for a game against Vanderbilt, a team the Vols humiliated in Knoxville last month.
Regardless of what happens from tonight forward, this was a historic night for Tennessee basketball. A wonderful, historic night.
Ad blocker interference detected!
Wikia is a free-to-use site that makes money from advertising. We have a modified experience for viewers using ad blockers

Wikia is not accessible if you've made further modifications. Remove the custom ad blocker rule(s) and the page will load as expected.