by Harold Friend
The New York Yankees frustrated Joel Rawthschild by winning so much, but in early June, Joel became a little happier. The Yankees were doing worse than they had in any season since 1925.
The Eighth Place New York Yankees
The 1965 season kept getting better and better, because it was getting worse and worse. On June 1, the New York Yankees were in eighth place, nine and one-half games out of first place. They had played 45 games and won only 19. For fans who didn't count the Yankees among their best friends, it was about time.
Will the Yankees Win Another World Series Game?
In 1964, young Mel Stottlemyre saved them, but I admit that it was worth it when October came around. Although Stottlemyre led them to their fifth consecutive pennant, the Yankees lost their second consecutive World Series.
Los Angeles swept the Yankees in 1963, and then the Cardinals won the World Series opener in 1964. I couldn't help laughing when I saw the relief on one Yankees' fan's face when they won the second game against the Cardinals. Some of the Yankees' fans became so panicky after losing five consecutive World Series games, they thought the Yankees would never win another.
Not Since 1925
Now the Yankees were in real trouble. They had not been so far away from first place or so many games under .500 since the great season of 1925, when they wound up seventh. It was only the third time since 1925 that the Yankees weren't playing better than .500 ball on June 1.
In 1940, they were in fourth place with a 17-18 record, and in 1959, the season before they stole Roger Maris, they were sixth, with a 19-23 record. They finished third in each of those years.
The White Sox Game
The Yankees next game, which was against the White Sox on June 4, summed up what was in store for the Yankees. Bill Stafford, who was having his problems, started against Joel Horlen.
Stafford shut out the Chisox for nine innings. All he received was a no-decision. Horlen shut out the Yankees for 10 innings. He didn't get the decision. Yes, starting pitchers went more than six or seven innings, and giving up three runs in six innings was not effective pitching.
Two Home Runs
Danny Cater, not known for his power, led off the White Sox 15th inning with a home run off Pete Mikkelsen. After Eddie Fisher, the pitcher, not the singer, struck out, Floyd Robinson hit another home run off Pete Mikkelsen. The Yankees lost for the 27th time and suffered their sixth shutout in only 46 games.
It was easy for me to see what was happening, and I loved it. Mickey Mantle was taken out of the game after nine innings because he no longer was the Mickey Mantle we feared. Shortstop Tony Kubek had a bad shoulder and was playing left field. But the most revealing event occurred after the Sox scored twice in the top of fifteenth inning.
Who is Pinch-Hitting?
After journey man catcher Bob Schmidt flied out to center, pitcher Pete Mikkelsen was the scheduled batter. I know it was an extra inning game, and I know the Yankees' bench was depleted, but it was still enjoyable. Whitey Ford pinch-hit. He did pretty well, hitting a fly ball to center field for the second out, but it showed how things had changed.
Elston Howard
Not even the return of Elston Howard from a bone chip operation helped. Howard appeared in the eighth inning to warm up Stafford, and then he pinch-hit in the thirteenth. He belted a tremendous drive to left field on the first pitch which would have been a home run if these had been the old Yankees. The drive went foul at the last second, and Howard struck out.
Despite not being too fond of the Yankees, I do admire some of them. Elston Howard has become terribly underrated, except by those who saw him play.
The day after he struck out as a pinch-hitter in extra innings, he again pinch-hit in extra innings. I was driving to Long Beach, New York, with my mother and brother. We were listening to the game on the radio.
Mel Stottlemyre had pitched 10 innings, threw 153 pitches, and hit a home run. The game was tied, 3-3 when Elston Howard pinch-hit against Eddie Fisher, who had struck him out eighteen hours earlier. Ellie hit a base-loaded single into the hole between third and short to win the game.
I felt bad, but I felt good.
References:
1965 New York Yankees at Retrosheet
By LEONARD KOPPETT. (1965, June 2). Remember June 1! Blackest Day For Yankee Team in 40 Years. New York Times (1857-Current file),p. 53. Retrieved February 7, 2010, from ProQuest Historical Newspapers The New York Times (1851 - 2006). (Document ID: 97204516).
By JOSEPH DURSO. (1965, June 5). CATER, ROBINSON CLOUT HOME RUNS :Horlen, Fisher Limit Yanks to 7 Safeties -- Howard Fans as a Pinch-Hitter.
New York Times
(1857-Current file),23. Retrieved February 7, 2010, from ProQuest Historical Newspapers
The New York Times
(1851 - 2006). (Document ID: 97206043).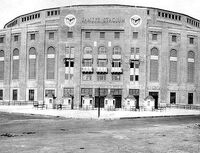 Ad blocker interference detected!
Wikia is a free-to-use site that makes money from advertising. We have a modified experience for viewers using ad blockers

Wikia is not accessible if you've made further modifications. Remove the custom ad blocker rule(s) and the page will load as expected.