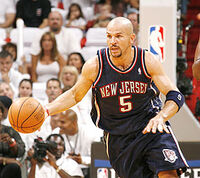 It's tough as a fan to say goodbye to the best thing that's ever happened to your franchise and for the Nets Jason Kidd is that thing. In the years since he's been here the nets have had the most success as a team since Dr J was lacing up his Chuck Taylors and rocking his short shorts over in Long Island. The Nets having won ABA titles had never even been to the NBA finals never mind won one since they entered the NBA. With Jason Kidd the Nets have made the playoffs every year, had their first ever 50 win season and made the NBA finals twice. Certainly having Kenyon Martin, Richard Jefferson, Kerry Kittles and recently Vince Carter has helped, but Jason Kidd was unquestionably the driving force behind this success. For that reason I've held off on writing this article for over a week as I wanted to hold out hope.
Now coming to the close of his career the Nets are struggling and Jason Kidd has realized what any Nets fan has to realize: it's time to move on.
The Nets currently stand at 18-26 having lost 9 in a row including last nights loss to Minnesota where they allowed Al Jefferson to score a career high 40 points. As bad as the Nets have played recently they're still only ½ a game out the playoffs, so one could argue the Nets should keep the team together and make a push for the playoffs. The young frontline could mature and they could be a force to reckon with. Already on any given night the Nets have shown they could compete with the elite teams in the league. They've beaten the Magic, Trailblazers and Lakers on the road. However the fact still remains they're 8 games under 500 and have lost to Minn, NY twice, Sacramento and the Clippers; some of the worst teams in the league.
So your options are keep Kidd and fight or give in to his trade request and start over. I think as a rational fan you have to say thanks for the good times Jason, and good luck in your new destination. If the Nets trade Kidd however Vince Carter needs to go with him. I'm not even interested in talent. If I'm the Nets I look for draft picks and cap space with an emphasis on cap space. In the NBA you rarely if ever get fair value in terms of talent when you trade a star. If the Nets can get Kidd and Carter off the books by the end of the year they will be significantly under the cap. More than 20 million to be precise.
So how do they do it? How bout Kidd for Jason Williams and [[Ricky Davis]. Pat Riley has been looking for point guards, and I can't imagine he's willing to wait around on a rebuilding effort. With Shaq on the book for an extra year then Kidd this is low risk for the Heat and the Nets get 19.8 mil off the books at the end of the year. Throw in a draft pick and you have a steal. Will this move make the Heat better? Probably not, but they're over the cap next year anyway and as I said I can't imagine Pat Riley is willing to sit ideally as his team stinks it up.
Now for Carter this will be a much bigger challenge as he just signed an obnoxious contract extension. However it is possible. Riley might take a similar deal for Carter instead of Kidd because as I said he's desperate. If he will then you can deal Kidd to the Mavericks or any of the other interested suitors. If not perhaps your other best option is LA. With Corey Maggette and Elton Brand both having ETO's at the season end, the Clippers could fear losing either one for nothing at seasons end and could believe bringing in Carter will help them sell some tickets. For the Nets you can either let them both walk or end up with a good player. Now of course the Clippers may not be too upset at letting them walk and thus a deal might not happen there either. Trading Carter will not come easy, but if you're going to build around your young talented pieces (Marcus Williams, RJ, Sean Williams and Josh Boone) and add too them you need to find a way.
Ad blocker interference detected!
Wikia is a free-to-use site that makes money from advertising. We have a modified experience for viewers using ad blockers

Wikia is not accessible if you've made further modifications. Remove the custom ad blocker rule(s) and the page will load as expected.