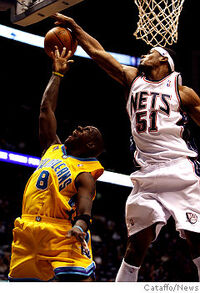 The Nets, a 14 and 16 team overall, have won 4 of their last 5 excluding a blowout loss to a hot
Pistons
team. Not coincidentally, those wins have come at the same time
Josh Boone
and
Sean Williams
have started to play more often. A little know fact that I think only the most educated NBA fans would know is that Sean Williams is currently leading all rookies in PER. Without watching Williams, this might be surprising, but if you have had chance to watch him on a regular basis, you'll know that it's not. Simply put, the man is a blocked shots machine. Last night, he blocked
Andrew Bogut
on a two handed jam. Most people know he's good at blocking shots, but they might not understand how hard he fights for rebounds. They also might not understand how he's able to use that athleticism he exhibits defensively to get easy basket on pick-and-rolls, and with timely off the ball cuts to the hoop. Is Williams
the
rookie of the year? I don't know, but he's been very good.
So with a rookie like Williams and the big three of Vince Carter, Richard Jefferson, and Jason Kidd, why aren't the Nets better? Well, for one thing, Carter hasn't been very good. He's been playing better recently, but he's still not the elite player that deserves 65 million. Secondly, Jason Kidd can't/refuses to score points. Now, his role is not to score, but to distribute; in the past, he has scored at least a little bit more than the 11.5 points a game he's currently scoring this season. Interestingly, in the Nets game Saturday, they came up with a close victory against Milwaukee, and Kidd made some big shots. When he made some of those plays, he showed some legitimate emotion. This is big because it's one of the few times I've seen that on the court from any of the Nets.
The last reason is the fact that their best front court players, Boone and Williams, have so little experience. Josh Boone averaged a grand total of 11 minutes a game last year in his rookie year and will need to learn to shoot free throws. Sean Williams spent a good deal of last year not playing basketball at all after getting kicked off his BC team. While they are very talented players and learning quickly, they simply make some dumb mistakes. Lawrence Frank must have the patience to except that they are young and let them grow because without them they're probably not talented enough to even make the playoffs.
Ad blocker interference detected!
Wikia is a free-to-use site that makes money from advertising. We have a modified experience for viewers using ad blockers

Wikia is not accessible if you've made further modifications. Remove the custom ad blocker rule(s) and the page will load as expected.