The 2008-2009 season kind of snuck up on me, meaning I forgot about both of my Fantasy Basketball League Drafts, and was unable to put together an NBA season preview:(
But...The NBA is officially BACK!!
The TNT channel had a doubleheader last night.  I am very thankful that the World Series had an off-day last night because I was able to watch the two games.  First game was a thriller.  Lebron James and his Cleveland Cavaliers returned to Boston to take on the NBA Champs.  Now, I'm sure you all remember the Eastern Conference Semifinals of last year, right?  You know, the best-of-seven series between these two teams.  Just like last year (series took all 7 games), Paul Pierce and Kevin Garnett's Celtics came out on top.
According to Pierce, it "was an emotional night".  Well, he wasn't lying.  The team received their rings (NBA Championship rings, of course), and renewed their "rivalry" against one of the Eastern Conference's top tier teams.  Lebron and his Cavs got off to a quick start, out-scoring the Celts through the first seven or so minutes.  Lebron scored just two of those points, by the way.  Looks like Lebron will have a little more help on offense than he did last year...possibly.
Through the first quarter the Cavs led 28-22, and out-scored Boston again in the second quarter, 22-21.  But, as we found out last season, the Celtics know how to finish.  Pierce, who finished with 27 points (10-19 from the field), led the Celtics to a 90-85 victory after scoring 47 second-half points compared to Cleveland's 35.
Expect to see these two teams facing one another in the playoffs again this season.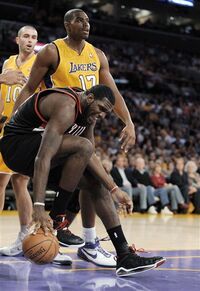 Just in case that game wasn't enough for you, the first evening of the NBA season had three games.  We witnessed our first 100+ point team performance in Chicago as the Bulls put up 108 against their former coach, Scott Skiles, and his Milwaukee Bucks.  Other than Skiles, rookie Bull Derrick Rose was the center of attention in this game.  Making his pro debut, Rose, the former Kansas Jayhawk, scored 11 points in 32 minutes played.  He shot 3 from 9 from the floor, and did not attempt any three-pointers.  Thanks to 46 points from the bench, Chicago started off on the right foot by dropping the Bucks by 13 points.  Chicago will head to Boston for a Halloween matchup against the defending Champs!
And finally, the moment we've ALL been waiting for... Greg Oden's pro debut.  As you are probably already know, Oden was a rookie last year, but missed the entire regular season thanks to a knee injury.  So, the first overall draft pick of the Portland Trailblazers just now made his debut in an NBA uniform last night against the Los Angeles Lakers.  I was very upset when I found out his debut was a disaster.  Another injury!?  Yes, Oden suffered a foot injury after just 13 minutes played.  He has yet to make his first basket with the Blazers, going 0 for 4 from the floor, and 0 for 2 from the free throw line.  Oden did grab five rebounds and record two blocks, but that was the only good he did in Los Angeles.  Two turnovers and two personal fouls in 13 minutes isn't what Portland was hoping for.  But that's exactly what they got from him.  According to ESPN.com he suffered a foot sprain, and it is unclear how much time he will miss.
The good news in this game?  Kobe Bryant recorded a double-double (23 points, 11 rebounds) as his Lakers get off to a 1-0 start after easily defeating Portland 96-76 at home.  Tonight LA will stay in town as they face off with the Los Angeles Clippers at 10:30 PM ET.
Forget the World Series (Philly will probably clinch the Series tonight, anyway)...The NBA is back and will be in full swing this evening.  Twelve games are in store for us tonight, including a double-header on ESPN and the debut of the Oklahoma City Thunder (Haha, no more Seattle Basketball)!
Enjoy
Ad blocker interference detected!
Wikia is a free-to-use site that makes money from advertising. We have a modified experience for viewers using ad blockers

Wikia is not accessible if you've made further modifications. Remove the custom ad blocker rule(s) and the page will load as expected.