Kobe? LeBron? CP3? Who will win the MVP this year. We could do it the BCS way put a bunch of numbers in a computer and see who wins or we can let them battle it out in head to head and in the end one will be the M-V-P. So lets meet our 6 MVP candidates...
No. 1 Seed Kevin Garnett- It goes without question that KG is the favorite simply for being the best player on the best team. The Celts went from winning two dozen games to possibly 60+, not to mention the media loves KG, he's unselfish, plays hard on both ends of the floor, not to mention he resurrected the most storied franchise in the NBA. But on the other hand he has two All Stars, he missed games and they still didn't lose a step. Could he be upset in the first round only time will tell ladies and gents.
No. 2 Seed LeBron James- Numbers wise he is the best player in the NBA, but that doesn't necessarily mean an MVP (just ask Kobe) while LeBron is putting up MJ-esque numbers his team is mediocre, they won't win the division, 50 wins is a stretch, and they might not even have home court in the first round. But how can you deny the NBA's posterchild after all he finished second in Finals MVP voting last year even though he was swept, won two All Star Game MVPs that should've went to someone else and he's on the cover of Vogue. How can you deny the King.
No. 3 Seed Kobe Bryant- Kobe has finally got it, its not about individual stats its overall team success that gets you awards, and he has taken the Los Angeles Lakers to contendership again. Kobe hasn't b****-slapped anyone this season, trade rumors have vanished and has David Stern and sponsors drooling over a Lakers-Celtics or Lakers-Cavs NBA finals. But then again Kobe isn't the most popular guy. Can this be the year Kobe finally gets the MVP???
No. 4 Seed Chris Paul- The New Orleans Hornets? First Place? Impossible. No it isn't now CP3 has finally got used to the NBA. He has the vision of Steve Nash but the win at all costs attitude of AI (both former MVPs might I add) but he's relatively unknown compared to the top seeds. Do they go with the little southern boy or do they say he got plenty of years to win this.
No. 5 Seed Tracy McGrady- No Yao. No Problem, T-Mac helped lead his Houston Rockets into the history books with 22 consecutive victories and some think he may finally get a taste of round 2. But lets not forget he does get hurt ALOT missed alot of games already. But he is carrying Houston on his backs how can he be denied.
No. 6 Seed Dwight Howard- While Pat Riley and Gilbert Arenas did make it pretty easy for him, Howard has his Magic at the top of the Southeast conference and No. 3 overall. NOW who should've picked Emeka huh? Howard is revolutionizing the center position and is drawing comparions to that other guy who dominated in Orlando but its not so much how well he's been playing but rather does he deserve it over the others, we shall see....
First Round
NFL Playoff rules apply since i hate the NBA system....
No. 3 vs. No. 6- Kobe vs Dwight. Hard to compare because they are two completely different type players. Kobe can dominate both inside and out while Howard is all about controlling the paint. Kobe is second in the league in scoring, Howard is 19th, but he is first in rebounds. But head to head I'm taking Kobe over Howard...Kobe advances
No. 4 vs. No. 5- Paul vs T-Mac. Both have far exceeded expectations but Paul has done it all season, McGrady just started in 2008. Like always McGrady fails to make it out of the first round I'm going with CP3.
Second Round
No. 1 vs. No. 4- KG vs Paul- Both are No. 1 seeds in their conference. KG doesn't lead in anything other than wins but thats what its all about isn't it. Well because its my tourney and I hate that the best player on the best team tends to get it(plus Paul Pierce has played out of his mind this season and gets no credit) I'm going for the upset, Paul over Garnett.
No. 2 vs. No. 3- LeBron vs Kobe- Intriguing. Lebron leads Kobe stats wise but Kobe's team is in better shape. Lebron has outplayed Kobe in all the head to head battles thus far and has done it solo, Kobe had Bynum and now Gasol. Considering I felt Kobe deserved it last year for putting up similar numbers to what Lebron has this year it would be foolish not to choose Lebron. Call me foolish I'm going with Kobe.
Final Round
Chris Paul vs. Kobe Bryant- They are both at the top of their conference, both are great clutch performers but who should win the MVP. We have Paul who's not only a deadly game ending scorer, he makes everyone else on the floor better. What makes him better right now is that he's vicious on the defensive end. He's a floor terrorist on the offensive and defensive end. He scorches some of the best point guards in the western conference and is able to carry a no-name team to the top of the tough western conference, similar to Steve Nash who won back to back titles. But it's hard to go against the best player in the game for years now who is long worth his due. But in the end I have to go with.....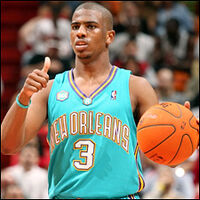 My pick for MVP while KG will most likely win in this flawed system, if Nash won in 2006(which he shouldn't have) Paul should win in 2008
Ad blocker interference detected!
Wikia is a free-to-use site that makes money from advertising. We have a modified experience for viewers using ad blockers

Wikia is not accessible if you've made further modifications. Remove the custom ad blocker rule(s) and the page will load as expected.