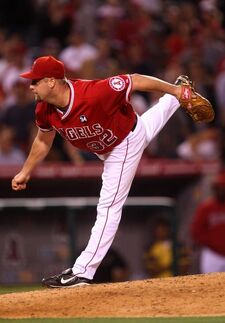 Tonight, Kelvim Escobar is expected to make one final Minor League start for Triple-A Salt Lake, and if all goes according to plan, he will start next Saturday in Detroit against the Tigers.
The problem surrounding Escobar's return is that it gives the Angels at least six legitimate starting pitchers; thus, creating a logjam in the starting rotation. Joe Saunders, who leads the team with six wins, and Jered Weaver, who posts a team leading 2.36 ERA, certainly aren't going anywhere. Neither are starters John Lackey, who is regarded as the team's ace, and Ervin Santana, who was an all-star a year ago with 16 wins just one year ago.
That leaves 30 year-old journeyman Matt Palmer as the odd man out. However, the problem facing Mike Scioscia and the Angels is that Palmer has arguably been the team's best pitcher so far this season. Yes, the same guy, who was thinking about giving up baseball for a landscaping job a few years back, has been the Halos most consistent starter in 2009.
In seven appearances this season, Palmer has posted a 5-0 record with twenty-seven strikeouts and a 4.06 ERA. Not too bad for a guy who has spent the majority of his professional baseball career playing in cities such as Keizer, Oregon; Spokane, Washington; and Fresno, California.
So with six starters, there are a few options the Angels can pursue:
Option #1: Option Palmer to Salt Lake. Believe it or not, the 30 year-old has some options left, and despite his age, the Angels are able to send him back down to the minors. This would allow him to maintain his starter's stamina in case he is needed as a starter sometime in the future. It's unlikely that the Halos' five man rotation will remain perfectly intact for the remaining four months so he could be used as a starter again somewhere down the road.
Option #2: Move him to the bullpen. Statistically, the Angels' bullpen has been among the worst in the majors so giving the 'pen some depth could be a very viable option. He does have some experience in that capacity so he could give them a jolt of energy. However, the problem I see with this option is that it limits Palmer's ability to pitch six or seven innings in the future. Once he moves to the 'pen, there is no turning back.
Option #3: Move Kelvim Escobar to the bullpen instead. He certainly has prior experience in that capacity. During his six years in Toronto, Escobar pitched in and out of the bullpen, before signing with the Angels in 2004. But even during his stint in Anaheim, he has appeared in the bullpen. In 2005, Escobar made several appearances late in the season as a reliever. However, just like Palmer moving to the bullpen, Escobar would likely be unable to pitch as a starter later on in the season. As a result, this is fairly unlikely scenario.
Option #4: Make a trade. This is not going to happen. Please repeat. This is not going to happen. While dealing one of the team's starting pitchers is certainly a viable option, it is an unlikely one due to the front office's reluctance to make any sort of mid-season transaction. But if they desired, the Angels could very well make a move to acquire a bat by trading one of their starters. With Shane Loux and Dustin Moseley as potential starters down the line, Tony Reagins certainly has the depth to pull the trigger on a deal. But really, it's just wishful thinking on my part.
So, what's your take? Should the Angels option Palmer to Salt Lake or move him to the bullpen? What should be done with Escobar? Should a trade be explored? I certainly favor option four, but look for Scioscia and company to exercise number two.
Ad blocker interference detected!
Wikia is a free-to-use site that makes money from advertising. We have a modified experience for viewers using ad blockers

Wikia is not accessible if you've made further modifications. Remove the custom ad blocker rule(s) and the page will load as expected.