I stayed out until 1:00 last night when I should have been in bed. I woke up at 7:30 AM to get reading done before my classes today and I feel unbelievably energetic. How is this, you ask? Because I'm all jacked up on Mountain Dew...and college football kicks off tonight. Another year of football, another year of good, bad, questionable and bizarre picks. 13 games, 13 picks. Let's get it on!
Jacksonville State @ Georgia Tech
This one is the game of debuts. Jacksonville State is debuting LSU transfer Ryan Perrilloux under center and Georgia Tech is debuting Paul Johnson and his option attack. Perrilloux, one of the most hyped high school prospects of the last half decade, has as much natural talent as anyone playing quarterback on any level - he can run and throw - and has made big plays in big situations for the LSU Tigers last season. The real question is does Perrilloux have enough around him to knock off a solid ACC program like Georgia Tech? Here's the thing: Paul Johnson's option offense isn't easy to learn. How ready will the Jackets be to efficiently run such an offense? This game will teach us plenty about both teams. Look for a big game passing and rushing out of Perrilloux (let's go with 200+ passing, 80+ rushing), and an equally big game from Tech's Michael Johnson. Expect a close one with the overall talent of Georgia Tech winning out in the end.
Jacksonville State 21, Georgia Tech 27


N.C. State @ South Carolina
Steve Spurrier's Gamecocks are in a bit of a funk. South Carolina has lost their last 5 games going back to last season after a great start to the season, including knocking off Georgia in Athens and handing Kentucky their first loss of the season. N.C. State is coming off a disappointing season in which they had two chances to get bowl eligible at the end of the season, coming up short in both games while getting outscored 75-18. There's some intriguing talent on the Wolfpack's sideline, but nothing like what the Gamecock's sideline looks like.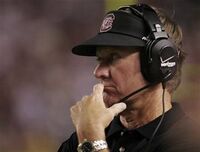 The troubling thing for South Carolina fans is the possible uncertainty surrounding the quarter back position. Let's see if the 'Ole Ball Coach does a bit of shuffling under center, but the Gamecocks should still prevail
N.C. State 20, South Carolina 34
Oregon State @ Stanford
The Beavers have been decimated by graduation, including a defensive line that helped Oregon State lead the nation in sacks last season and Yvenson Benard who was a steady running back. Stanford still has little depth and definitely a shortage of talent. The real question is whether or not Jim Harbaugh can get the Cardinal to build off last season's most stunning upset over USC in Los Angeles. Oregon State's Sammie Stroughter should go off, even against Stanford's relatively experienced secondary. That being said, look for Stanford to control the ball and ride the home crowd to a victory.
Oregon State 28, Stanford 34
Youngstown State @ #2 Ohio State
Jim Tressel goes up against his old school. Everybody needs a tune-up, right? This is it for the Buckeyes. Beanie Wells goes for 200+ rushing...and 4 TDs....in the 1st half....
Youngstown State 7, Ohio State 41
#17 Virginia Tech @ East Carolina
Skip Holtz has done wonderful things at East Carolina, but Virginia Tech is still Virginia Tech. Sean Glennon will have a solid game passing, the defense will be their usual disruptive self and the special teams will be, well, special.
Virginia Tech 45, East Carolina 10
Georgia Southern @ #1 Georgia
Georgia Southern is in a transition from an option attack to a spread attack on offense. The real world equivalent of this has got to be like switching from . The duo of Knowshon Moreno and Matt Stafford will have the Dawgs scoring plenty and the defense will harass the new spread offense of the Eagles. Look for about 180 yards from Knowhson, another 100+ from Caleb King and a quarter-back-knockout by Rennie Curran.
Georgia Southern 0, Georgia 52
Hawai'i @ #5 Florida
Hawai'i had their best season ever as a football program last season. They also lost their coach, quarterback and their top 4 receivers. Trouble. Florida has even more talent to surround Tim Tebow with now. Trouble. Tebow throws for 300+ and accounts for 5 TDs. The trio of Percy Harvin, Chris Rainey and Deonte Thompson will account for 44 snapped ankles on the Warrior's defense, and Brandon Spikes might send someone to the hospital. Trouble.
Hawai'i 17, Florida 55
#3 USC @ Virginia
Mark Sanchez is now the ring leader of the Trojans and he has an absurd amount of artillery around him. The Trojans will win this one easily, dominating both sides of the ball. Look for the emergence of Joe McKnight as an all-purpose threat. Plus, Rey Mauluga might decapitate someone...which is always fun.
USC 48, Virginia 14
Appalachian State @ #7 LSU
Now, I'm not saying the Mountaineers will pull off an upset the caliber of the one they pulled last year in Ann Arbor. All I'm saying is that this one could be very interesting for 3 and a half quarters. LSU has a HUGE question mark at quarterback and is breaking in a new coordinator on defense, which might take a game or two for the defense to adapt to. Spread offenses, especially when they're run by a QB like Armante Edwards, are a headache to defend. Seriously, this could be a close game for 3 and a half quarters, then the running game of LSU pulls them through. The running game of the Bayou Bengals will be the difference, no matter how close it is.
Appalachian State 21, LSU 35
UL-Monroe @ #10 Auburn
What would happen if UL-Monroe knocked off Alabama and Auburn in consecutive years? Wouldn't the entire state of Alabama implode? Or would there just be lots of teasing going the other way in the Alabama-Auburn rivalry? Anyhow, that's not going to happen. The key thing to watch for is how Kodi Burns handles the full array of Tony Franklin's new offense. Talent and depth are the difference for the Plainsmen.
UL-Monroe 14, Auburn 48
Florida International @ #14 Kansas
Todd Reesing and his array of receivers will dominate the Golden Panthers' defense. Joe Mortensen and the Jayhawk defense will dominate the Golden Panthers' offense. In short, Kansas dominates FIU. Is that concise enough for you?
FIU 3, Kansas 45
Memphis @ Ole Miss
It's debut time for Houston Nutt in Oxford. This is a really under appreciated rivalry that seems to go down to the final minutes every season. This year it won't. Jevan Snead will be impressive and the Cordera Eason/Enrique Davis combo will flourish in Houston Nutt's run-happy offense. Also watch for two great debut's on defense - Patrick Trahan at LB, and Jerrell Powe at DT. The Rebs will start the season well.
Memphis 10, Ole Miss 31
#24 Alabama vs. #9 Clemson
I have no idea what will happen in this game. Will Clemson live up to the hype for a change? Will they play like, well, Clemson and choke away a great opportunity? Will Alabama have enough on defense to contain James Davis and C.J. Spiller? Is John Sarah Jessica Parker Wilson as good as his teammates have suggested he is in the new offense? What will happen when Andre Smith ties up with Ricky Sapp and Da'Quan Bowers? Seriously, I have no idea what will happen Saturday night. This is sort of like asking the hottest girl in your grade to the prom: if she says yes, dream-come-true; if she says no, nightmare. Clemson seems to have plenty going for them - a solid quarterback, two great running backs, two rock-solid receivers, a frightening defensive line and an experienced secondary. That's gonna make the difference.
Alabama 21, Clemson 28
Ad blocker interference detected!
Wikia is a free-to-use site that makes money from advertising. We have a modified experience for viewers using ad blockers

Wikia is not accessible if you've made further modifications. Remove the custom ad blocker rule(s) and the page will load as expected.